READ AND REVIEW
MY FAIR PRINCESS (THE IMPROPER PRINCESS) BY VANESSA KELLY
Release Date: August 30, 2016
SYNOPSIS
First, Vanessa Kelly brought readers The Renegade Royals. Now, in a delightfully witty new series, she introduces The Improper Princesses—three young women descended from royalty, each bound for her own thrilling adventure . . .

Despite being the illegitimate daughter of a prince, Gillian Dryden is happily ignorant of all social graces. After growing up wild in Italy, Gillian has been ordered home to England to find a suitable husband. And Charles Valentine Penley, the excessively proper, distractingly handsome Duke of Leverton, has agreed to help transform her from a willful tomboy to a blushing debutante.

Powerful and sophisticated, Charles can make or break reputations with a well-placed word. But his new protégée, with her habit of hunting bandits and punching earls, is a walking scandal. The ton is aghast . . . but Charles is thoroughly intrigued. Tasked with taking the hoyden in hand, he longs to take her in his arms instead. Can such an outrageous attraction possibly lead to a fairytale ending?
BUY LINKS
Amazon B & N Google Play Books IBooks Kobo
REVIEW: MY FAIR PRINCESS (THE IMPROPER PRINCESS) BY VANESSA KELLY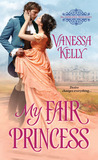 My Fair Princess by Vanessa Kelly

My rating: 5 of 5 stars


A heroine unlike any other ...

Gillian is not afraid to be herself. Even when everyone else is pushing her to become someone else. Vanessa Kelly creates characters that are bold and electrifying. I don't think that I have every come across one as strong willed as Gillian in one of her stories, however. When summoned home to take her place as the toast of the social elite, she meets her biggest challenge in the one man determined to change her wild ways. What Charles finds is a free spirit that appeals to his inner wildness. Can he accept the beauty that is Gillian or will he break his own heart in taming her? I love to read stories that integrate the importance of being true to one's self. There is a piece of beauty in ever soul. Thanks for shining a light on that message Vanessa Kelly.



View all my reviews
HARD TO FALL (TAKE THE FALL) BY MARQUITA VALENTINE
Release Date: October 18, 2016
SYNOPSIS
Wedding bells are ringing—and tempers are flaring—as the Take the Fall series continues in this sweet, sexy novel from the bestselling author of After We Fall ("This beautiful story kept me transfixed until the very end."—Krista Lakes).

As a hardworking, hard-partying firefighter, Hayden Walker values his career and his freedom. But as the eldest son of a U.S. senator, he agreed long ago to follow in his father's footsteps and run for office, and that means settling down and marrying the picture-perfect wife. Hayden just isn't ready for that sort of commitment . . . not with women like beautiful, curvy Saylor Dean—the naughty bridesmaid he recognizes the morning after his buddy's wedding—tempting Hayden to stay single forever.

The unwanted love child of a well-known politician, Saylor has always felt isolated and alone, her only solace the animal shelter she runs in Forrestville. Then she meets Hayden at her best friend's wedding. During their impulsive and unforgettable night together, Saylor feels desired like never before—only to wake up and find that Hayden doesn't remember his drunken proposal, or their hasty marriage, or her. But when the truth comes out, Saylor finds it's a lot harder to fall out of love than in love.
BUY LINKS
Amazon B & N Google Play Books IBooks Kobo
REVIEW: HARD TO FALL (TAKE THE FALL) BY MARQUITA VALENTINE
Hard to Fall by Marquita Valentine

My rating: 5 of 5 stars


Marquita Valentine, made it easy to fall in love with Hayden and Saylor. The hard part was saying goodbye to these extraordinary characters. Hayden is a bad boy masquerading as the dutiful son of a powerful politician. Saylor, has lived as a source of secrecy and shame. An accident of birth has left her insecure, isolated and searching for a place to belong. Can the bad boy with the perfect life be the answer to her prayers? Will the totally wrong woman end up saving Hayden from himself? I received an ARC of Hard to Fall in exchange for an honest review. The badge of a gifted author is the ability to allow the reader to get carried away and become a part of the journey. Ms. Valentine succeeded and created a well written story. A powerhouse of emotion that inspires and entertains. 5++++++.



View all my reviews
Original post: ishacoleman7.booklikes.com/post/1450833/upcoming-must-read-releases-available-for-pre-order