ALMOST HITCHED (CLOVER PARK STUDS) BY KYLIE GILMORE
Release Date: August 16, 2016
SYNOPSIS
After a very satisfying long-distance relationship (following their very public relationship in Almost Romance), Kate Lewis and Ian Furnukle agree it's time to get hitched.

Except their jobs are thousands of miles apart.

And their trial run of living together didn't go so well.

And one of them has cold feet.

But that's nothing that true love (and some explosive chemistry) can't fix. If only love were a science.

Clover Park STUDS Series

Almost in Love (Book 1)
Almost Married (Book 2)
Almost Over It (Book 3)
Almost Romance (Book 4)
Almost Hitched (Book 5)
BUY LINKS
REVIEW: ALMOST HITCHED (CLOVER PARK STUDS) BY KYLIE GILMORE
Almost Hitched by Kylie Gilmore

My rating: 5 of 5 stars


ARC Review: Almost Hitched (Clover Park Studs) by Kylie Gilmore
Ian and Kate are back to bring their unconventional and at times awkward love story to a hilarious conclusion. Almost Hitched is the adorable companion to Almost Romance. Time and distance are still a road block for these love birds. Add in commitment and co- habitation, the mishaps get bigger and funnier. Kylie Gilmore, has so much fun developing her characters. Her witty dialogue and eclectic characters are evidence. Almost Hitched is a chance to revisit great characters and discover new friends in a world that is full of humor and heart.



View all my reviews
TORCH (THE WILDWOOD SERIES) BY KAREN ERICKSON
Release Date: August 16, 2016
SYNOPSIS
Tate Warren has never met a woman he couldn't charm—until now.

Wren Gallagher won't give him the time of day and it's making him crazy.

But he won't give up without a fight… because there's one thing he knows for sure:

Enemies make the best lovers.

Most women swoon over Tate's devilish grin and firefighter uniform. But Wren couldn't be less impressed by his good looks and flirtatious banter—in fact, she seems to downright despise him. She thinks he's a player, but his attraction to her is no game. Wren is unlike anyone he's ever known and he isn't about to let the feisty, gorgeous woman slip through his fingers.

Wooing Wren would be so much easier if she didn't hate him…

Or does she?
BUY LINKS
Amazon B & N Google Play Books IBooks Kobo
REVIEW: TORCH (THE WILDWOOD SERIES) BY KAREN ERICKSON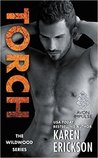 Torch by Karen Erickson

My rating: 5 of 5 stars


ARC Review: Torch (The Wildwood Series) by Karen Erickson

Karen Erickson outdid herself with Torch. The title the characters and the whodunit are great assets to this saucy series. Wren puts on a brave face but is really a lost soul searching for her own place. She yearns for a chance to find her happiness, even if it takes her away from the people and places she loves. Tate, is everything she wants but is scared to take a chance on. The flashy personality, his risky career and the turbulent attraction that she craves to let loose. An impressionable home life has left both Tate and Wren with feelings of inadequacy and fear of the unknown. Can they overcome the pain of their pasts, in order to find a future together?

The chemistry was combustible between Tate and Wren. It was so obvious that they had a special connection. What I loved most is that despite the animosity Wren showed, Tate was there whenever she needed someone to vent to or just to look after her. I adore these two together.



View all my reviews
HERO OF MINE (MEN IN UNIFORM) BY CODI GARY
Release Date: August 16, 2016
SYNOPSIS
The men of Alpha Dog, a second chance program for at-risk teens, work hard and play hard. And when it comes to protecting the women they love . . . nothing stands in their way.

Danielle Hill used to live on the wild side, until a surprise pregnancy forced her to get her act together. Now her whole life revolves around her young son, and she will do anything to keep Noah's heart protected, even if it means avoiding the Marine who makes her want to be oh so bad . . .

Tyler Best loves his family, his friends, and his life, and he plans on living it to the fullest after nearly losing it. But Tyler didn't bank on running into a beautiful blond with blazing green eyes and temper to match his. Tyler always thought he wasn't ready to settle down, but Dani and Noah make him rethink his playboy ways . . .

Only just as these two start to build something, a shadow from Dani's past comes back to haunt them. But Tyler will do anything to keep her and Noah safe . . . anything.
BUY LINKS
Amazon B & N Google Play Books IBooks Kobo
REVIEW: HERO OF MINE (MEN IN UNIFORM) BY CODI GARY
ARC Review: Hero of Mine (Men in Uniform) by Codi Gary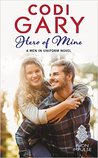 Hero of Mine by Codi Gary

My rating: 4 of 5 stars


Codi Gary continues to get better with each Men In Uniform novel. She really steps up her game with Tyler and Danielle. Past events have caused each to look at life life differently. For Tyler, he's gained a deeper appreciation of his surroundings and takes full advantage of every adventure life has to offer. For Danielle, maturity brought surprise motherhood and an inability to fully open her heart to anyone but her most prized achievement, her son. With Hero of Mine, Ms. Gary delves into a world of regret, self - doubt and second chances that don't come easily but are worth all the blood, sweat and tears to be faced along the way. Danielle was somewhat hard to get a read on because of how closed off she was, yet her strength was her will to tackle a tough situation and come out on top.




View all my reviews
THE SAPPHIRE HEIST (JEWEL) BY LAUREN BLAKELY
Release Date: August 16, 2016
SYNOPSIS
Keep your lover close and your enemy closer…

After giving in to a fiery night of passion, island adventurer Steph Anderson and bounty hunter Jake Harlowe are back to square one. With millions in stolen jewels at stake, it's hard for Steph not to question her new partner's true motives—no matter how sexy he might be. Jake is hungry for more of Steph, but he can sense her growing mistrust, which only fuels his own doubts. Worse, there's undeniable evidence that someone else is now after the jewels—and that they are both in real danger.

Fighting against their magnetic attraction is a distraction these two can't afford. In order to survive, they'll have to pull off one more heist—and trust each other with something even more precious than jewels: their hearts.
BUY LINKS
REVIEW: THE SAPPHIRE HEIST (JEWEL) BY LAUREN BLAKELY

The Sapphire Heist by Lauren Blakely

My rating: 4 of 5 stars


ARC Review: The Sapphire Heist (Jewel) by Lauren Blakely

Ms. Blakely is a masterful story teller. She likes to take her readers to the edge by writing provocative stories that merge suspense, romance and good versus evil. Her imaginative narrative is composed in such a way that at times there is difficulty in determining who the culprits are. The Jewel series has the adventure, the puzzle and the heated attraction of forbidden romance. The Sapphire Heist is the continuation to The Jewel Affair. Steph and Jake are on the run searching for answers, fighting an attraction and with the mystery surrounding the stolen jewels, questioning if they should trust each other. Each new twists, had me spellbound and the flames thrown in this heated battle of intrigue is worth the burn and red herrings thrown in for good measure.



View all my reviews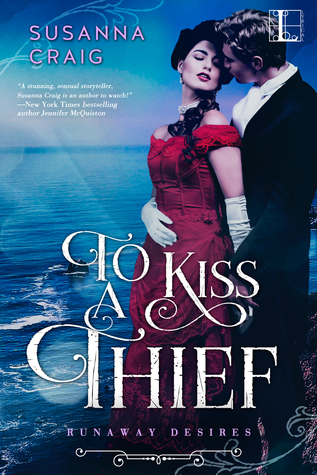 TO KISS A THIEF (RUNAWAY DESIRES) BY SUSANNA CRAIG
Release Date: August 16, 2016
SYNOPSIS
Can a marriage made for money blossom into something more?

Sarah Sutliffe, Lady Fairfax, dreams of love—until she overhears her new husband proclaim his heart will never be hers. Devastated, she offers no defense when a sapphire necklace disappears during a ball and she is accused of its theft. Instead, she runs away from the scandal…and the heartbreak.

St. John, Viscount Fairfax, has sworn never to love again. How could a mousy merchant's daughter tempt him to break that vow? Three years after Sarah vanished, St. John uncovers her hiding place. Now, he's out to prove she's a thief before she steals his heart.
BUY LINKS
Amazon B & N Google Play Books IBooks Kobo
REVIEW: TO KISS A THIEF (RUNAWAY DESIRES) BY SUSANNA CRAIG
To Kiss a Thief by Susanna Craig

My rating: 4 of 5 stars


To Kiss a Thief is my first Susanna Craig read and it's a show stopper. Sarah is an innocent in a world of betrayal, heartache and manipulation. Fairfax is forced into a situation that brings about scandal, resentment and a rush to judgement from his peers. A forced marriage and missing necklace leads to suspenseful romance that is crafted masterfully and a lyrical sonnet that's melody lingers after all is said and done.



View all my reviews
Original post: ishacoleman7.booklikes.com/post/1451705/have-you-pre-ordered-yet-available-tomorrow