HERO OF MINE (MEN IN UNIFORM) BY CODI GARY
Release Date: August 16, 2016
SYNOPSIS
The men of Alpha Dog, a second chance program for at-risk teens, work hard and play hard. And when it comes to protecting the women they love . . . nothing stands in their way.

Danielle Hill used to live on the wild side, until a surprise pregnancy forced her to get her act together. Now her whole life revolves around her young son, and she will do anything to keep Noah's heart protected, even if it means avoiding the Marine who makes her want to be oh so bad . . .

Tyler Best loves his family, his friends, and his life, and he plans on living it to the fullest after nearly losing it. But Tyler didn't bank on running into a beautiful blond with blazing green eyes and temper to match his. Tyler always thought he wasn't ready to settle down, but Dani and Noah make him rethink his playboy ways . . .

Only just as these two start to build something, a shadow from Dani's past comes back to haunt them. But Tyler will do anything to keep her and Noah safe . . . anything.
BUY LINKS
Amazon B & N Google Play Books IBooks Kobo
REVIEW: HERO OF MINE (MEN IN UNIFORM) BY CODI GARY
ARC Review: Hero of Mine (Men in Uniform) by Codi Gary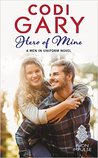 Hero of Mine by Codi Gary

My rating: 4 of 5 stars


Codi Gary continues to get better with each Men In Uniform novel. She really steps up her game with Tyler and Danielle. Past events have caused each to look at life life differently. For Tyler, he's gained a deeper appreciation of his surroundings and takes full advantage of every adventure life has to offer. For Danielle, maturity brought surprise motherhood and an inability to fully open her heart to anyone but her most prized achievement, her son. With Hero of Mine, Ms. Gary delves into a world of regret, self - doubt and second chances that don't come easily but are worth all the blood, sweat and tears to be faced along the way. Danielle was somewhat hard to get a read on because of how closed off she was, yet her strength was her will to tackle a tough situation and come out on top.




View all my reviews
I NEED A HERO (MEN IN UNIFORM) BY CODI GARY
Release Date: October 20, 2015
SYNOPSIS
Sergeant Oliver Martinez joined the military to serve his country—not plan parties. But after a run-in with his commanding officer, Oliver is suddenly responsible for the Alpha Dogs Training Program's upcoming charity event. Worse, he's got to work with the bossiest, sexiest woman he's ever met—who just happens to be the general's daughter.

When it comes to military men, Evelyn Reynolds is not interested. And with the opportunity to launch her new PR firm at the charity event, she doesn't have time for some sexy, arrogant jerk with a hero complex. Evelyn is determined to keep things professional—if only she can ignore how Oliver's muscles fill out a t-shirt and the infuriating way he makes her heart pound.

But when tempers flare and a scorching kiss turns into so much more, Oliver and Evelyn will have to decide if this attraction is forever…or just for now.
BUY LINKS
Amazon | B & N | GooglePlay | iTunes | Kobo
REVIEW: I NEED A HERO (MEN IN UNIFORM) BY CODI GARY
I Need a Hero by Codi Gary

My rating: 5 of 5 stars


Codi Gary combined two of my favorite subjects in order to create an awesome story that is both informative and inviting. I love animals particularly dogs. These beautiful creatures play a central part in helping with worthy causes through the charity which brings the two main characters Eve and Oliver together. Eve is rebellious, guarded and wants to prove to herself and her father that she can take care of herself without his interference. Oliver is military down to his combat boots. When a random incident leaves him tasked with helping to plan a charity event, he starts to realize there may be more in store than just a life in fatigues. I Need a Hero supplies a fascinating close up look into a wonderful charity which leads to romance. Codi Gary crafted a read that appeals on so many levels. I received an ARC of this novel in exchange for an honest review. AM DOUBLING MY FIVE STAR REVIEW TO TEN!!!



View all my reviews
ONE LUCKY HERO (MEN IN UNIFORM) BY CODI GARY
Release Date: June 7, 2016
SYNOPSIS
Codi Gary launches her new Men in Uniform series with a hero...and a heartbreaker.
She was looking for a little fun…

Violet Douglas wants one night where she can be normal. Where she can do something for herself and not be just her sibling's guardian. So when she spies a tall, dark and sexy stranger, she's ready to let her wild side roar. The last thing she expects is to see her one night stand one week later, when she drags her delinquent kid brother to the Alpha Dog Training Program.

He wasn't looking for a commitment…

Sgt. Dean Sparks is used to keeping women at a distance, and yet he can't resist Violet's snapping wit or smile. So when he suggests a friends-with-benefits arrangement, it seems like the perfect solution to their undeniable attraction. No emotional entanglement, just mind-blowing sex.

But with their lives becoming more and more entwined, Dean realizes that casual isn't enough for him anymore. And as Violet finds herself leaning on Dean in a way she never has, will her fears put more distance between them? Or can she let go of the past, and take a chance on happily ever after?
BUY LINKS
Amazon Avon B & N Google Play Books IBooks Kobo
REVIEW: ONE LUCKY HERO (MEN IN UNIFORM) BY CODI GARY
One Lucky Hero by Codi Gary

My rating: 4 of 5 stars


ARC Review: One Lucky Hero (Men in Uniform) by Codi Gary

Codi Gary is not one to shy away from hot button issues. That point is made abundantly clear throughout One Lucky Hero. From a young age life was not easy for Violet. A drug addict father, dealing with her mother's suicide and taking over the rearing of siblings was alot of responsibility for someone who missed out on the innocence of childhood. One night of escape, could end up being her saving grace or her biggest mistake. This is not the fluffy, stars in your eyes, Prince Charming romance. One Lucky Hero is a story of hard knocks, heartbreaking reveals and gritty dialogue. The truths are excruciating to say the least. The enduring legacy of One Lucky Hero is that a make-believe scenario, can end up helping someone facing similar situations in the real world. With this story Ms. Gary is making a difference and there is no greater reward than that .




View all my reviews
Original post: ishacoleman7.booklikes.com/post/1449025/spotlight-men-in-uniform-series-by-codi-gary