THE BEST FRIEND BARGAIN (KISSES IN THE SAND) BY ROBIN BIELMAN
Release Date
:
August 8, 2016
SYNOPSIS
Olivia Lincoln has a plan guaranteed to get her life back on track. A plan that involves her best friend, Danny. And he's on board, too…until she blurts out that they're engaged and expecting a baby, and the news spreads like wildfire.
The problem? Danny doesn't do marriage. Or family. And everyone knows it, including Olivia.
As irritated as he might be, protecting Olivia is what Danny does. But put best friends under one roof, add house rules begging to be broken, accidental nakedness, and pancakes in bed, and what started as a marriage between friends threatens to turn into the real deal…which would ruin everything.
BUY LINKS
Amazon
B & N
Google Play Books
IBooks
Kobo
REVIEW
:
THE BEST FRIEND BARGAIN (KISSES IN THE SAND) BY ROBIN BIELMAN

The Best Friend Bargain
by
Robin Bielman
My rating:
5 of 5 stars
ARC Review: The Best Friend Bargain (Kisses In The Sand) By Robin Bielman
Olivia and Danny love each other. After all isn't that what friendship is all about? A relationship built on trust, knowing that there is always someone who has your back and gives you the courage to hope and succeed. That level of acceptance and reliability is priceless. Danny and Olivia have that deep of a devotion to each other, but what happens when that bond is tested? Will it survive or can it become something stronger? I have been a long time fan of Robin Bielman. She puts so much heart into her stories that it is difficult not to become wrapped up in each and every one. In The Best Friend Bargain a romance develops between friends and upsets the balance of a special bond. Having been late to the table I am glad to have had the chance to read the Kisses in the Sand Series. Love, life and laughter are in abundance.
View all my reviews
RANDOM ACTS OF MARRIAGE (WEDDING FAVORS) BY BOONE BRUX
Release Date
:
August 8, 2016
SYNOPSIS
A wedding. A playboy. And a week he'll make sure she never forgets.
Kinni Corbet is the perfect bridesmaid. She's efficient and has a to-do list for every occasion. When the bride-to-be adds "relax and have some fun" to Kinni's schedule, Price Lyons seems to tick all the right boxes. He's guaranteed fun, and it's only for one week—what can it hurt?
Playboy hotel owner Price Lyons has wanted to break down Kinni's walls for years. Her plan to relax for a whole week is the perfect opportunity to get to the one person he's never been able to charm. And this time, she seems…receptive to his advances. Unexpected, but he'll take it.
There's just one problem. Kinni's allergic to spontaneity, and the only thing predictable about Price is his unpredictably. There's no way they'll last beyond the week, and Kinni's going to make sure of it…
BUY LINKS
Amazon
B & N
Google Play Books
IBooks
Kobo
REVIEW
:
RANDOM ACTS OF MARRIAGE (WEDDING FAVORS) BY BOONE BRUX
Random Acts of Marriage
by
Boone Brux
My rating:
5 of 5 stars
ARC Review: Random Acts of Marriage (Wedding Favors) By Boone Brux
Kinni is a tad overzealous. Okay, who am I kidding she's a neurotic control freak. She color coordinates, her planner. That's a red flag! She may be wound a little tight but she feels deeply and wounds easily. At first introduction, I knew she would be a irresistible character. Boone Brux brings a comedic flair to the table with Random Acts of Marriage. The concept of a friendly intervention and opposites connecting brings a smile whenever I think about it. Kinni is a planner without a plan, Price is a fly by the seat of the pants type of guy. He lives by the motto: "Active now, plan later." Can he convert uptight Kinni over to his spontaneous point of view? Ms. Brux brought the funny and mixed in the honey. Another new author to add to my growing list of favorites.
View all my reviews
TEXT ME, MAYBE BY JOLYSE BARNETT
Release Date

: August 8, 2016
SYNOPSIS
New to the Big Apple, the last thing Lexie Bloom needs is to fall for two guys at once. Especially when she can't have either. One is her personal trainer, an Adonis way out of her league. The other? A Brit Lit professor her svelte boss insists she woo for her—via text message, no less. Little does she know, the two are the same man…
Matthew Hennessey is intrigued by his shy new client at the gym. But before he gets the chance to ask her out, he discovers she's the one crafting the flirty texts sent to him by a woman who wouldn't know Lord Byron from Lady Gaga. To get to know her better, he allows Lexie to play her role. She may have given up on the idea of romance, but Matthew's bound and determined to show her love is alive and well in New York City.
BUY LINKS
Amazon
B & N
Google Play Books
IBooks
Kobo
REVIEW
:
TEXT ME, MAYBE BY JOLYSE BARNETT
Text Me, Maybe
by
Jolyse Barnett
My rating:
5 of 5 stars
Jolyse Barnett hit a home run with
Text Me, Maybe
. Part Cyrano De Bergerac, Text Me brings the best of both worlds to the forefront with subtle charm and modern sex appeal. The comedy of errors just adds to the irresistible quality of the story. For me, Ms. Barnett embodied the sweet, shyness that makes falling in love so special.
View all my reviews
BLIND SPOT BY KATANA COLLINS
Release Date
:
August 8, 2016
SYNOPSIS
I'm used to going for the easy things in life.
The easy A in school.
The easy lay in bed. The easy life my trust fund affords me.
Until I met Shelby.
Never in my life have I found retro T-shirts and lip balm so damn sexy.
She's exactly what I never knew I wanted.
And she's anything but easy.
But suddenly, easy is overrated.

Only one damn problem... For Shelby, hating me is easy.

For the first time in my life, I have to work for something. And though
she may not be easy...she'll be worth it.
BUY LINKS
Amazon
B & N
Google Play Books
IBooks
Kobo
REVIEW
:
BLIND SPOT BY KATANA COLLINS
Blind Spot
by
Katana Collins
My rating:
3 of 5 stars
Blind Spot
was not what I expected. Tate was more of a lost soul than a bad boy. Until meeting Shelby, his life was a piece of cake. Shelby taught him that the more effort you apply, the more precious the reward. Tate was Shelby's total opposite. She knew anything worth having was a fight to hold on to. Her life was full of turmoil and hurt. Her ability to trust is non-existent and her BS radar is permanently on high alert. Meeting Tate taught her that she was deserving of love and he brought back the hope that she had given up on due to her hard life. There was a learning curve for Shelby and Tate as gradually they built something special. It seemed to stall halfway through but still delivered a lovely read.
View all my reviews
TURBULENT INTENTIONS (BILLIONAIRE AVIATORS) BY MELODY ANNE
Release Date

: August 9, 2016
SYNOPSIS
The Armstrong brothers are wealthy, wild-at-heart bad boys—until their father's will demands they prove themselves and marry in order to inherit their fortune.
Eldest brother Cooper channels his reckless spirit into becoming CEO of his own airline. The only thing better than the adrenaline rush of flying is his one-night stand with a stunning stranger. At first he doesn't recognize the fiery barista he clashes with years later at an airport coffee shop. But when Stormy Halifax turns up as his new house sitter,
Cooper knows she's his Cinderella. And he doesn't just want her in his mansion. He wants her back in his bed.
Stormy can't believe she's living under Cooper's roof. Gorgeous and arrogant, he's convinced she'll surrender again—and he's right. But just as Stormy is succumbing to a world of pleasure, her trust is shattered. And the biggest challenge Cooper has ever faced will be proving he wants Stormy, now and forever, for all the right reasons.
BUY LINKS
Amazon
B & N
REVIEW
:
TURBULENT INTENTIONS (BILLIONAIRE AVIATORS) BY MELODY ANNE
Turbulent Intentions
by
Melody Anne
My rating:
5 of 5 stars
There are no strangers in a Melody Anne story. She takes the theory oF six degrees of separation to heart. Whether friends, family or acquaintances there is a link that connects her writing and sometimes it's so subtle, it's easy to overlook.
Turbulent Intentions
proves that. I received an ARC in exchange for an honest review. The theme of love as a unifying force is often used but I enjoyed how a random meeting rippled though the lives of two people and changed them for the better. With a gentle push from a familiar friend and a little help from an age old romance, Turbulent Intentions is as adorable as it is emotional. A feel good story.
View all my reviews
CLOSE TO YOU (FUSION) BY KRISTEN PROBY
Release Date
:
August 9, 2016
SYNOPSIS
From New York Times and USA Today bestselling author Kristen Proby comes the second novel in her sizzling Fusion series.

Camilla, "Cami," LaRue was five years old when she first fell in love with Landon Palazzo. Everyone told her the puppy love would fade—they clearly never met Landon. When he left after graduation without a backward glance, she was heartbroken. But Cami grew up, moved on, and became part-owner of wildly popular restaurant Seduction. She has everything she could want...or so she thinks.

After spending the last 12 years as a Navy fighter pilot, Landon returns to Portland to take over the family construction business. When he catches a glimpse of little Cami LaRue, he realizes she's not so little any more. He always had a soft spot for his little sister's best friend, but nothing is soft now when he's around the gorgeous restauranteur.

Landon isn't going to pass up the chance to make the girl-next-door his. She's never been one for romance, but he's just the one to change her mind. Will seduction be just the name of her restaurant or will Cami let him get close enough to fulfill all her fantasies?
BUY LINKS
Amazon
B & N
Google Play Books
IBooks
Kobo
REVIEW
:
CLOSE TO YOU (FUSION) BY KRISTEN PROBY
Close to You
by
Kristen Proby
My rating:
5 of 5 stars
ARC Review: Close To You (Fusion) by Kristen Proby
For Landon it took almost a lifetime to discover what Cami had admitted to at a young age. That falling in love is confusing, heartbreaking and worth all the drama in the end. I received an ARC of Close to You by Kristen Proby in exchange for an honest review. The second chance plot line is not that surprising in romance. It's been done before, quite often in fact. However, Camilla was the spark that drew me to this novel. Her undying love for the boy who captured her heart at age five and held it throughout youth, adulthood, distance and his blind ignorance made for a great payoff. Close to You has sentiment, brass and whole lot class added to the teasing allure.
View all my reviews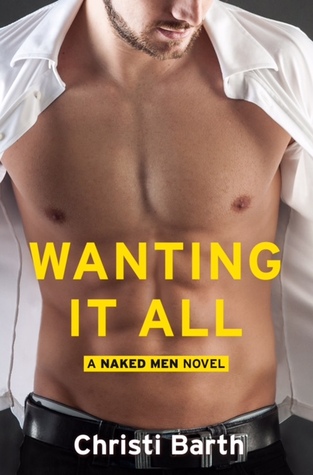 WANTING IT ALL (A NAKED MEN NOVEL) BY CHRISTI BARTH
Release Date

: August 9, 2016
SYNOPSIS
In the follow-up to Risking It All, hailed by Lauren Layne as "the perfect escapist read," the heartthrobs of the Naked Men blog and podcast get a little too real about friendship, love, and sex. For one wealthy bachelor, the trouble starts when all three collide. . . .
After narrowly surviving a bus crash in high school with his best friends, science geek Knox Davis resolved to become so successful that he could have anything and everything he wants. Now he's über-wealthy, a huge business success, and a notorious ladies' man. Knox refuses to limit himself to one woman, but when his latest conquest—a blond beauty from the Alaskan bush—challenges his superficial ways, Knox begins to see the world through her eyes, and finds he likes what he sees.
A nurturer at heart, Madison Abbott wants to put down roots. She left Alaska to meet Mr. Right—and to track down Logan, the half-brother she's never met. Instead, she finds Knox. Although the sexy-as-sin bachelor may not seem like marriage material, Madison's starting to think that Knox is The One. But Knox refuses to settle down, especially once he learns that Madison is his best friend's little sister. Now it's up to her to convince Knox that she's everything he really wants.
BUY LINKS
Amazon
B & N
Google Play Books
IBooks
Kobo
REVIEW
:
WANTING IT ALL (A NAKED MEN NOVEL) BY CHRISTI BARTH
Wanting It All
by
Christi Barth
My rating:
5 of 5 stars
Griffin, Riley, Knox, Josh and Logan are a close knit group of friends that have been inseparable most of their lives. When a traumatic event almost succeeding in permanently separating this band of brothers, each vowed to make changes and live life to the fullest.
Wanting It All
is Knox's journey. Knox as a youngster, was the odd man out. The skinny guy with the awkward personality and a thirst for knowledge was a prime target for bullies. Loyal friends and his brain are what got him though some of the toughest times in his life. Now, as an adult, he has money, success and an active libido that rivals are his former haters. Still, he isn't satisfied.
Madison is a country girl , searching for answers in the big city. She craves for a connection to a family she's never known. She also hopes to find a place she belongs. A chance meeting sets in motion an attraction she can't escape and revelations that could implode all her wishes and happiness. I received an ARC of Wanting It All by Christi Barth in exchange for an honest review. One event changed many lives, some positively, others negatively but it had an effect that was attention grabbing for a group of friends. Ms. Barth, handles the turmoil with gentleness and finesse. She has added another wonderful story to a great series. Facing fear isn't weak, it makes a person stronger for having tackled it head on.
View all my reviews
FAMILY TREE BY SUSAN WIGGS
Release Date

: August 9, 2016
SYNOPSIS
From the #1
New York Times
bestselling author comes a powerful, emotionally complex story of love, loss, the pain of the past—and the promise of the future.
Sometimes the greatest dream starts with the smallest element. A single cell, joining with another. And then dividing. And just like that, the world changes. Annie Harlow knows how lucky she is. The producer of a popular television cooking show, she loves her handsome husband and the beautiful Los Angeles home they share. And now, she's pregnant with their first child. But in an instant, her life is shattered. And when Annie awakes from a yearlong coma, she discovers that time isn't the only thing she's lost.
Grieving and wounded, Annie retreats to her old family home in Switchback, Vermont, a maple farm generations old. There, surrounded by her free-spirited brother, their divorced mother, and four young nieces and nephews, Annie slowly emerges into a world she left behind years ago: the town where she grew up, the people she knew before, the high-school boyfriend turned judge. And with the discovery of a cookbook her grandmother wrote in the distant past, Annie unearths an age-old mystery that might prove the salvation of the family farm.
Family Tree
is the story of one woman's triumph over betrayal, and how she eventually comes to terms with her past. It is the story of joys unrealized and opportunities regained. Complex, clear-eyed and big-hearted, funny, sad, and wise, it is a novel to cherish and to remember.
BUY LINKS
Amazon
B & N
Google Play Books
IBooks
Kobo
REVIEW
:
FAMILY TREE BY SUSAN WIGGS
Family Tree: A Novel
by
Susan Wiggs
My rating:
4 of 5 stars
The first time I picked up a Susan Wiggs novel: I was nineteen and saw a copy of The Charm School at the book store. Something just called out to me and I knew that I had to read it. From there I read The Horsemaster's Daughter and got hooked on Ms. Wiggs. Her ability to find beauty in the most adverse of circumstances draws me back every time.
Family Tree
is the latest in a long line of novels that will break the heart and give readers a look at the positives in a situation that tests the boundaries of one's strength. Annie had it all, but in one second she lost a lifetime of memories and is left picking up the pieces of her broken life. With the help of a wise woman and the fortitude to take a chance, Annie learns that life is what you make it. Over twenty years and Susan Wiggs can still deliver stories that I love to read.
View all my reviews
TAILORED FOR TROUBLE (HAPPY PANTS) BY MIMICKED JEAN PAMFILOFF
Release Date

: August 9, 2016
SYNOPSIS
A sassy, sexy, laugh-out-loud rom-com between the hottest man never to be tamed and the woman crazy enough to try


SHE WANTS TO CHANGE THE WORLD.

Taylor Reed is no stranger to selfish, uncaring CEOs. She was fired by one, which is why she has created her own executive training program—helping heartless bosses become more human. So Taylor shocks even herself when she agrees to coach Bennett Wade, the cutthroat exec who got her unceremoniously canned. She'd love to slam the door in his annoying but very handsome face, but the customers aren't exactly lining up at her door. Plus, this extreme makeover will give Taylor the golden opportunity to prove that her program works like a charm.



HE WANTS TO BUY IT.
Bennett Wade is many things—arrogant, smug, brusque—but trusting isn't one of them. Women just seem to be after his billions. So when he hires Taylor Reed, he has no desire to change. Bennett is trying to win over the feminist owner of a company he desperately wants to buy, but something about the fiery Taylor thaws the ice around his heart, making Bennett feel things he never quite planned on. And if there's one thing Bennett can't stand, it's when things don't go according to plan.They are a match tailor-made for trouble.
BUY LINKS
Amazon
B & N
Google Play Books
IBooks
Kobo
REVIEW
:
TAILORED FOR TROUBLE (HAPPY PANTS) BY MIMICKED JEAN PAMFILOFF
Tailored for Trouble
by
Mimi Jean Pamfiloff
My rating:
5 of 5 stars
The fast paced dialogue had me laughing one minute, hot and bothered the next. Hard to resist characters that could frustrate but turn on the charm and have you forgetting their flaws.
Tailored For Trouble
is heated, humorous and fun rolled into one great package. Mimi Jean Pamfilioff got me to fall in love with a jerk. What better recommendation than that.
View all my reviews
COMING SOON!
THE SHEIKH'S ISLAND (SHEIKH'S WEDDING BET) BY LESLIE NORTH
Release Date
: ?????
SYNOPSIS
Sheikh Rameez's family has been entangled in a feud for decades, and when his mother's health takes a turn for the worst, he's forced to try and mend the dispute before she gets any sicker.
Rameez knows he can't be in the same room as his shady cousin without his blood starting to boil, so he hires a mediator--but he wasn't expecting the stunning Wynifred Fellows to turn up on his Island.
Wynifred needs a big press hit for her latest book, LOVE SOLVES ALL, so she jumps at the chance to mediate between royalty. But now she's stuck on an Island with two arrogant, powerful, irresistibly handsome Sheikhs--both vying for her attention.
Can love solve all, or will the Murharraq curse claim three more broken hearts?


BUY LINKS
REVIEW
:
THE SHEIKH'S ISLAND (SHEIKH'S WEDDING BET) BY LESLIE NORTH
The Sheikh's Island (Sheikh's Wedding Bet) by Leslie North
My Rating: 4.5 of 5 stars
ARC Review: The Sheikh's Island ( Sheikh's Wedding Bet) by Leslie North
One of the reasons I am a fan of Leslie North is her knack for surprising her readers. She can spin a mystery, create a love triangle, travel to beautiful locations and begin an adventurous quest. All without having to pack a suitcase and get on a plane.
The Sheikh's Island
may sometimes seem naive but delivers another sultry go-getter with romance, conflict and the healing power of love. Wynifred comes to mend a family rift and ends up finding romance. Only problem is instead of helping, she may end up making the problem worse. Sun, sand, romance and two hot men? Ms. North has done it again. I received an ARC of The Sheikh's Island in exchange for an honest review.
GAME BREAKER (PORTLAND STORM) BY CATHERINE GAYLE
Release Date
:
August 11, 2016
SYNOPSIS
He's becoming a Game Breaker on the ice.
With the playoffs right around the corner, Nate "Ghost" Golston is focused on only one thing—getting the Portland Storm to the Finals so he can finally hoist the Cup. But when opposing teams' fans start getting under his skin, he can't ignore the ridicule that's suddenly all over the Internet. With each degrading word slung over the boards, he strains to keep his focus on the ice. Now, everything he's worked for is in jeopardy.
She's facing off with the Game Makers.
Stunning sports reporter and aspiring filmmaker Anne Dennison is determined to use her smarts to get ahead in a male-dominated career. Producing a behind-the-scenes web series brings Anne up close and personal with skilled, sexy Nate. Sparks fly, putting her plans in danger. For Anne to succeed, she has to capitalize on Nate's struggles.
Wanting to be together, they know they must bend for each other before one of them breaks. If they can't, it's Game Over
BUY LINKS
Amazon B & N Google Play Books IBooks Kobo
REVIEW
:
GAME BREAKER (PORTLAND STORM) BY CATHERINE GAYLEFT
Game Breaker
by
Catherine Gayle
My rating:
5 of 5 stars
When all you have are goals and dreams, nothing will stand in the way of seeing they come true.
Game Breaker
is a story of two underdogs bucking the odds to succeed. Anne is not just a pretty face. She has the smarts, drive and skills to get noticed in a world that is mostly male. Nate has been fighting all his life. He has more to prove than most. However bias will not stop this tough guy from doing what he loves and being the best at it. Wanting it all is easy. Making that into reality, not so much. I received an ARC of Game Breaker in exchange for an honest review.
I LOVED
the message behind the romance. Doing your best is the greatest achievement. That makes a winner despite the white noise that says otherwise. A powerful message bundled in a poetic love story. Memorable.
View all my reviews
Original post:
ishacoleman7.booklikes.com/post/1437850/new-releases-for-week-of-august-7-2016