CURRENTLY $0.99.
READ AND REVIEW
MAGGIE NEEDS AN ALIBI ( A MAGGIE KELLY MYSTERY) BY KASEY MICHAELS
SYNOPSIS
Book One in the Maggie Kelly Mystery Series by New York Times Bestselling Author Kasey Michaels

Maggie Kelly, writing as Cleo Dooley (she thinks O's look good on a book cover), is the author of the best selling St. Just Mystery Series set in the English Regency Era. This should make her a happy woman, and it does, mostly. Professionally, she's a hit. Personally? No, not so much.

But never fear, a hero has come to rescue her from her dull, boring, and faintly neurotic existence. The only problem is that said hero is Alexandre Blake, Viscount St. Just, her fictional hero, in all his handsome, arrogant Regency-ness. He has popped out of her mind, out of her books, and has somehow landed in her New York apartment, along with his fictional sidekick, the adorable Sterling Balder.

Try explaining that one to your friends!

While juggling lies explaining her strange "houseguests," Maggie also finds herself the prime suspect in the murder of her publisher and former lover (just because she fed him mushrooms and he died of mushroom poisoning that same night -- really, there such a thing as coincidence, right?).

But again, never fear, because her fictional hero is here, and he, amateur sleuth-master that he has been created to be, has promised to step in and save the day. Maggie's pretty much hoping he'll just learn to put the cap back on the toothpaste...
BUY LINKS
Amazon B & N Google Play Books IBooks Kobo
REVIEW: MAGGIE NEEDS AN ALIBI ( A MAGGIE KELLY MYSTERY) BY KASEY MICHAELS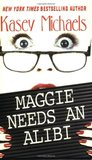 Maggie Needs An Alibi by Kasey Michaels

My rating: 4 of 5 stars


Maggie Needs an Alibi is unlike any mystery I've ever read. Maggie takes her work a little too seriously. Her world revolves around the characters she creates and the enigmas she creates. Writing is in her soul and her penchant for mystery has given her sucess. The cliche' about letting the imagination run wild is the perfect metaphor for Ms. Michaels' out of the ordinary suspenseful romance. Maggie and Alexandre blur the lines between fantasy and reality in a way that proves innovative and attention grabbing. A kooky writer becomes entangled in a larger than life mystery with her very own man of her dreams. Twistedly weird but highly addictive.



View all my reviews
Original post: ishacoleman7.booklikes.com/post/1453032/currently-available-maggie-needs-an-alibi-a-maggie-kelly-mystery-by-kasey-michaels