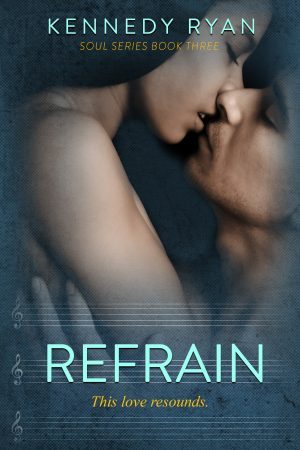 COMING SOON!
READ AND REVIEW
REFRAIN (SOUL) BY KENNEDY RYAN
Release Date: August 15, 2016
SYNOPSIS
People dream of a love that runs deep. So deep it feels like it's always been with you, just waiting for the person who'll own your heart and soul forever. So few ever find it, but for Rhyson Gray and Kai Pearson, happily ever after was only the beginning...

One of the biggest rock stars in the world and one of the brightest rising stars make a life together. Sometimes it's glamour-filled days and blissed out nights, but it's mostly staying true in the too-bright glare of the spotlight. It's long stretches where the road is lonely and the work is hard. It's living in a love that's the safest place you know even while danger lurks at your door.

Book 3 of The Soul series is an emotionally-charged epic conclusion that had to be told and should not be missed for fans of this series and this couple!
BUY LINKS (Links coming soon)
Amazon B & N Google Play Books IBooks Kobo
REVIEW: REFRAIN (SOUL) BY KENNEDY RYAN
Refrain by Kennedy Ryan

My rating: 5 of 5 stars



ARC Review: Refrain (Soul) by Kennedy Ryan

Kai and Rhys' connection is so powerful it borders on obsession. Their relationship is all consuming to the point that neither sees themselves existing without the other. Although a sweet concept, it can also prove toxic when little by little a person loses themselves along the way. Refrain is tragic, haunting and emotionally climatic as the high and lows of this couples journey comes to a head. Kennedy Ryan knows how to grab a reader and hang on tight. She shows both the beauty and the tragedy that is LOVE. A stunning conclusion to a breathtaking series.



View all my reviews

CURRENTLY AVAILABLE!!
BOOK 1: MY SOUL TO KEEP BY KENNEDY RYAN
BOOK 2: DOWN TO MY SOUL BY KENNEDY RYAN
MY SOUL TO KEEP BY KENNEDY RYAN
SYNOPSIS
It seems the things worth keeping are often the hardest to hold...
KAI
I had two things in life that mattered. My mother and my music.
Mama was taken from me too soon, and now music is all I have left. It's the thing that's pushed me right out of backwoods Georgia into Los Angeles, where the line between fantasy and reality shimmers and blurs. I'm finally making my way, making my mark. I can't afford to fall for one of music's brightest stars. Not now. Music is all I have left, and I'm holding on tight with both hands. I won't let go, not even for Rhyson Gray.
RHYSON
I had one thing in my life that mattered – music. The only constant, it's taken me to heights most people only dream about; a gift dropped in my lap at birth. I thought it was enough. I thought it was everything until I met Kai. Now she's all I think about, like a song I can't get out of my head. If I have to chase her, if I have to give up everything - I will. And once she's mine, I won't let go.
BUY LINKS
REVIEW: My Soul to Keep
DOWN TO MY SOUL BY KENNEDY RYAN
Release Date: March 31, 2016
SYNOPSIS
RHYSON
She doesn't wear my ring. We never stood before a preacher. The only vows exchanged were between our bodies; between our souls. But she was mine and I was hers until I ruined it. I have to believe that every day, every step, every breath brings me closer to making things right. To making her mine again.
KAI
I've seen promises broken. I know love makes no guarantees. But things were different for Rhys and me, until he lied, and I walked away. Only there's a chain between our hearts that I can't break. Even if I forgive him, a shadow from my past hangs over us; over this love that reaches all the way down to my soul.
BUY LINKS
REVIEW: Down to My Soul
Original post: ishacoleman7.booklikes.com/post/1448987/spotlight-soul-series-by-kennedy-ryan