READ AND REVIEW
FOOL FOR YOU (CRUSH ON YOU) BY RINA GRAY
Release Date: July 18, 2016
SYNOPSIS
Sports journalist Melanie Foster has achieved most of her goals: Bomb.com job—check. Tomboy-to-smoking-hottie makeover—check. Convince her best friend, Damien Richards, to slide a ring on her finger and father her two-point-five kids—not so much. When she activates Operation: I'm Gonna Make You Love Me, she never imagines her BFF already has plans to stroll down the wedding aisle with another woman.

Damien's in the middle of crisis mode. The non-profit for young athletes at which he volunteers is in financial trouble. He'll pull out all the stops to rescue the organization that saved his life after his career-ending injury—even if it means sacrificing his personal happiness.

But when he finally wakes up to love and the very non-brotherly feelings he's long held for Mel, it just might be too late. Damien must convince her that he's worth the risk and turn the tables to show her he's the one ready to be a fool for love.
BUY LINKS
Amazon B & N Google Play Books IBooks Kobo
REVIEW: FOOL FOR YOU (CRUSH ON YOU) BY RINA GRAY
Fool for You by Rina Gray

My rating: 4 of 5 stars


ARC Review: Fool For You (Crush on You) By Rina Gray

To read a positive story about an African- American hero and heroine was a wonderful change from all the negativity put out into the world on a regular basis. Damien and Mel want to make a difference in a not always kind world. Mix in a little romance and you've got a winner in my eyes. There were a few stalls along the way but overall, Ms. Gray created something energetic, relatable and entertaining. That's something to be proud of.



View all my reviews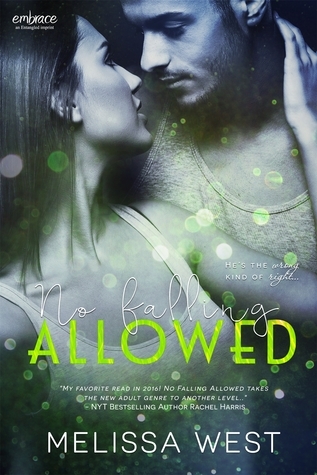 NO FALLING ALLOWED (NO KISSING ALLOWED) BY MELISSA WEST
Release Date: July 18, 2016
SYNOPSIS
My life just went South…

Twenty-four hours. That's how long it took my life to flip upside down.

Wake up in bed alone after the best night of my life? Check.

Get fired instead of the promised promotion? Check.

Wealthy parents cut me off when I refuse to follow their path for my life? Check.

Now I'm in Cricket Creek, SC—a place where no New Yorker belongs—disowned and broke, with a new job that I can't mess up. Oh yeah, and staring at my one-night stand, who happens to be the complete opposite of my type.

Southern.

Cocky.

Bartender.

Noah Hunter never should have made it back to my apartment in NYC, and I definitely shouldn't be in his small town. But fate had another plan. Or a horrible sense of humor.

Who knew Mr. Wrong could feel so right…
BUY LINKS
Amazon B & N Google Play Books IBooks Kobo
REVIEW: NO FALLING ALLOWED (NO KISSING ALLOWED) BY MELISSA WEST
No Falling Allowed by Melissa West

My rating: 5 of 5 stars


ARC Review: No Falling Allowed (No Kissing Allowed) By Melissa West

Melissa West is quickly making a place for herself on my list of favorite authors. She proves that irony and laughter are the best medicine in No Falling Allowed. She proves that life does have a sense of humor. Noah and Grace are total opposites. Grace's whole existence is headed downhill. What's left for a broke NYC socialite with limited skills to do? Make her own way. Responsible Noah has much on his plate. Running the family business and taking care of family has made him way too serious. Having lived the life of a pampered princess has made Grace snobby, spoiled and bratty. I had a great time with No Falling Allowed. Ms. West blended sassy and sexy with small town charm to create a sensational read.




View all my reviews
HANDS ON BY CATHRYN FOX
Release Date: July 18, 2016
SYNOPSIS
Hands On is the first of a three-part erotic series from New York Times and USA best-selling author Cathryn Fox.

When hot as hell Danielle Lang showed up and asked me to teach her about sex, I thought I was hallucinating. Turns out the beautiful psychologist needed an extra bit of schooling in all things sexual so she could teach a class.

I'm always up for helping a friend. I mean, it's the least I can do. What I wasn't expecting is for her to turn the tables and teach me a few things. Only this short-term promise of two weeks in her bed is going by a little too quickly. Not that I'm thinking forever or anything.

I've got a football career to get back to. And she doesn't want to be a part of my world. There's no way we can be together—so I'm going to make sure I enjoy every sexy second….

This is the first of a three-part series full of mind-blowing sex, featuring a dirty-mouthed football player who knows the score and an inexperienced therapist who needs to learn it. HANDS ON is sure to leave readers begging for more. The next installment, Body Contact, will be published August 2016.
BUY LINKS
Amazon B & N Google Play Books IBooks Kobo
REVIEW: HANDS ON BY CATHRYN FOX
Hands On by Cathryn Fox

My rating: 4 of 5 stars


ARC Review: Hands On By Cathryn Fox

I enjoy reading. For me it is a time to relax and unwind after a stressful day. Favorite format is series because as one journey ends, another begins. While becoming acquainted with new characters, there is also a chance to visit previous ones. That works great for me because it's the best of both worlds. I am not a big fan of serials where one story is divided into more than one novel because a pet peeve of mine is having to wait for the next installment to see what happens next. It drives me crazy. For that reason I was wary of Hands On. Ms. Fox ended up surprising me. Hands On reads like a soap opera with it's format but begins a sensuous romance that has no trouble with grabbing the attention and whetting a readers appetite for more. I got so caught up in Danielle and Jack that I forgot everything else. Still bummed I have to wait to see what happens, but I'm hooked all the same. A guilty pleasure that's worth all the hype.



View all my reviews
BOUND TO THE BOUNTY HUNTER (BOUND) BY HAYSON MANNING
Release Date: July 18, 2016
SYNOPSIS
Harlan Franco, Colorado's busiest bounty hunter, and security expert, lives by his rules: be in control, be detached, and never touch the asset. These rules are tested when the asset he's being paid to secretly guard is none other than his rival, sexy, unpredictable, pain in the butt, Sophie Callaghan––a woman determined to stay away from him. If she finds out he's in her life on an assignment, he'll never get the info he needs. But those lips, those curves, that attitude, he bets he'll have her for one night where she'll play by his rules.

He didn't expect his heart to have an opinion.

Freedom loving private investigator Sophie Callaghan is on a mission. The daughter of a con-artist is not going to be used by a man again. What she doesn't need is hot, broody and controlling Harlan barging into her life and digging into her past. Her brain may say no, but her body craves this bad boy. After a night where both live their darkest desires, Sophie must fight their explosive chemistry because one wrong move could destroy her. She bets he has to stay far, far away.

As the stakes ramp up and secrets explode around them, both are determined to win the bet.

But there can only ever be one winner.
BUY LINKS
Amazon B & N Google Play Books IBooks Kobo
REVIEW: BOUND TO THE BOUNTY HUNTER (BOUND) BY HAYSON MANNING
Bound to the Bounty Hunter by Hayson Manning

My rating: 4 of 5 stars


Ego and desire collide In Bound to the Bounty Hunter by Hayson Manning. I received an ARC in exchange for an honest review. This was a wonderful chance to try out a new author. Whenever the chance arose Sophie and Harlen thrived on needling each other. The chemistry was hard to cut through because the sexual tension was suffocating between these two. What drives Sophie is a need for redemption and the chance to prove herself different from her father. Harlen thrives on being in control and the fact that Sophie will not cede to him gets under his skin in more ways than one. Bound to the Bounty Hunter is full lust, emotion and secrets. I am definitely taking notice of Hayson Manning.



View all my reviews
GOING DOWN EASY (BILLIONAIRE BAD BOYS) BY CARLY PHILLIPS
Release Date: July 19, 2016
SYNOPSIS
Billionaire Bad Boys: Rich, Powerful and sexy as hell.

Billionaire Kaden Barnes has a reputation for being difficult and always getting his way.

Enigmatic and exacting, he's unable to keep an assistant for long. Enter his newest hire, Lexie Parker. She's no-nonsense, efficient and all business… She's also hot as sin and soon starring in Kaden's dirtiest fantasies.

As their passion for each other reaches a boiling point, neither can control the explosive outcome when they finally give in to their desires. He may think he's calling the shots, but for this bad boy, going down easy has never felt so good.
BUY LINKS
Amazon B & N Google Play Books IBooks Kobo
REVIEW: GOING DOWN EASY (BILLIONAIRE BAD BOYS) BY CARLY PHILLIPS
Going Down Easy by Carly Phillips

My rating: 5 of 5 stars


Carly Phillips proves that she can create a deeply moving piece of literary magic. Going Down Easy may not have had the shock value that she normally delivers but her signature style of sensuality was interwoven with a wonderful cast of characters. I didn't expect to cry but I did. A lot. I received an ARC of Going Down Easy in exchange for an honest review. My first opinion of Kaden, a jerk with a chip on his shoulder was somewhat accurate but not completely true. He found it easiest to be an ogre than let any one particularly of the feminine persuasion close enough to hurt him. Lexie girds herself with a smile to hide the heartache and responsibility that has dogged her in her life. She doesn't let anyone close enough to witness the fear she holds deep inside. When a story tackles issues like mental illness which is a struggle that is dealt with on a global scale, I find it holds a deeper meaning within my life. My grandmothers both struggled with depression, dementia and Alzheimer's throughout their lives and so I know what it feels like to want to help someone and know that the issue is bigger than one person can handle. Ms. Phillips showed that in the darkest moments there is a light at the end of the tunnel. Thank you for bringing a hidden subject into the light Ms. Phillips.



View all my reviews
HITCHED (IMPERFECT LOVE #2) BY KENDALL RYAN
Release Date: July 19, 2016
SYNOPSIS
Arranged marriage? Check.

Cocky new husband? Check.

It's a marriage of convenience—one I'm determined to keep strictly professional. I can't be stupid enough to fall for this sexy playboy's charm or advances. I have to be strong, even if he is my husband.

Except he has a huge cock with an even bigger ego, and his main goal in life seems to be getting me to stroke both. The arrogant bastard is like sweet, sugary candy for my libido. I know he's bad for me.

But I want to devour every wicked inch of him.

With his sexual prowess and experience, I know he'll be explosive in the bedroom. And since we're stuck together for the foreseeable future—keeping up this marriage charade long enough to turn the company profitable again—I deserve something to look forward to at the end of a long workday, right?

What could one little taste hurt?
BUY LINKS
Amazon B & N Google Play Books IBooks Kobo Paperback
REVIEW: HITCHED (IMPERFECT LOVE #2) BY KENDALL RYAN
Hitched: Volume Two by Kendall Ryan

My rating: 4 of 5 stars


A playboy and an ice queen get more than they bargained for. Hitched is shaping up to be a comedic gem. Attitude, temptation and intelligence drive this impressive battle of wills. My, how the tables have turned. A secret clause, growing emotional attachment and a marriage of convenience take this couple from 0-60 rather quickly. I received an ARC of Book 2 in the Hitched series in exchange for an honest review. Noah and Olivia are on the verge of wedded bliss when an upset sends her into free fall and him into warrior mode. Kendall keeps the surprises flowing and the romance growing. Book two brings more of a spicy edge that bubbles over with flash and borders on risque.



View all my reviews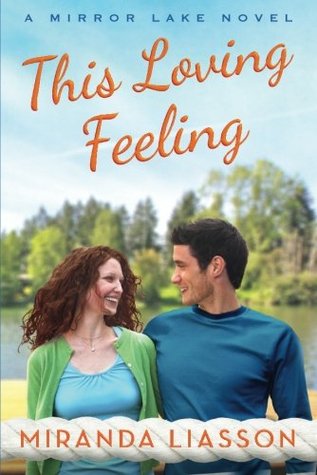 THIS LOVING FEELING (MIRROR LAKE) BY MIRANDA LIASSON
Release Date: July 19, 2016
SYNOPSIS
Samantha Rushford's future looks bright: the high school art teacher is getting ready to leave Mirror Lake and move to Boston with her ambitious boyfriend, and she hopes a diamond ring is just around the corner. But her past still has a hold on her—especially the bittersweet memory of her rebellious ex, who kissed her passionately before he left town without a word.
Since then, Lukas Spikonos has parlayed his rebel ways into life as an up-and-coming recording artist. When he shows up for a surprise gig at the high school prom, Sam is more dumbstruck than starstruck—he used the words of a poem she wrote about their breakup to create a number one hit. But Lukas hasn't returned just to impress students; he's facing some real-life responsibilities and needs Sam's help. But she has her own unresolved issues about the life she wants to lead. Will the music—and the pull of true love and family—put their hearts back in harmony?
BUY LINKS
REVIEW: THIS LOVING FEELING (MIRROR LAKE) BY MIRANDA LIASSON

This Loving Feeling by Miranda Liasson

My rating: 5 of 5 stars


Like everyone else Sam just wants to be happy. The problem? Figuring out what she has to do in order to become that way. Ms. Liasson has a knack for intertwining the reader with the story, at least in my case. Her characters are so life like that it feels as if they jump off the page and pulled me inside. Lukas and Sam face some tough choices on the road to forgiveness if a second chance is even possible. I received an ARC of This Loving Feeling in exchange for an honest review. It takes more than love to make a relationship work, it takes dedication and maturity as well. Ms. Liasson at her finest.



View all my reviews
HEATING UP (NUGGET) BY STACY FINZ
Release Date: July 19, 2016
SYNOPSIS
Nugget, California, is remote, picturesque—and the perfect place to fall in love. Even when you're trying desperately not to…

Dana Calloway is tired of being second choice. No question she was her parents' consolation prize, and now she's placed second in the race for a guy's heart—a guy she could have sworn was The One. Is it any wonder such a normally type A person accidentally burns down her house in one distracted moment?

Cal Fire arson investigator Aidan McBride came to Nugget to do a little soul searching about his commitment phobia. But there's only one available apartment in this tiny town, and the headstrong woman who just had a house fire needs it too. Of course, there are worse things than sharing living quarters with someone so beautiful…

Dana's determined to resist her sexy new roommate, but it isn't long before Aidan realizes he doesn't have a commitment problem when she's around. And the hotter things get in their apartment, the brighter the blaze when someone finally ignites that first spark…
BUY LINKS
Amazon B & N Google Play Books IBooks Kobo
REVIEW: HEATING UP (NUGGET) BY STACY FINZ
Heating Up by Stacy Finz

My rating: 5 of 5 stars


ARC Review: Heating Up (Nugget) By Rina Gray

I sort of fell into the Nugget series. Stumbled across Going Home while searching for free reads on my ereader. What grabbed my attention is the irony of how this one desolate town could attract so many big city wanders. Nugget, California is the place no one looks for but proves to be the perfect spot to do some soul searching and settling down. Heating Up lives up to that lost and found theory. It amazes me how Aidan and Dana pride themselves on how in control they are but are more messed up then the people around them. Ms. Finz uses laughter, wisdom and sentiment to create stories reach the heart.




View all my reviews
BACHELOR UNFORGIVING (BACHELORS IN DEMAND) BY BRENDA JACKSON
Release Date: July 19, 2016
SYNOPSIS
Passionate payback
They say living well is the best revenge. Virgil Bougard has other ideas. Four years ago Kara Goshay believed a vicious lie about him and ended their relationship. And even after her apology, Virgil is still bitter. He intends to get even with Kara when his family's firm hires her PR company to revamp his playboy image. But faking a liaison with Kara for the media backfires when the line between fantasy and reality is blurred by strong sexual attraction.
Kara wanted forgiveness. Instead she's deep into a heated affair with the powerful, charismatic man she can't resist. The man who claims he'll never forgive her, especially when a secret enemy puts her professional reputation in jeopardy. Stakes are high—but so is their searing desire, a connection so intense it could possibly tame this elusive bachelor at last…
BUY LINKS
Amazon B & N Google Play Books Harlequin IBooks Kobo
REVIEW: BACHELOR UNFORGIVING (BACHELORS IN DEMAND) BY BRENDA JACKSON
Bachelor Unforgiving by Brenda Jackson

My rating: 4 of 5 stars


Allegations of infidelity imploded Kara and Virgil's whirlwind romance. Will a little undercover masquerading repair the damage? I received an ARC of Bachelor Unforgiving in exchange for an honest review. Ms. Jackson gave something that isn't seen very often in a romance. A bromance that spanned generations. A close knit group of men who look out for one another is a rarity. Most of the time you see female relationships that span generations and Uriel, Virgil, Winston, Xavier, York and Zion flipped the switch on that stereotype. It was obvious to everyone, close friends, family and even strangers these two were made for each other. Can Virgil let go of the pride, bitterness, hurt and anger long enough to risk it all before it's too late? Bachelor Unforgiving uses humor to mask some deeply emotional and personal subjects. A huge reason why continue to be a fan of this awesome storyteller.



View all my reviews
SEASIDE LOVERS (LOVE IN BLOOM: SEASIDE SUMMERS) BY MELISSA FOSTER
Release Date: July 20, 2016
SYNOPSIS
Seaside Summers is a series of stand-alone romances that may also be enjoyed as part of the larger Love in Bloom series.

In SEASIDE LOVERS...

After months of long-distance communication, actress Parker Collins and artist Grayson Lacroux finally plan to reconnect in the seaside town of Wellfleet, Massachusetts. But Parker never shows, and weeks pass without a word, leaving Grayson to believe he's misinterpreted their budding relationship.

Parker has been running on autopilot ever since she lost her friend, mentor, and the only family she's ever known, Bert Stein. Armed with junk food, tequila, and her big, lovable dog, she's prepared to hole up and mourn--and determined to mend a fence Bert had never been able to with his estranged and bitter brother. But Parker didn't count on the sinfully hot artist she's been fantasizing about for nearly a year walking in on her grief-induced drunken night.

When Grayson stumbles across Parker, he has no idea what to make of the gorgeous blonde who blew him off despite the heat sizzling between them. But that doesn't stop him from feeling protective of the woman who's consumed his thoughts for months, and when he learns of Parker's plans to confront an angry old man, he refuses to leave her side. As Parker's past unfolds, they're led on an unexpected journey of discovery. Their connection deepens, and late-night fantasies become passionate realities, until good intentions spark painful secrets, threatening the love they've found.
***
Seaside Summers is part of Melissa Foster's bestselling Love in Bloom series. All Love in Bloom books may be enjoyed as stand-alone novels, or as part of the series.
BUY LINKS
Amazon Amazon UK B & N Google Play Books IBooks Kobo
REVIEW: SEASIDE LOVERS (LOVE IN BLOOM: SEASIDE SUMMERS) BY MELISSA FOSTER

Seaside Lovers by Melissa Foster

My rating: 5 of 5 stars


ARC Review: Seaside Lovers (Love In Bloom: Seaside Summers) by Melissa Foster

Parker with all her accomplishments and charitable contributions is still a lonely little girl searching for her place in an ever changing world. Loss of a close friend and the pressures of fame leave her feeling overwhelmed and isolated. Maybe that's what drove her quest to end a bitter family rift between her deceased mentor and his estranged brother. Along the way she develops a sense of purpose and gains insight into herself by facing her fears. Grayson played a key role in bringing her out of her shell and opening her eyes to all the possibilities she had turned a blind eye to before. Seaside Lovers shines a light on love, loss and the paradox of life. Passionate, complicated but always illuminating and compassionate.



View all my reviews
MARRIED BY CONTRACT BY NOELLE ADAMS
Release Date: July 20, 2016
SYNOPSIS
Three years into a five-year marriage of convenience, Jenn finds herself wanting something she never thought she'd want from her laid-back, ex-military husband. Sex--as a much-needed release of tension from her high-stress job. But weekly sex with Nick, despite their careful parameters, is likely to get messy eventually.

Ever since her father walked out on her as a child, Jenn knows never to assume the people she loves will stick around, so she's not about to trust Nick with her heart. She vows to stay strong, no matter how much intimacy develops between them in bed.

But what starts as a tension-reliever soon becomes so much more, until it threatens both their practical arrangement and the heart Jenn has worked so hard to keep safe.
BUY LINKS
Amazon B & N Google Play Books IBooks Kobo
REVIEW: MARRIED BY CONTRACT BY NOELLE ADAMS
Married By Contract by Noelle Adams

My rating: 5 of 5 stars


Noelle Adams has two main constants in any story that she writes:

(1.) There will be tears.

(2.) Each unique story is well written to exquisite perfection.

I received an ARC of Married by Contract in exchange for an honest review. It's hard not to get personally involved in a story where so much heartache is prevalent. Nick and Jenn are in a marriage of convenience that provides security and friendship but nothing more. Past hurts and self doubt keep each from giving love a try. What happens when the tide changes and intimate emotions get involved? For Noelle Adams, it's not in her to write a terrible story.



View all my reviews
CRAZY NIGHTS (BARRINGTON BILLIONAIRES) BY DANIELLE STEWART
Release Date: July 21, 2016
SYNOPSIS
Emmitt Kalling isn't satisfied unless he's smashing something. It can be a punching bag at the gym or some jerk's face at the bar. He's not picky. Since arriving home from his last deployment, he's itching for some action. But he only finds the same problems he faced before he enlisted.

Evie Pike has been exiled from her budding acting career with few future prospects. On a journey to find her purpose, she discovers her path is only paved with disappointment and the coffee she keeps spilling on her bosses. Feeling painfully unqualified for almost everything, she realizes a chance to hop a plane with Emmitt is like a ripcord on a parachute; she'd better pull it before it's too late.

She's desperate to connect. He's a master at no strings attached. Their attraction is magnetic, but their opinions are polarizing. Will their sizzling chemistry be enough?
BUY LINKS
Amazon B & N Google Play Books IBooks Kobo
REVIEW: CRAZY NIGHTS (BARRINGTON BILLIONAIRES) BY DANIELLE STEWART
Crazy Nights by Danielle Stewart

My rating: 5 of 5 stars


Get in, get out, move on.
Words Emmitt Kalling lives by. No attachments mean no more pain. No one to disappointment in the long run. Evie is the opposite in that she grabs hold of every moment and bad experience. She lives to the fullest instead of just existing. I received an ARC of Crazy Nights in exchange for an honest review. Was not a fan of Emmitt at first introduction but he grows on you after a while. His shield of nonchalance is his way of coping with the darkness in his soul. He has issues he needs to work though but his wounds are so deep he may not survive exposing them all. Evie and Emmitt shouldn't have worked but they did. Ever the pessimist Emmitt had closed himself off scared to take a chance, Evie looks at the bright side and is always looking for a better solution to an emotional situation. Together they made each other better because they gave each other balance and made each other happy. Crazy Nights is my first read by Danielle Stewart. She captured me. It will not be my last.



View all my reviews


Original post: ishacoleman7.booklikes.com/post/1434991/coming-soon-to-retailers