READ AND REVIEW
THE PLAYBOY'S PROPOSAL (SORENSON FAMILY) BY ASHLEE MALLORY
Release Date: July 25, 2016
SYNOPSIS
Doctor Benny Sorensen has had it up to here with her party-throwing playboy neighbor. She's declaring war. She doesn't care how gorgeous or charming he is, he's going down. That is until he proposes something she's not sure she can say no to...

Wealthy ad man Henry Ellison lives an uncomplicated life that revolves around work, women, and partying. In that order. Until Benny storms into his life. To placate his attractive but hotheaded neighbor, Henry offers to help her land a date with the man of her dreams. Only as Henry makes her over and coaches her on the fine art of flirting, he realizes that the idea of this woman in any other man's arms but his own is unacceptable. But Benny's a forever kind of girl and forever might just be the one commitment he can't make.
BUY LINKS
Amazon B & N Google Play Books IBooks Kobo
REVIEW: THE PLAYBOY'S PROPOSAL (SORENSON FAMILY) BY ASHLEE MALLORY
The Playboy's Proposal by Ashlee Mallory

My rating: 5 of 5 stars


Henry and Benny are fun. Some of the scenarios border on absurd but that adds to the charm of the romance. Benny at first meeting comes across uptight, stressed and high maintenance. In reality she's more down to earth. After devoting a great deal of time to her career, she just wants a chance to relax. She dreams of a life that is less lonely and separate from her work. One of the reason's Henry gets under her skin is he has the freedom that she longs for. Lots of parties, not bogged down with countless responsibilities and he's not bad on the eyes either. From the outside looking in he's living the dream. Looks can be deceiving. The Playboy's Proposal is more light hearted comedy than dramatic fanfare but it does hint at a little sexy along the way.



View all my reviews
WAKING UP WITH A BILLIONAIRE (OVERNIGHT BILLIONAIRES) BY KATIE LANE
Release Date: July 26, 2016
SYNOPSIS
He can have anything he wants...except her

Famed artist Grayson Beaumont is the most elusive of the billionaire Beaumont brothers. He has a reputation for seducing any woman with only a look, word, or sensual stroke of his brush. But now Grayson has lost all his desire to paint . . . unless he can find a muse to unlock his creative-and erotic-imagination.

Chloe knew she might have to shed her clothes when she agreed to pose for the celebrated artist, but she wasn't expecting to shed all her inhibitions as well. Under his intense scrutiny, there's nothing she can hide...including a secret from her past that, once exposed, will change how he looks at her forever.
BUY LINKS
Amazon B & N Google Play Books IBooks Kobo
REVIEW: WAKING UP WITH A BILLIONAIRE (THE OVERNIGHT BILLIONAIRES) BY KATIE LANE
Waking Up With a Billionaire by Katie Lane

My rating: 5 of 5 stars



ARC Review: Waking Up with a Billionaire (The Overnight Billionaires) by Katie Lane

Grayson's story left me heartbroken. Every series has to end but those Beaumont boys lasted long enough to steal your heart and run. Katie Lane saved the best for last with Chloe and Grayson. With the heart of an artist, the reputation of a playboy and that Beaumont charm Grayson is a heartbreaker. But he lives for his art and when he can't seem to get inspired, he feels at a lost. Enter Chloe. A tempting firecracker with a chip on her shoulder and the weight of the world on her back. Caught between a rock and a hard place the enigmatic artist and the fiery vixen set sparks flying and eyebrows raising. But there is more to this woman of mystery than a pretty face. Deep rooted insecurities and closely guarded secrets drive this couple on a rocky ride that may cost them the ultimate price, THEIR HEARTS. With The Overnight Billionaires, Ms. Lane supplied seductive stories, irresistible heroes and heroines that proved to be their perfect match but she also managed to throw in a little wisdom along the way about the importance of family. Family is more than just blood, it's a bond that is built within the heart.



View all my reviews
DON'T TEMPT ME BY LORI FOSTER
Release Date: July 26, 2016
SYNOPSIS
Love comes along when it's least wanted

Jason Guthrie has no time for entanglements—between helping out his widowed brother and teenage nephew and getting his hometown back on its feet, his days are spoken for. But his nights are another story… And when his lovely new neighbor, Honor Brown, reluctantly accepts his help in remodeling her house, Jason finds himself wishing his handyman skills could knock down the defenses she keeps building around herself.

Martial arts teacher Sullivan Dean knows real danger when he sees it—even when it takes the form of the gorgeous blonde helping her friend move in across the street. After putting his wayward past behind him to focus on teaching control to troubled kids, Sullivan has learned to avoid party girls like Lexie Perkins. But Sullivan can't seem to keep his hands off the real woman behind that flirty charm—or keep his heart from landing at her feet…
BUY LINKS
Amazon B & N Google Play Books Harlequin IBooks Kobo
REVIEW: DON'T TEMPT ME BY LORI FOSTER
Don't Tempt Me by Lori Foster

My rating: 5 of 5 stars


Lori Foster knows how to create that magic. The sense of forgetting where you are and being transferred to another place is something that I always feel when I pick up one of her stories. I received an ARC of Don't Tempt Me by Lori Foster in exchange for an honest review. This sensual novel gives a peek at two sides of the spectrum. We have Jason who has reliability written all over him. The way he looks after his family and community are a bonus in his favor but the way he looked after Honor who was wary and insecure of herself gave me heart palpitations. He was a keeper. Fast forward to Sullivan. He was somewhat of a tougher nut to crack but his hard edge did not hide his true self from the people that mattered most. Inside the pages of Don't Tempt Me there is love, hope and charm wrapped up in sensual package.



View all my reviews
TO HAVE AND TO HOLD (THE WEDDING BELLES) BY LAUREN LAYNE
Release Date: July 26, 2016
SYNOPSIS
Sex and the City meets The Wedding Planner in The Wedding Belles, her sizzling brand new contemporary romance series about three ambitious wedding planners who can make any bride's dream come true…but their own.
Discovering her fiancé is an international conman just moments before they exchange vows devastates celebrity wedding planner Brooke Burke's business—and breaks her heart. Now a pariah in Los Angeles, she seeks a fresh start in New York City and thinks she's found it with her first bridal client, a sweet, if slightly spoiled, hotel heiress. Then she meets the uptight businessman who's holding the purse springs.
Seth Tyler wishes he could write a blank check and be done with his sister's fancy-pants wedding. Unfortunately, micromanaging the event is his only chance at proving Maya's fiancé is a liar. Standing directly in his way is the stunning blonde wedding planner whose practiced smiles and sassy comebacks both irritate and arouse him. He needs Brooke's help. But can he persuade a wedding planner on a comeback mission to unplan a wedding? And more importantly, how will he convince her that the wedding she should be planning…is theirs?
BUY LINKS
Amazon | B & N | Google Play | iTunes | Kobo
REVIEW: TO HAVE AND TO HOLD (THE WEDDING BELLES) BY LAUREN LAYNE
To Have and to Hold by Lauren Layne

My rating: 4 of 5 stars


I am all for any story that encourages ways to empower one's self. Lauren Layne does inspiring, entertaining and romantic. To Have and To Hold reads like a country western song. Brooke has bitten used, confused and left with a broken heart, now she has to figure out how to rise above it all, to make a fresh start. With her reputation in tatters and her business on the verge collapse, proving herself capable and reliable is essential. In walks Seth. Arrogant, irritating and irresistible. Mixing business with pleasure would be career suicide for her pocketbook, but instrumental in mending her heart. Will she risk it all for her own happy ending? With To Have and to Hold, Ms. Layne has written a song of love that is sinful, sexy and sentimental. Tempting fun.



View all my reviews
LOVE BLOOMS ON MAIN STREET (BRIAR CREEK) BY OLIVIA MILES
Release Date: July 26, 2016
SYNOPSIS
Love is always in season . . .

Florist Ivy Birch fantasizes about the day a man will surprise her with a beautiful bouquet of flowers. Especially if that man happens to be Brett Hastings. One stolen kiss at her best friend's wedding and Ivy can't get the sexy ER doctor out of her head.

In the small town of Briar Creek, you can't avoid anyone for very long. Not that Brett has been trying to avoid Ivy. He just can't afford to let anything distract him from his work-not again. So when a hospital fundraiser throws them together, love is the last thing on his mind. But with her quick wit and sweet laugh, soon the one woman he's tried to keep at arm's length is capturing his heart...
BUY LINKS
Amazon B & N Google Play Books IBooks Kobo
REVIEW: LOVE BLOOMS ON MAIN STREET (BRIAR CREEK) BY OLIVIA MILES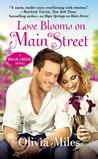 Love Blooms on Main Street by Olivia Miles

My rating: 4 of 5 stars


I'm somewhat standoffish anytime a story centers around doctors. My brain is not built for the medical jargon spewed in many such stories. Ms. Miles didn't go overboard with medical speak. Instead she created a romance that I liked a lot. The town of Briar Creek is your standard small town. Gossips, a family atmosphere and not very much drama. Perfect for an afternoon chance to unwind. Ivy is a firecracker. She speaks her mind and lives by her own rules. Brett has a fast paced career that keeps him busy and stressed. A match headed for trouble. Love Blooms On Main Street has the sweetness I look for in my small town reads.



View all my reviews

TOAST AND CHAR (BOURBON SPRINGS) BY JENNIFER BRAMSETH
Release Date: July 26, 2016
SYNOPSIS
Welcome to the Land of Bourbon and Bluegrass...Welcome to Bourbon Springs, Kentucky...

The heat still burns between them...

When Prent Oakes, former playboy and wealthy half-owner of Commonwealth Cooperage, Kentucky's oldest barrel-making business, left Dr. Miranda Chaplin at the altar over two years ago, he was sure it was over.

Except since that day Miranda had never been able to tell him to get out of her life. Undaunted and with the faintest hope, Prent pursues the fiancee he abandoned and knows he doesn't deserve.

Just as he thinks his win-her-back campaign has finally been successful, their tentative efforts to revive their love are threatened by Prent's past, problems in their professional lives, and the disapproval of family—as well as a secret Miranda has harbored since their wedding day.

There's no doubt the heat still burns between them—but will their love be resurrected from the ashes or will they both be left burned?

TOAST AND CHAR is the eighth book in the Bourbon Springs Series.
BUY LINKS
Amazon B & N Google Play Books IBooks Kobo
REVIEW: TOAST AND CHAR (BOURBON SPRINGS) BY JENNIFER BRAMSETH
Toast and Char by Jennifer Bramseth

My rating: 5 of 5 stars


Mention Bourbon Springs and I am in the front row. Ms. Bramseth brings love, loss and liquor to the table with this dramatic series. Toast and Char (Book 8) is a story centered around regret, secrets and second chances. Miranda and Prent were young and in love until an act of desperation destroyed their chance at happiness. Will they succeed at regaining everything that was lost? Jennifer Bramseth is skilled in telling true to life stories with the dedication and emotion that easily captivates her readers. With this series she holds nothing back and that is what I find so appealing.



View all my reviews


FEARLESS (RESCUE SQUAD) BY KIMBERLY KINCAID
Release Date: July 26, 2016
SYNOPSIS
The Temperature Is Rising…

Firefighter Cole Everett's life revolves around the firehouse. Committed to saving lives--and to the guys who always have his back in the most dangerous moments on the job--Cole's focus is a coveted spot on the Fairview Rescue Squad. When his captain asks him to mentor a rookie firefighter, he jumps at the chance, hoping it will help to prove his skill. But the new "guy" is none other than Savannah Nelson, a female firefighter as stubbornly determined as Cole is, and a whole lot curvier in all the right places . . .

Savannah won't let anyone extinguish her dream of fulfilling her family legacy and becoming a top notch firefighter--and she's happily surprised when strong-willed, sexy Cole is willing to give her the chance she deserves. Concentrating on the job isn't always easy when the heat between them flares higher every day, but Savannah won't give up--not even when one of Station Eight's veterans seems bent on trashing her reputation. To stop a string of possible arsons, Savannah and Cole will need to eliminate every distraction--but can they let their love go up in flames?
BUY LINKS
Amazon B & N Google Play Books IBooks Kobo
REVIEW: FEARLESS (RESCUE SQUAD) BY KIMBERLY KINCAID
Fearless by Kimberly Kincaid

My rating: 4 of 5 stars


ARC Review: Fearless (Rescue Squad) by Kimberly Kincaid

There is nothing sexier than a man in uniform. Except for a man willing to risk heart, career, friendships and danger in order to do the right thing. Cole is one such man. Upon introduction I didn't plan on liking the cocky guy with the wry sense of humor and sexual innuendos as much as I ended up doing. What changed my mind. The glimpses of the honorable man underneath. Savannah had all the odds against her. A woman in a man's world seeking to prove her skill and give her life in exchange for the respect of her peers, as well as honor a family legacy needed someone in her corner. Although he may not have started out as supportive, Cole must have saw the grit of fighter and the heart of a champion because he ultimately became her biggest cheerleader. Stories like Fearless are inspiring because the message they provide is powerful. Anything is possible to achieve, if in your heart you truly believe.



View all my reviews
FORBIDDEN FLING (WILDWOOD) BY SKYE JORDAN
Release Date: July 26, 2016
SYNOPSIS
Delaney Hart has come a long way from her wild youth, dating tattooed bikers at her father's bar, The Bad Seed. But when his death pulls her back to Wildwood, California, she must stay to renovate the dive he left her. And also face the lies and secrets that sent her running ten years before.

When Wildwood's chief building inspector, Ethan Hayes, shows up on the property, Delaney doesn't recognize him. The last thing he wants to do is save the bar where his cousin died in a brawl. But the good boy from her past is all too willing to remind her of the bad girl she used to be. And one night of passion leaves them both in a compromising position.

The last place Ethan should be is in Delaney's bed. Guilt, family pressure, and plans for a brewpub of his own make shutting down The Bad Seed his top priority…until his feelings for Delaney interfere. Because her future depends on the success of the bar's renovation and his dreams are rooted in its failure, their forbidden romance may be destined for heartbreak.
BUY LINKS
REVIEW: FORBIDDEN FLING (WILDWOOD) BY SKYE JORDAN
Forbidden Fling by Skye Jordan

My rating: 4 of 5 stars


Ethan and Delaney share a past. One tragic event has left both twisting in the wind, trying to outrun the pain and guilt of youthful mistakes they want to forget. I received an ARC of Forbidden Fling by Skye Jordan in exchange for an honest review. One place proved the catalyst within Delaney and Ethan's emotional trek down memory lane. "The Bad Seed", was like a leper. For one family, it represented violence, chaos and unimaginable loss. For Delaney it hung like a noose around her neck. One night triggered a metamorphose in two people. Forbidden Fling has the heartbreak of a Greek tragedy but from that pain beauty rises. It was a long road to forgiveness and healing but Ms. Jordan proves how strong a power love actually has. The ability to unify two broken hearts and give hope to a broken community. Inspiring.



View all my reviews
THE COLOR OF A PROMISE (THE COLOR OF HEAVEN) BY JULIANNE MACLEAN
Release Date: July 28, 2016
SYNOPSIS
From USA Today bestselling author Julianne MacLean comes the next instalment in her popular Color of Heaven Series, where people are affected by real life magic and miracles that change everything they once believed about life and love.

Having spent a lifetime in competition with his older brother Aaron—who always seemed to get the girl—Jack Peterson leaves the U.S. to become a foreign correspondent in the Middle East. When a roadside bomb forces him to return home to recover from his wounds, he quickly becomes the most celebrated journalist on television, and is awarded his own prime time news program. Now, wealthy and successful beyond his wildest dreams, Jack believes he has finally found where he is meant to be. But when a giant commercial airliner explodes in the sky over his summer house in Cape Elizabeth, all hell breaks loose as the wreckage crashes to the ground. He has no idea that his life is about to take another astonishing turn…

Meg Andrews grew up with a fear of flying, but when it meant she wouldn't be able to visit her boyfriend on the opposite side of the country, she confronted her fear head-on and earned her pilot's license. Now, a decade later, she is a respected airline crash investigator, passionate about her work, to the point of obsession. When she arrives in the picturesque seaside community of Cape Elizabeth to investigate a massive airline disaster, she meets the famous and charismatic Jack Peterson, who has his own personal fascination with plane crashes.

As the investigation intensifies, Meg and Jack feel a powerful, inexplicable connection to each other. Soon, they realize that the truth behind the crash—and the mystery of their connection—can only be discovered through the strength of the human spirit, the timeless bonds of family, and the gift of second chances.
BUY LINKS
Amazon B & N Google Play Books IBooks Kobo
REVIEW: THE COLOR OF A PROMISE (THE COLOR OF HEAVEN) BY JULIANNE MACLEAN
The Color of a Promise by Julianne MacLean

My rating: 5 of 5 stars


I am a little disappointed in myself. How could I not have known Ms. Maclean wrote contemporary romance. Having read a number of her short stories and full length historical romances, I have been aware of her as an author for quite a while. Her historicals are full of the fantasy fairytale settings that are loved by most women and the warrior hero ready to lend a hand to the damsel in distress but after reading The Color of a Promise, her gift for writing inspirational and dramatic stories is an extraordinary find. The Color of A Promise mixes drama, cinema and motivational writing into a fascinating read that touches the heart, gives food for thought and sparks hope. Jack and Meg found a place of protection during a time of tragedy and that is all a person can hope for in life. I received an ARC of this wonderful novel in exchange for an honest review. I am going to have to look into the rest of this series.



View all my reviews
Original post: ishacoleman7.booklikes.com/post/1439573/new-contemporary-romances-for-week-of-july-24-2016-pre-order-now-receive-next-week