AVAILABLE FOR PRE-ORDER!
Anyone who pre-orders the book and enters their information here: https://a.pgtb.me/PxZwn4 will get an email with a short story about Will and Meg from PLAY WITH ME from the With Me in Seattle series.
READ AND REVIEW
CLOSE TO YOU (FUSION) BY KRISTEN PROBY
Release Date: August 9, 2016
SYNOPSIS
From New York Times and USA Today bestselling author Kristen Proby comes the second novel in her sizzling Fusion series.

Camilla, "Cami," LaRue was five years old when she first fell in love with Landon Palazzo. Everyone told her the puppy love would fade—they clearly never met Landon. When he left after graduation without a backward glance, she was heartbroken. But Cami grew up, moved on, and became part-owner of wildly popular restaurant Seduction. She has everything she could want...or so she thinks.

After spending the last 12 years as a Navy fighter pilot, Landon returns to Portland to take over the family construction business. When he catches a glimpse of little Cami LaRue, he realizes she's not so little any more. He always had a soft spot for his little sister's best friend, but nothing is soft now when he's around the gorgeous restauranteur.

Landon isn't going to pass up the chance to make the girl-next-door his. She's never been one for romance, but he's just the one to change her mind. Will seduction be just the name of her restaurant or will Cami let him get close enough to fulfill all her fantasies?
BUY LINKS
REVIEW: CLOSE TO YOU (FUSION) BY KRISTEN PROBY
Close to You
by
Kristen Proby
My rating:
5 of 5 stars
ARC Review: Close To You (Fusion) by Kristen Proby
For Landon it took almost a lifetime to discover what Cami had admitted to at a young age. That falling in love is confusing, heartbreaking and worth all the drama in the end. I received an ARC of Close to You by Kristen Proby in exchange for an honest review. The second chance plot line is not that surprising in romance. It's been done before, quite often in fact. However, Camilla was the spark that drew me to this novel. Her undying love for the boy who captured her heart at age five and held it throughout youth, adulthood, distance and his blind ignorance made for a great payoff. Close to You has sentiment, brass and whole lot class added to the teasing allure.
View all my reviews
DON'T MISS THE FIRST NOVEL IN THE FUSION SERIES:
LISTEN TO ME (FUSION) BY KRISTEN PROBY
IS AVAILABLE NOW!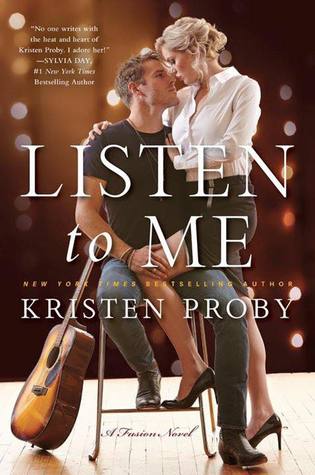 LISTEN TO ME (FUSION) BY KRISTEN PROBY
Release Date
:
April 12, 2016
SYNOPSIS
In New York Times and USA Today bestselling author Kristen Proby's brand new series, five best friends open a hot new restaurant, but one of them gets much more than she bargained for when a sexy former rock star walks through the doors—and into her heart.

Seduction is quickly becoming the hottest new restaurant in Portland, and Addison Wade is proud to claim 1/5 of the credit. She's determined to make it a success and can't think of a better way to bring in new customers than live music. But when former rock star Jake Keller swaggers through the doors to apply for the weekend gig, she knows she's in trouble. Addie instantly recognizes him—his posters were plastered all over her bedroom walls in high school—he's all bad boy...exactly her type and exactly what she doesn't need.

Jake Keller walked away from the limelight five years ago and yearns to return to what's always driven him: the music. If he gets to work for a smart-mouthed, funny-as-hell bombshell, all the better. But talking Addie into giving him the job is far easier than persuading her that he wants more than a romp in her bed. Just when she begins to drop her walls, Jake's past finally catches up with him.

Will Addie be torn apart once again or will Jake be able to convince her to drown out her doubts and listen to her heart?




BUY LINKS
REVIEW: LISTEN TO ME (FUSION) BY KRISTEN PROBY
Listen to Me
by
Kristen Proby
My rating:
5 of 5 stars
Kristen Proby as an author has always been someone whose work I wanted to try. When the chance presented itself I jumped at it.
Listen to Me
is light hearted, sensual fun. The bond between friends plays a big part in this story and I liked how Ms. Proby brought the readers attention to that throughout. Amidst the female bonding the story predominately centers around Jake and Addie getting to know each other and working on creating their own special bond. The best way to describe my reaction is "Love at first Sight". I received an ARC of
Listen to Me by Kristen Proby
in exchange for an honest review. With it's inviting characters, united community and tempting plot,this could be the start of a beautiful new friendship for me. Impressive.
View all my reviews
About KRISTEN PROBY
New York Times and USA Today bestselling author Kristen Proby is the author of the bestselling Fusion, With Me In Seattle, The Boudreaux, and Love Under the Big Sky series. She has a passion for a good love story and strong, humorous characters with a strong sense of loyalty and family. Her men are the alpha type; fiercely protective and a bit bossy, and her ladies are fun, strong, and not afraid to stand up for themselves. Kristen lives in Whitefish, Montana, where she enjoys coffee, chocolate and sunshine. And naps.