READ AND REVIEW
ONLY AN EARL WILL DO (TO MARRY A ROGUE) BY TAMARA GILL
Release Date: July 25, 2016
SYNOPSIS
The reigning queen of London society, Lady Elizabeth Worthingham, has her future set out for her. Marry well, and marry without love. An easy promise to make and one she owed her family after her near ruinous past that threatened them all. And the rakish scoundrel Henry Andrews, Earl of Muir who's inability to act a gentleman when she needed one most would one day pay for his treachery.
Returning to England after three years abroad, Henry is determined to make the only woman who captured his heart his wife. But the icy reception he receives from Elizabeth is colder than his home in the Scottish highlands. As past hurts surface and deception runs as thick as blood, so too does a love that will overcome all obstacles, unless a nameless foe, determined with his own path, gets his way and their love never sees the light of day…
BUY LINKS
Amazon B & N Google Play Books IBooks Kobo
REVIEW: ONLY AN EARL WILL DO (TO MARRY A ROGUE) BY TAMARA GILL
Only an Earl Will Do by Tamara Gill

My rating: 5 of 5 stars


ARC Review: Only an Earl Will Do (To Marry A Rogue) by Tamara Gill

Elizabeth has faced her share of heartache and shame in the name of love. Now she is determined to redeem herself and spare her heart by entering into a marriage of convenience. There's just one problem. The man who destroyed her hopes and dreams has returned to lay claim to what he left behind. Her! Only an Earl will do is steamy battle of wills that had me on the edge of my seat and praying for a reconciliation. It's emotional, playful and excellently crafted.




View all my reviews
TO WIN A VISCOUNT (THE DAUGHTERS OF AMHURST) BY FRANCES FOWLKES
Release Date: July 25, 2016
SYNOPSIS
England, 1820.
To gain a certain marquess's notice, Lady Albina Beauchamp aims to win the derby. What she hadn't planned for is the price handsome Mr. Edmund White asks in payment to train her to race: each lesson for a kiss.

A first place finish isn't the only thing worth racing for

Lady Albina Beauchamp is in love with the Marquess of Satterfield. Unfortunately, his only interest is in horses, and doesn't know she exists. But when the marquess confesses he will bestow his undying admiration on the jockey racing the winning horse at Emberton Derby, Albina sets out to win his affections by training to race.

Mr. Edmund White is a master groomsmen for the Earl of Amhurst in line for a viscountcy, should he abandon his passion for horses and become a respectable sheep owner. But horses are his love--until he meets Lady Albina and her silly notions of racing. When she affirms she will enter the derby with or without his assistance, Edmund not only instructs his student in racing, but seduction as well.

For Albina, a first place finish isn't the only thing at stake. She must decide whether to take her place in society...or follow her heart and love a groom.
BUY LINKS
Amazon B & N Google Play Books IBooks Kobo
REVIEW: TO WIN A VISCOUNT (THE DAUGHTERS OF AMHURST) BY FRANCES FOWLKES
To Win a Viscount by Frances Fowlkes

My rating: 4 of 5 stars


Albina knows what she wants but how far will she go to achieve it. As unique as her name Lady Albina is captivating. She has the gumption to dream bring and the heart to make her wildest dreams a reality. Her inner beauty and sense of adventure fly right off the page. Her willingness to achieve her goals however is not always in her best interest and lands her in an unlikely situation. Falling in love with the wrong man. Edmund has the heart, and adventurous spirit to be her perfect match. All he has to do is convince her that he's the man she wants. I received an ARC of To Win a Viscount in exchange for an honest review. There were times the story faltered but nothing major. Despite that it remained full of great qualities. The title doesn't make the man, the heart does. Beautiful message with a charming story.



View all my reviews
THE EARL'S WAGER (RELUCTANT BRIDE) BY REBECCA THOMAS
Release Date: July 25, 2016
SYNOPSIS
When straight laced earl, Will Sutton, is challenged to turn the obstinate American ward of his friend into a biddable lady suitable for the Marriage Mart, he gladly takes the wager. Then has to decide whether the prize--a prime racing stud horse--is worth changing the impudent beauty's temperament he's come to enjoy. Greatly.

One headstrong miss. One stuffy lord. One friendly wager. What could go wrong?

Will Sutton, the Earl of Grandleigh, believes he can save the family's impoverished estate by investing in a racehorse, but the price is too steep. His brother-in-law offers him a deal: tutor his American ward in proper English customs, so she'll be marriage material, and Will can have one of his horses. Maybe Miss Georgia Duvall prefers being a jockey, is obstinate and high spirited, but once she's cleaned up and presentable, he'll have no trouble finding her a quality suitor. She might even be quite pretty beneath the racetrack dust.

The last thing Georgia Duvall wants is to be married off to an English peer. But she won't defy her father's wishes, and sets her cap for the oldest lord she can find—a man who'll die quickly and leave her alone to manage her inheritance. The Earl of Grandleigh might think he'll teach her manners and marry her off to someone younger than eighty, but there hasn't been an obstacle yet Georgia can't overcome. Including a stuffy, overbearing English lord.
BUY LINKS
Amazon B & N Google Play Books IBooks Kobo
REVIEW: THE EARL'S WAGER (RELUCTANT BRIDE) BY REBECCA THOMAS
The Earl's Wager by Rebecca Thomas

My rating: 4 of 5 stars


I know the story by heart. With references to one of my favorite cinema classics, The Earl's Wager by Rebecca Thomas was a clear draw for me. Hints of My Fair Lady permeated off of just about every page but blended with Ms. Thomas' twist of modern meets regency. Georgia was an American tomboy learning how to fit into English society. Will was an Earl seeking to save his family from impoverished circumstances. When the perfect opportunity falls into his lap, Will has to decide is it worth losing the one woman that makes him feel alive. Messages hidden between the lines is what I look for in the books I choose to read and Rebecca Thomas shouted her's at the top of her lungs in way a less subtle than most yet just as powerful. The message: " BE YOURSELF, FOLLOW YOUR HEART AND THE REST WILL FALL INTO PLACE.



View all my reviews
A DUKE TO REMEMBER (SEASON FOR SCANDAL) BY KELLY BOWEN
SYNOPSIS
Love takes the stage...

Elise deVries is not what she seems. By night, the actress captivates London theatergoers with her chameleon-like ability to slip inside her characters. By day, she uses her mastery of disguise to work undercover for Chegarre & Associates, an elite agency known for its discreet handling of indelicate scandals. But when Elise is tasked with locating the missing Duke of Ashland, she finds herself center stage in a real-life drama.

Noah Ellery left the glamour of the London aristocracy to pursue a simpler life in the country. He's managed to avoid any complications or entanglements—that is, until he lays eyes on Elise and realizes there's more to this beautiful woman than meets the eye. But when Elise reveals her real identity—and her true feelings for him—the runaway duke must confront the past he left behind . . . to keep the woman he loves forever.
BUY LINKS
Amazon B & N Google Play Books IBooks Kobo
REVIEW: A DUKE TO REMEMBER (SEASON FOR SCANDAL) BY KELLY BOWEN
A Duke to Remember by Kelly Bowen

My rating: 4 of 5 stars


A woman of mystery gets caught up in a complicated masquerade. Elise has many disguises in her arsenal actress and undercover agent are just a few. The lure of A Duke to Remember for me was Elise. She has so many different identities that she loses a little bit of her own individuality with each one. What a hard way to live. In meeting Noah she starts to gain a better understanding of herself and I think the same could be said of him. I received an ARC of this novel in exchange for an honest review. Not an easy story to get into but it is an exceptional read once given a chance. By the end I was caught up in this tangled up romance.



View all my reviews
A RECKLESS PROMISE (THE LITTLE SEASON) BY KASEY MICHAELS
Release Date: July 26, 2016
SYNOPSIS
London's Little Season has never been so scandalous

It's the kind of vow often made on the battlefield. Darby Travers, Viscount Nailbourne, never imagines he'll have to honor it. Yet here she is on his doorstep—his late comrade's young daughter, and Darby's new ward. Worse, she comes with the most overprotective, mistrustful, bothersome chaperone—the child's aunt, Sadie Grace Boxer. Darby is quite sure that behind her lovely facade, the woman is guarding a secret.

Sadie Grace faced many trials working in her brother's surgery, but none prepared her for the world she's thrust into with his passing. Navigating the ton, with its endless ball gowns and parade of parties, is difficult enough, but hiding the truth about her niece while the sophisticated viscount watches her every move proves nearly impossible—particularly when his searing gaze tempts her to bare all. But when her family's past catches up with her, she'll have to trust in Darby…no matter the cost to her heart.
BUY LINKS
Amazon B & N Google Play Books Harlequin IBooks Kobo
REVIEW: A RECKLESS PROMISE (THE LITTLE SEASON) BY KASEY MICHAELS
A Reckless Promise by Kasey Michaels

My rating: 4 of 5 stars


ARC Review: A Reckless Promise (The Little Season) by Kasey Michaels

Miss Sadie Grace was smart, caring and no pushover. She had worked hard for every accomplishment she made and every skill she learned. So why is she know being drawn into a world that is governed by rules and station. Love. She loves her niece, misses her brother and is drawn to the man who is set to fulfill her brother's last wishes. A Reckless Promise is a story of sacrifice that blossoms into a love and ultimately a family. Sadie and Darby have to learn trust goes both ways and vulnerability does not a weak person make.



View all my reviews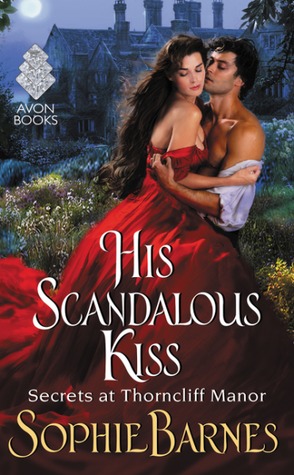 HIS SCANDALOUS KISS (SECRETS AT THORNCLIFF MANOR) BY SOPHIE BARNES
Release Date: July 26, 2016
SYNOPSIS
Thorncliff Manor is the perfect setting for a masquerade ball... where the heart's secret desires are about to be uncovered in this scintillating Regency romance from Sophie Barnes...

Richard Heartly has exiled himself from society since the war, plotting his revenge for a terrible betrayal. A masked ball at Thorncliff Manor is intended to be a brief diversion. Instead, he encounters a fascinating young woman as entranced by the music as he is. He can't reveal his identity to Lady Mary. But her siren song keeps drawing him back, and their clandestine meetings could be hazardous to his plan—and to her virtue.

Avoiding an unwanted marriage was easy when Lady Mary was ignored by the ton. Thanks to her dazzling appearance at the masquerade, she's a wallflower no longer. Eligible suitors abound, yet the only man she wants is the brooding, seductive companion who keeps his face hidden. A man who tempts her to disclose her own shocking secret, one that could divide them forever.
BUY LINKS
Amazon B & N Google Play Books IBooks Kobo
REVIEW: HIS SCANDALOUS KISS (SECRETS AT THORNCLIFF MANOR) BY SOPHIE BARNES
His Scandalous Kiss by Sophie Barnes

My rating: 4 of 5 stars


Having read as many books as I have, it's easy for me to make a decision on how I feel about a particular story and author writing style. Sophie Barnes made that harder for me with His Scandalous Kiss. Ms. Barnes is a masterful storyteller. Her imagery is so vivid that I felt like I was experiencing the story first hand. Secrets, suspense, romance and sensuality abound with this novel.


Copyright of Night Owl Reviews



View all my reviews


WHY DO DUKES FALL IN LOVE? (DUKES BEHAVING BADLY) BY MEGAN FRAMPTON
Release Date: July 26, 2016
SYNOPSIS
In Megan Frampton's captivating new Dukes Behaving Badly novel, we learn the answer to the question:
Why do dukes fall in love?
Michael, the Duke of Hadlow, has the liberty of enjoying an indiscretion . . . or several. But when it comes time for him to take a proper bride, he ultimately realizes he wants only one woman: Edwina Cheltam. He'd hired her as his secretary, only to quickly discover she was sensuous and intelligent.
They embark on a passionate affair, and when she breaks it off, he accepts her decision as the logical one . . . but only at first. Then he decides to pursue her.
Michael is brilliant, single-minded, and utterly indifferent to being the talk of the ton. It's even said his only true friend is his dog. Edwina had begged him to marry someone appropriate–—someone aristocratic . . . someone high-born . . . someone else. But the only thing more persuasive than a duke intent on seduction is one who has fallen irrevocably in love.
BUY LINKS
Amazon B & N Google Play Books IBooks Kobo
REVIEW: WHY DO DUKES FALL IN LOVE? (DUKES BEHAVING BADLY) BY MEGAN FRAMPTON
Why Do Dukes Fall in Love? by Megan Frampton

My rating: 4 of 5 stars


ARC Review: Why Do Dukes Fall In Love? (Dukes Behaving Badly) by Megan Frampton

The heart is it's own worst enemy. It wants what it wants and whether good or bad is a deciding factor in the choices one makes. Megan Frampton gives comedic insight with Why Do Dukes Fall In Love. It is so refreshing to read a story where not everything has to be a complicating mass of confusion. It didn't hurt that Michael was not afraid to show his sensitive side. Love is messy, it's not rocket science. Edwina and Michael's romance is a hotbed of sweetness sprinkled with spice.

Copyright Night Owl Reviews



View all my reviews
THE THIEF STEALS HER EARL ( CRAVEN HOUSE) BY CHRISTINA MCKNIGHT
Release Date: July 26, 2016
SYNOPSIS
Following the passing of his father and an unforgivable act by a family member ending in near ruin for his family, Simon Montgomery, the new Earl of Cartwright, is forced to return home without finishing his education. However, that doesn't stop Cart from absorbing every morsel of knowledge he can.

Unfortunately, doing so and applying his every moment to restoring his family's lost heirlooms while seeing to his sister's upbringing and attempting to wrangle his mother's frivolous spending habits has made him somewhat of a recluse, a man unsure of how to live life unless it's focused around academia, order, and routine. But what happens when Cart is faced with a woman as intelligent as he but far more cunning?

Miss Judith Pengarden has lived her entire life under her eldest sister's firm yet loving guidance. When she discovers her family is in jeopardy of losing their home, Jude decides to use her skills to help them pay off their unsettled debts. However, when Jude attempts to steal from the wrong house, she finds herself alone, locked in a dank room at the night watchman's residence, and she vows to stop thinking so spontaneously and risking her family's name to scandal. Unfortunately, there are some loose ends that need to be tied up before she can. Luckily for her, however, she may have just met the man who can help her family and also steal a piece of her heart.

When Jude meets Lord Cartwright at a London garden party, he seems the perfect man to solve all her problems—a recluse unfamiliar with London Society and studied in antiquities. A lord like none she has met, Jude soon realizes that Cart is more valuable to her than any painting, sculpture, or vase. But when she's caught in possession of Cart's long-lost family heirloom, completely unaware of what it really means, can she convince him that things are far from what they seem? That despite the deceit and subterfuge, her heart is in the right place. With her family…and with him.
BUY LINKS
Amazon B & N Google Play Books IBooks Kobo
REVIEW: THE THIEF STEALS HER EARL (CRAVEN HOUSE) BY CHRISTINA MCKNIGHT

The Thief Steals Her Earl by Christina McKnight

My rating: 5 of 5 stars


Boundaries. Such a black and white word. The limit that is not to be crossed no matter what. Although on paper it's a reasonable word when emotion becomes involved there is a different meaning entirely. In the name of love lines get blurred and that invisible wall becomes an obstacle that needs to be demolished. Jude and Cart are not all that different. Cart's a planner, Jude's a plotter. His logical mind has been both a gift and a curse. Her active imagination and out of the box thinking are about to land her in a sticky situation. One thing's for sure these two will stop at nothing to protect the people they love. With her street savvy and his book smarts they may each succeed. As I read more and more of Ms. McKnight's romances it easy to see why so many enjoy her stories. She does not stick with the traditional love stories but like her characters creates a world center around the best of their talents and works from there. The Thief Steals Her Earl has personality and I respect any author who can make a story her own.



View all my reviews
AN AFFAIR OF HONOR (REBEL HEARTS) BY HEATHER BOYD
Release Date: July 26, 2016
SYNOPSIS
Unneeded for command of a ship after surviving serious injury, disciplinarian Captain William Ford was ready to face society until he's cornered by a marriage minded miss. He makes a desperate bargain with the maid who saved his life—act the part of a besotted lover in return for financial gain to drive the woman away—only to end up in a very real marriage of convenience with the maid to avoid the scandal of his own making.

When Matilda's plans to marry another end abruptly, she reluctantly agrees to Captain Ford's marriage proposal to protect his sister's marriage prospects with his assurance of an eventual annulment and independence. She soon discovers her husband's desire to guide her with a firm hand stirs a shocking passion in her. Does she dare gift William with her secrets and heart…or admit that his desires match her own when they never intended forever?
BUY LINKS
Amazon B & N Google Play Books IBooks Kobo
REVIEW: AN AFFAIR OF HONOR (REBEL HEARTS) BY HEATHER BOYD
An Affair of Honor by Heather Boyd

My rating: 5 of 5 stars


As one door closes another opens for Captain William Ford. Forced to leave behind his life of sea-faring command, he seeks to settle into a less adventurous role of society living. Easier said then done. Thrown into a sea of scheming marriage minded women he's at a loss on how to navigate these potentially lethal waters until he meets Matilda and comes up with a plan that will help them both. Matilda seeks the security of making her own choices and not having to answer to anyone or beg for anything. William seeks protection from societies vultures seeking a man of means. A mutually beneficial marriage of convenience is just the ticket to give each what they want. Protection, an expiration date and financial security was the plan but fate had other ideas. I received an ARC of An Affair of Honor in exchange for an honest review. No matter how many I read, Heather Boyd's novels are always at the top of my historical romance lists.



View all my reviews

Original post: ishacoleman7.booklikes.com/post/1436522/new-historical-romances-for-week-of-july-24-2016-pre-order-now-receive-next-week