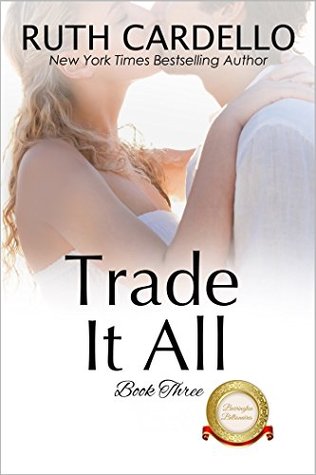 READ AND REVIEW
TRADE IT ALL (THE BARRINGTON BILLIONAIRES) BY RUTH CARDELLO
Release Date: July 11, 2016
SYNOPSIS
Lance Barrington's priority is business, not pleasure. Only one woman has ever been able to turn him inside out: Willa Chambers, his sister's best friend. Forbidden. Scandalous. Unforgettable.

They've spent the last ten years trying to forget one night.

When Willa and Lance are thrown together again, things heat up fast. Loving him almost destroyed her the first time.

This time, will it heal her?
BUY LINKS
REVIEW: TRADE IT ALL (THE BARRINGTON BILLIONAIRES) BY RUTH CARDELLO
Trade It All
by
Ruth Cardello
My rating:
5 of 5 stars
Trade It All
is much more complicated than it first appears. Tons of hidden layers make this story more than a romance. Yes, it is a love story but not the average type. Beneath all the back and forth drama lie secrets waiting to be revealed. Willa and Lance get caught up in a firestorm that ripples through history and relationships in a way that no one saw coming. Patrice in death still makes her presence felt with her poisonous vendetta and mysteries yet to be unraveled. Trade It All is so involved that it is hard to guess what will happen next, but the surprises add to the energy of the story. Families are frustrating, annoying and fight as hard as they love but that is what brings comfort. Ruth Cardello understands that relationships aren't perfect but messy. Anything worth having requires work.
View all my reviews