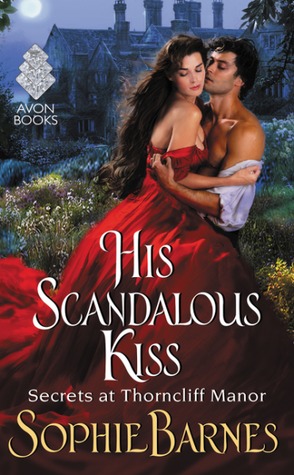 READ AND REVIEW
HIS SCANDALOUS KISS (SECRETS AT THORNCLIFF MANOR) BY SOPHIE BARNES
Release Date: July 26, 2016
SYNOPSIS
Thorncliff Manor is the perfect setting for a masquerade ball... where the heart's secret desires are about to be uncovered in this scintillating Regency romance from Sophie Barnes...

Richard Heartly has exiled himself from society since the war, plotting his revenge for a terrible betrayal. A masked ball at Thorncliff Manor is intended to be a brief diversion. Instead, he encounters a fascinating young woman as entranced by the music as he is. He can't reveal his identity to Lady Mary. But her siren song keeps drawing him back, and their clandestine meetings could be hazardous to his plan—and to her virtue.

Avoiding an unwanted marriage was easy when Lady Mary was ignored by the ton. Thanks to her dazzling appearance at the masquerade, she's a wallflower no longer. Eligible suitors abound, yet the only man she wants is the brooding, seductive companion who keeps his face hidden. A man who tempts her to disclose her own shocking secret, one that could divide them forever.
BUY LINKS
Amazon B & N Google Play Books IBooks Kobo
REVIEW: HIS SCANDALOUS KISS (SECRETS AT THORNCLIFF MANOR) BY SOPHIE BARNES
His Scandalous Kiss by Sophie Barnes

My rating: 4 of 5 stars


Having read as many books as I have, it's easy for me to make a decision on how I feel about a particular story and author writing style. Sophie Barnes made that harder for me with His Scandalous Kiss. Ms. Barnes is a masterful storyteller. Her imagery is so vivid that I felt like I was experiencing the story first hand. Secrets, suspense, romance and sensuality abound with this novel.


Copyright of Night Owl Reviews



View all my reviews


Original post: ishacoleman7.booklikes.com/post/1406241/new-release-his-scandalous-kiss-secrets-at-thorncliff-manor-by-sophie-barnes