READ AND REVIEW
SIX MONTH RULE (KINGSTON ALE HOUSE) BY A.J. PINE
Release Date: July 18, 2016
SYNOPSIS
She created the game, but the rules are about to change.

Taurus: Hold fast to your single-minded nature today—no matter how long her legs or how lush her red lips.

Gemini: You were a shining star last night, but reality can be a real—well, you get the picture. Just remember: Tall, dark, and British equals no corner office for you.

Will Evans never wanted a reason to stay.

Holly Chandler wants nothing more than for him to go.

But neither one is prepared for what can happen in six months. Because it doesn't matter what you want when what you need walks out the door.

Holly's been busting her butt to make partner at Trousseau and there's no way she's going to let some stuck-up British arsehole get in her way—no matter how drop-dead gorgeous he is. But that doesn't mean she can't have a little fun in the process. She has a six-month rule: date just long enough for the honeymoon phase to wear off, then walk away before anyone gets hurt. If they both know the rules up front, walking away will be a piece of cake. Or maybe not…

*SIX MONTH RULE is a stand alone book in a connected series.
BUY LINKS
Amazon B & N Google Play Books IBooks Kobo
REVIEW: SIX MONTH RULE (KINGSTON ALE HOUSE) BY A.J. PINE

Six Month Rule by A.J. Pine

My rating: 5 of 5 stars


ARC Review: Six Month Rule (The Kingston Ale House Series) by A.J. Pine

A.J. Pine took every stereotype attributed to a man and gave it a pretty face. Sometimes a sister needs a little wicked in her life. After focusing on her career for so long Holly needs a little fun in her life. Enter studly British drink of water Will and more than her career is on the line. Six Month Rule is eye- opening, sexy and so much fun. Who knew a little fun could lead to forever. I thought Ms. Pine did a great job of allowing the reader to fall in love with this unconventional romance.




View all my reviews
HOT ON HIS HEELS (WHAT HAPPENS IN VEGAS) BY MARGO BOND COLLINS
Release Date: July 18, 2016
SYNOPSIS
He's exactly who she's looking for…she just doesn't know it yet.

Sadie Quinn is at the romance readers' convention for one reason only: to find editor Jocelyn Dellarivier. Which she could do if she didn't keep running into the most frustrating, gorgeous man ever. To make matters worse, she just won a contest and a date with him is the prize.

Jake Blaine could kill his boss for rigging the contest, but now he's face to face with the one woman who could expose his alter ego. He's not about to leave, but he can't tell Sadie he's the editor she's looking for. But even though he's playing with fire, Jake can't seem to stay away. And after a night with the raven-haired beauty, he's not sure he wants to…
BUY LINKS
Amazon B & N Google Play Books IBooks Kobo
REVIEW: HOT ON HIS HEELS (WHAT HAPPENS IN VEGAS) BY MARGO BOND COLLINS
Hot On His Heels by Margo Bond Collins

My rating: 5 of 5 stars


ARC Review: Hot on His Heals (What Happens in Vegas) by Margo Bond Collins

Every love story has a twist, this one might just have one of the most surprising reveals of them all. I have been in love with the What Happens in Vegas series from the very beginning. A behind the scenes look at romance conventions and the interactions of would be writers, fans and editors alike as they converge on the sexiest, riskiest and entertaining place in the world is a real treat to a romance fan like me. Hot on His Heels by Margo Bond Collins mixes the naughty with a fresh and fun sweetness to create a different kind of romance. Mystery and comedy blend together to offer an unforgettable love story. It appeals to the romantic in everyone, including undercover male readers. (Wink, Wink)



View all my reviews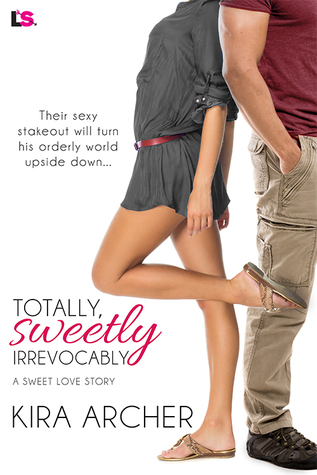 TOTALLY, SWEETLY, IRREVOCABLY (SWEET LOVE) BY KIRA ARCHER
Release Date: July 18, 2016
SYNOPSIS
When Officer Rick Boyd answers a call about a peeping Tom, he doesn't expect to find a gorgeous woman holding the binoculars. But Gina Silvano's no peeping Tom, and she can catch her cupcake truck's kinky vandals herself, thank you very much. No sexy cops required.

No matter how hot their stakeouts, by-the-book Officer Boyd can't see a future with a dangerous, rule-breaking wild-child who despises the law. He's never felt more alive, though, and expunging her from his heart might be impossible.

But loving each other might cost them more than they are able to give.
BUY LINKS
Amazon B & N Google Play Books IBooks Kobo
REVIEW: TOTALLY, SWEETLY, IRREVOCABLY (SWEET LOVE) BY KIRA ARCHER
Totally, Sweetly Irrevocably by Kira Archer

My rating: 5 of 5 stars


ARC Review: Totally, Sweetly, Irrevocably (Sweet Love) by Kira Archer

Kira Archer and her quirky characters brightened up my day. Gina is the one giving Rick fits. She's oil, he's vinegar. She leaps without thinking, he plans without blinking. Gina is hilarious, Rick is serious. Totally, Sweetly, Irrevocably is over the top, amusing and irresistible storytelling. A rule breaker and a rule maker. The situations Gina finds herself in are priceless, but she has her own personal watch dog on the case. Things are about to get interesting. I loved it.



View all my reviews
HANDS ON BY CATHRYN FOX
Release Date: July 18, 2016
SYNOPSIS
Hands On is the first of a three-part erotic series from New York Times and USA best-selling author Cathryn Fox.

When hot as hell Danielle Lang showed up and asked me to teach her about sex, I thought I was hallucinating. Turns out the beautiful psychologist needed an extra bit of schooling in all things sexual so she could teach a class.

I'm always up for helping a friend. I mean, it's the least I can do. What I wasn't expecting is for her to turn the tables and teach me a few things. Only this short-term promise of two weeks in her bed is going by a little too quickly. Not that I'm thinking forever or anything.

I've got a football career to get back to. And she doesn't want to be a part of my world. There's no way we can be together—so I'm going to make sure I enjoy every sexy second….

This is the first of a three-part series full of mind-blowing sex, featuring a dirty-mouthed football player who knows the score and an inexperienced therapist who needs to learn it. HANDS ON is sure to leave readers begging for more. The next installment, Body Contact, will be published August 2016.
BUY LINKS
Amazon B & N Google Play Books IBooks Kobo
REVIEW: HANDS ON BY CATHRYN FOX
Hands On by Cathryn Fox

My rating: 4 of 5 stars


ARC Review: Hands On By Cathryn Fox

I enjoy reading. For me it is a time to relax and unwind after a stressful day. Favorite format is series because as one journey ends, another begins. While becoming acquainted with new characters, there is also a chance to visit previous ones. That works great for me because it's the best of both worlds. I am not a big fan of serials where one story is divided into more than one novel because a pet peeve of mine is having to wait for the next installment to see what happens next. It drives me crazy. For that reason I was wary of Hands On. Ms. Fox ended up surprising me. Hands On reads like a soap opera with it's format but begins a sensuous romance that has no trouble with grabbing the attention and whetting a readers appetite for more. I got so caught up in Danielle and Jack that I forgot everything else. Still bummed I have to wait to see what happens, but I'm hooked all the same. A guilty pleasure that's worth all the hype.



View all my reviews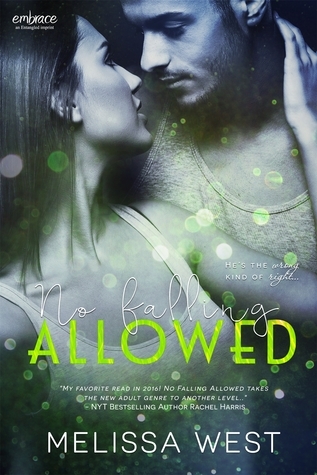 NO FALLING ALLOWED (NO KISSING ALLOWED) BY MELISSA WEST
Release Date: July 18, 2016
SYNOPSIS
My life just went South…

Twenty-four hours. That's how long it took my life to flip upside down.

Wake up in bed alone after the best night of my life? Check.

Get fired instead of the promised promotion? Check.

Wealthy parents cut me off when I refuse to follow their path for my life? Check.

Now I'm in Cricket Creek, SC—a place where no New Yorker belongs—disowned and broke, with a new job that I can't mess up. Oh yeah, and staring at my one-night stand, who happens to be the complete opposite of my type.

Southern.

Cocky.

Bartender.

Noah Hunter never should have made it back to my apartment in NYC, and I definitely shouldn't be in his small town. But fate had another plan. Or a horrible sense of humor.

Who knew Mr. Wrong could feel so right…
BUY LINKS
Amazon B & N Google Play Books IBooks Kobo
REVIEW: NO FALLING ALLOWED (NO KISSING ALLOWED) BY MELISSA WEST
No Falling Allowed by Melissa West

My rating: 5 of 5 stars


ARC Review: No Falling Allowed (No Kissing Allowed) By Melissa West)

Melissa West is quickly making a place for herself on my list of favorite authors. She proves that irony and laughter are the best medicine in No Falling Allowed. She proves that life does have a sense of humor. Noah and Grace are total opposites. Grace's whole existence is headed downhill. What's left for a broke NYC socialite with limited skills to do? Make her own way. Responsible Noah has much on his plate. Running the family business and taking care of family has made him way too serious. Having lived the life of a pampered princess has made Grace snobby, spoiled and bratty. I had a great time with No Falling Allowed. Ms. West blended sassy and sexy with small town charm to create a sensational read.




View all my reviews
BOUND TO THE BOUNTY HUNTER (BOUND) BY HAYSON MANNING
Release Date: July 18, 2016
SYNOPSIS
Harlan Franco, Colorado's busiest bounty hunter, and security expert, lives by his rules: be in control, be detached, and never touch the asset. These rules are tested when the asset he's being paid to secretly guard is none other than his rival, sexy, unpredictable, pain in the butt, Sophie Callaghan––a woman determined to stay away from him. If she finds out he's in her life on an assignment, he'll never get the info he needs. But those lips, those curves, that attitude, he bets he'll have her for one night where she'll play by his rules.

He didn't expect his heart to have an opinion.

Freedom loving private investigator Sophie Callaghan is on a mission. The daughter of a con-artist is not going to be used by a man again. What she doesn't need is hot, broody and controlling Harlan barging into her life and digging into her past. Her brain may say no, but her body craves this bad boy. After a night where both live their darkest desires, Sophie must fight their explosive chemistry because one wrong move could destroy her. She bets he has to stay far, far away.

As the stakes ramp up and secrets explode around them, both are determined to win the bet.

But there can only ever be one winner.
BUY LINKS
Amazon B & N Google Play Books IBooks Kobo
REVIEW: BOUND TO THE BOUNTY HUNTER (BOUND) BY HAYSON MANNING
Bound to the Bounty Hunter by Hayson Manning

My rating: 4 of 5 stars


Ego and desire collide In Bound to the Bounty Hunter by Hayson Manning. I received an ARC in exchange for an honest review. This was a wonderful chance to try out a new author. Whenever the chance arose Sophie and Harlen thrived on needling each other. The chemistry was hard to cut through because the sexual tension was suffocating between these two. What drives Sophie is a need for redemption and the chance to prove herself different from her father. Harlen thrives on being in control and the fact that Sophie will not cede to him gets under his skin in more ways than one. Bound to the Bounty Hunter is full lust, emotion and secrets. I am definitely taking notice of Hayson Manning.



View all my reviews
Original post: ishacoleman7.booklikes.com/post/1434594/new-entangled-releases-for-july-17-2016