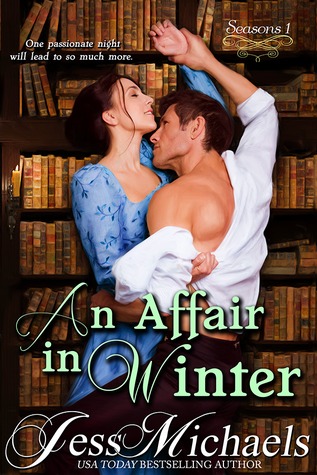 READ AND REVIEW
AN AFFAIR IN WINTER (SEASONS) BY JESS MICHAELS
Release Date

: July 12, 2016
SYNOPSIS
Widow Rosalinde Wilde is on her way to her beloved sister's wedding when an unexpected storm waylays her at an overcrowded inn. There she meets a tempting stranger who sweeps her into a night of unforgettable passion.

Grayson Danford never expected a night with the irresistible Mrs. Wilde, but she was a welcome distraction from the unpleasant duty of breaking up his brother's impending nuptials. He's shocked when he discovers his passionate lover is none other than the sister of his brother's intended.

Now Rosalinde and Gray will butt heads, even as their simmering desire for each other threatens to boil over. Who will win? And who might lose it all?
BUY LINKS
REVIEW: AN AFFAIR IN WINTER (SEASONS) BY JESS MICHAELS
An Affair in Winter
by
Jess Michaels
My rating:
5 of 5 stars
ARC Review: An Affair in Winter (Seasons) by Jess Michaels
An Affair in Winter is an epic love story. A passion shrouded in secrecy, a wedding arranged by a spiteful, scheming, power hungry man and the hidden secrets he holds within his grasp lead to explosive revelations. Ms. Michaels has crafted a love story that mixes spice with emotion. Like a jigsaw, piece by piece she reveals more about the driving force behind each character. Rosalinde was a person who wanted to be loved and not treated like a means to an end. Her entire existence was center around the charity of her grandfather and his bitterness toward Rosalinde and her sister (who was the only bright spot in a heartbreaking existence). When her sister is forced into an arranged engagement and marriage to appease a vindictive old man, Rosalinde will risk her virtue, heart and well being to make sure her sister finds the happiness she deserves. Grayson is the brother of the groom, Rosalinde, the sister of the bride. A chance meeting, a secret affair and conflicting opinions make for a tempestuous romance filled with unforgettable moments that are as bewitching as they are heartbreaking. My favorite Jess Michaels story to date.
View all my reviews