READ AND REVIEW
FOOL ME ONCE (FOOLPROOF LOVE) BY KATEE ROBERT
Release Date: August 1, 2016
SYNOPSIS
They say opposites attract, but this is just ridiculous.

Aubry Kaiser doesn't like people—actually, that's not right. She loathes people. With her crippling anxiety, there's no way she can demo her favorite video game at a convention with five thousand other people. Maybe if she brings someone to act as a shield…

But the only person available is the sexy cowboy she can't stand.

Quinn Baldwyn is in a mess of his own. He's been dodging his wealthy family's matchmaking attempts—and life advice—for years, but with his sister's wedding on the horizon, he needs of a shield of his own.

He and Aubry can barely hold down a civil conversation, but in bed…fireworks. And the closer they get to Quinn's sister's wedding, the more he realizes that he might actually like Aubry.

Now it's up to him to convince her she might actually like him, too.
BUY LINKS
Amazon B & N Google Play Books IBooks Kobo
REVIEW: FOOL ME ONCE (FOOLPROOF LOVE) BY KATEE ROBERT

Fool Me Once by Katee Robert

My rating: 5 of 5 stars


The thrill of a Katee Robert novel is figuring out what drives her characters. What's the hidden story behind the bitter women or the distant alpha male? Aubry was a character with complications that ranged from trust issues, anger management issues and well hidden bouts of anxiety brought on by insecurities. She wears more armor than a porcupine has quills. She's not a mean spirited person, just a misunderstood one. In her mind, not letting anyone close is a way to stop unnecessary hurts but it isolates her from the people who care and ultimately leaves her missing out on her own chance at happiness. Jules is the one person she has counted on and allows into her world. Her protector, her friend wants her to be happy and with a little bit of unwitting help from an unexplored direction, Aubry may find her slice of heaven. I received an ARC of Fool Me Once in exchange for an honest review. There's a great deal of baggage on the part of both main characters but the fact that they have friends that care, in their corner helping them along makes for a cool bonus.



View all my reviews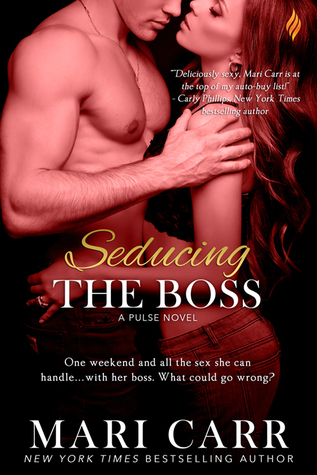 SEDUCING THE BOSS (PULSE SERIES) BY MARI CARR
Release Date: August 1, 2016
SYNOPSIS
Kellan James is unwinding at Score when he spots the last person he'd ever expect to find in his favorite bar. Sara Connelly—ER nurse, do-gooder, charitable crusader, and frequent pain in his ass. Both grew up privileged in swanky Southampton, but that's where the similarities end. Kellan's made it his mission to seek out life's pleasures; Sara gains pleasure from lecturing him on his lifestyle. Kellan would never date someone like her. Ever.

But when Kellan discovers Sara's been stood-up by an online date, something fierce and protective awakens inside of him. Typically, Kellan would enjoy teasing the jilted Sara, but something in her face sends him over to her table with a plan. He encourages her to take a walk on the wild side, one weekend of sin, no holds barred.

She accepts, but it quickly becomes apparent that one night isn't enough. As the pull between them grows stronger, Kellan discovers it's a very dangerous thing to say never.
BUY LINKS
Amazon B & N Google Play Books IBooks Kobo
REVIEW: SEDUCING THE BOSS (PULSE SERIES) BY MARI CARR
Seducing The Boss by Mari Carr

My rating: 4 of 5 stars


Frenemies Sara and Kellan, work together everyday. Are friendly on occasion and push each others buttons regularly. There are no benefits to the association until a spark of attraction leads to an explosive reaction. Mari Carr takes primitive up a notch with a sexy no limits romance that is fire engine red. Kellan is every woman's fantasy guy in the bedroom but has yet to mature in other areas. Sara is the girl next door that's bark is worse than her bite. Her school girl innocence is the catalyst for Kellan's dirtiest fantasies. In order to win, each has to learn to compromise. I received an ARC of Seducing The Boss by Mari Carr in exchange for an honest review. This romance is earthquake level.



View all my reviews


WORKED UP (MADE IN JERSEY) BY TESSA BAILEY
Release Date: August 1, 2016
SYNOPSIS
Factory mechanic Duke Crawford just wants to watch SportsCenter in peace. Unfortunately, living with four divorcee sisters doesn't provide much silence, nor does it change his stance on relationships. But when a fellow commitment-phobe stumbles into his life, getting him good and worked up, he can't deny his protective instincts.

Samantha Waverly's brother just put her in an impossible situation. The only way out? Marry huge, gruff, gladiator look-alike Duke—for show, of course. She doesn't make promises—she knows too well how easily they can be broken—and this is no exception.

As the blistering attraction between them grows, the lines around the no-strings relationship blur. But Duke and Samantha's marriage is only for show…or is it?
BUY LINKS
Amazon B & N Google Play Books IBooks Kobo
REVIEW: WORKED UP (MADE IN JERSEY) BY TESSA BAILEY
Worked Up by Tessa Bailey

My rating: 4 of 5 stars


I enjoy reading characters like Duke. A tough guy with a tender heart is my secret fantasy brought to life. The way he took care of family and looked after a woman that he just met. Grudgingly, of course was what made me fall for him more and more. Adorably clueless, yet so sweetly insecure Samantha was a heartbreaker that could capture the heart with her innocent bravado. Worked Up is sex on a stick with a charming sense of wit.



View all my reviews
Original post: ishacoleman7.booklikes.com/post/1442528/new-releases-from-entangled-publishing-available-8-1