DAUGHTERS OF THE BRIDE BY SUSAN MALLERY
Release Date

: July 12, 2016
SYNOPSIS
With Joy, Love, and a Little Trepidation Courtney, Sienna and Rachel Invite You To the Most Emotional Wedding of the Year… Their Mother's

Courtney ~ The Misfit ~

As the awkward one, Courtney Watson may not be as together as her sisters, but she excels at one thing—keeping secrets, including her white-hot affair with a sexy music producer. Planning Mom's wedding exposes her startling hidden life, changing her family's view of her—and how she views herself—forever.

Sienna ~ The Free Spirit ~

When Sienna's boyfriend proposes—in front of her mom and sisters, for crying out loud—he takes her by surprise. She already has two broken engagements under her belt. Should she say "I do" even if she's not sure she does?

Rachel ~ The Cynic ~

Rachel thought love would last forever…right up until her divorce. As Mom's wedding day draws near and her ex begs for a second chance, she's forced to acknowledge some uncomfortable truths about why her marriage failed, and decide if she'll let pride stand in the way of her own happily ever after.

A must-read for anyone who has survived the wedding of a sister, a mother, a daughter—as told by #1 New York Times bestselling author and master storyteller Susan Mallery!
BUY LINKS
REVIEW: DAUGHTERS OF THE BRIDE BY SUSAN MALLERY
Daughters of the Bride
by
Susan Mallery
My rating:
5 of 5 stars
ARC Review: Daughters of the Bride by Susan Mallery
Daughters of the Bride is meant to be a classic. With each novel I read I fall deeper in love with Ms. Mallery's characters and her narrative style. She not only imparts sage advice, but creates stories that are a joy to experience. Daughters of the Bride is a story told with tenderness and nostalgia about the bonds of family. Devotion and understanding are essential to the dynamic of family BUT learning how to love enough to let go is one of the most important decisions a person can make.
With the help of surrogate mother Joyce, Sienna, Courtney and Rachel through self-examination discover the strength of love, forgiveness and healing. With a little bit of romance and a great deal of heart Susan Mallery has created an emotional masterpiece.
View all my reviews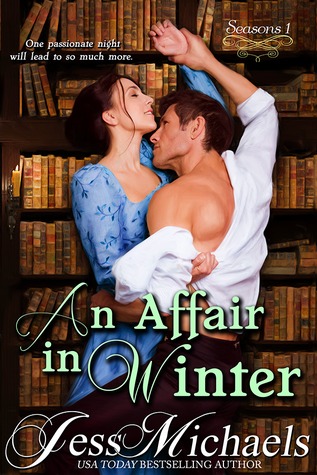 AN AFFAIR IN WINTER (SEASONS) BY JESS MICHAELS
Release Date

: July 12, 2016
SYNOPSIS
Widow Rosalinde Wilde is on her way to her beloved sister's wedding when an unexpected storm waylays her at an overcrowded inn. There she meets a tempting stranger who sweeps her into a night of unforgettable passion.

Grayson Danford never expected a night with the irresistible Mrs. Wilde, but she was a welcome distraction from the unpleasant duty of breaking up his brother's impending nuptials. He's shocked when he discovers his passionate lover is none other than the sister of his brother's intended.

Now Rosalinde and Gray will butt heads, even as their simmering desire for each other threatens to boil over. Who will win? And who might lose it all?
BUY LINKS
REVIEW: AN AFFAIR IN WINTER (SEASONS) BY JESS MICHAELS
An Affair in Winter
by
Jess Michaels
My rating:
5 of 5 stars
ARC Review: An Affair in Winter (Seasons) by Jess Michaels
An Affair in Winter is an epic love story. A passion shrouded in secrecy, a wedding arranged by a spiteful, scheming, power hungry man and the hidden secrets he holds within his grasp lead to explosive revelations. Ms. Michaels has crafted a love story that mixes spice with emotion. Like a jigsaw, piece by piece she reveals more about the driving force behind each character. Rosalinde was a person who wanted to be loved and not treated like a means to an end. Her entire existence was center around the charity of her grandfather and his bitterness toward Rosalinde and her sister (who was the only bright spot in a heartbreaking existence). When her sister is forced into an arranged engagement and marriage to appease a vindictive old man, Rosalinde will risk her virtue, heart and well being to make sure her sister finds the happiness she deserves. Grayson is the brother of the groom, Rosalinde, the sister of the bride. A chance meeting, a secret affair and conflicting opinions make for a tempestuous romance filled with unforgettable moments that are as bewitching as they are heartbreaking. My favorite Jess Michaels story to date.
View all my reviews
THE SAPPHIRE AFFAIR (JEWEL) BY LAUREN BLAKELY
Release Date

: July 12, 2016
SYNOPSIS
Bounty hunter Jake Harlowe knows how to track a criminal. So when a group of swindled shareholders hires him to trail their former CEO, Jake expects a quick trip to the Cayman Islands to close another case. Until a devastatingly beautiful woman gets in the way.

Steph Anderson is visiting the Caymans for a rock climbing and dive trip—or so she tells Jake. She's really trying to find out whether or not her stepfather embezzled money from his company. The last thing Steph needs is the distraction of a sexy, charming man whose kisses drive her wild.

Soon, the pair discover they're after the same target—and millions in jewels. While Jake can't be certain Steph isn't working for her stepfather, and Steph can't be certain Jake isn't after the diamonds for himself, they can agree the heat between them is intense, and neither can deny the passion for long.

But the morning after, Steph discovers that she just might have slept with the enemy, and now she'll have to outwit him to get everything she needs…
BUY LINKS
REVIEW: THE SAPPHIRE AFFAIR (JEWEL) BY LAUREN BLAKELY
The Sapphire Affair
by
Lauren Blakely
My rating:
4 of 5 stars
Lauren Blakely takes shock value to a new level with
The Sapphire Affair
, the revealing introduction to her new Jewel series. Steph and Jake find themselves delving into a world full of dangerous secrets and sizzling passion that may end up proving fatal with one false step. An explosive attraction between people with trust issues and hidden agendas made for an exciting, confusing and sensual journey into the unknown. Ms. Blakely does suspense like she never has before. A jaw dropping, thrill.
View all my reviews
ANYTHING BUT LOVE BY ABIGAIL STROM
Release Date

: July 12, 2016
SYNOPSIS
Socialite Jessica Bullock can't catch a break. After a lifetime of chasing perfection, hoping to please her parents, all her hard work is set to pay off. But on her wedding day, her fiancé leaves her high and dry. Humiliated, she finds her calm, cool facade beginning to crumble…until an unexpected wedding guest, her childhood best friend and crush, offers to help her pick up the pieces.
Never in his wildest dreams would Ben Taggart have imagined he'd be escorting Jessica on her honeymoon to Bermuda. Although they haven't seen each other in years, he can't leave her to fall apart. Agreeing to keep things platonic, they vow to make the most of their spontaneous vacation—until an unplanned kiss sparks a powerful passion.
They tell themselves that what happens in Bermuda will stay in Bermuda. But when old secrets are revealed and new feelings ignite, will Ben and Jessica be able to leave their romance behind?
BUY LINKS
REVIEW: ANYTHING BUT LOVE BY ABIGAIL STROM
Anything But Love by Abigail Strom

My rating: 5 of 5 stars
Abigail Strom's Anything But Love may come across as a blase' read but ended up being anything but. Ms. Strom hit all the right notes for romantics everywhere. A second chance romance between estranged friends told with simplicity and humor that gives the heart (in my case) something to sing about.
SURRENDER TO YOU (AT YOUR SERVICE) BY SHAWNTELLE MADISON
Release Date

: July 12, 2016
SYNOPSIS
In this seductive novel from the author of Bound to You, two career-oriented friends with benefits discover that good morning doesn't have to mean goodbye.

Late-night booty calls are the most romantic gesture that Carlie Jason expects from business magnate Tomas Goodfellow. Ever since they were teenagers, they've provided each other the kind of no-strings pleasures that don't involve regrets. Now Carlie finds it easier to kiss and run rather than face the fact that she wants so much more. But when she takes a job as a concierge at one of Tomas's properties, a hotel where the rich and famous get their kink on, Carlie's tempted to reconsider the rules of surrender.

As the head of an international empire, Tomas knows how to bring out the best in his employees. Putting Carlie in charge of managing the desires of his wealthiest clients was a stroke of genius—only now that she's close enough to touch, he finds he doesn't want to let her go. Their long, dark history has built up intimacy in ways he's only just beginning to understand, but Tomas isn't ready to trust her just yet. He knows his feelings are more than skin-deep. But first he needs to convince Carlie of one thing: the ties that bind go straight to the heart.
BUY LINKS