Sunday Funday
Book: Waiting for Midnight
Author: Samantha Chase
Anticipated Release Date: August 3, 2016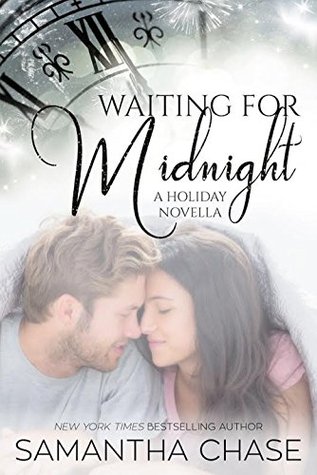 WAITING FOR MIDNIGHT BY SAMANTHA CHASE
Release Date
:
August 3, 2016
SYNOPSIS
Maddie's hoping for a little holiday magic with her sexy neighbor Noah...
For the last year, Maddie's been trying to get Noah's attention, but to no avail. Until a busted light bulb, a broken ladder and a concussion lend a hand. Now with the holidays right around the corner, she's hopeful that she'll finally get her wish to kiss her sexy neighbor as way to kick off the new year.
BUY LINKS
Amazon B & N Google Play Books IBooks Kobo
REVIEW
:
WAITING FOR MIDNIGHT BY SAMANTHA CHASE
Waiting for Midnight by Samantha Chase

My rating: 5 of 5 stars


A sprinkle of that magic to be carried all year round. Waiting For Midnight
brings the romance, sentiment and heart in a short story that blends hope, dreams and fairy tale wishes to create a little peace of heaven. I had the pleasure of reading Ms. Chase's edition to the Christmas in the City anthology back in December. I loved it then, just as much as I do now.



View all my reviews

EXCERPT
Right then and there, Maddie was kicking herself for initiating this whole thing. Here she was talking about how she didn't like being alone while knowing how Noah preferred it that way. For the remainder of the meal, the conversation was fairly generic – weather, current events. When they were done, Maddie helped clear the table and load the dishwasher.
"Do you want to take these containers home with you?" he asked.
Maddie shook her head. "No rush with them. Keep them until you're done with the food and then you can just leave them by my door." Quickly washing her hands she turned the water off, dried them, and was thankful she could finally leave. Facing him, she pasted a smile on her face. "Enjoy the leftovers. I'm glad you're feeling okay."
Stepping around him, she made her way toward the stairs. Noah's hand on her arm stopped her. "You're leaving?" he asked, confusion written on his face.
Nodding, she said, "I appreciate the invitation to join you for dinner, Noah, but I know you would have preferred to eat alone. I'm not going to bug you anymore."
His brows furrowed. "What do you mean? You don't bug me."
The bark of laughter that came out of her should have embarrassed her, but it didn't. "Oh, please. Noah, it's okay. You like your privacy. You prefer being alone. I shouldn't have pushed. But don't worry, I got the hint loud and clear." She moved away from his touch and began to move toward the stairs again.
He followed.
He wasn't supposed to follow, she thought.
"So…um…I'll see you around," she said and turned and quickly walked down the stairs. Maddie was out the door and about to close it when she noticed Noah right behind her. What the…? How was that even possible? Normally she could hear him through the walls in her apartment and here he was right behind her without making a sound?
"Maddie…"
Turning to face him, she wasn't sure what she was supposed to say.
"I'm not going to lie to you," he said quietly. "I do like my privacy and I do prefer to be alone, but that doesn't mean I didn't want to have dinner with you."
"O-kay," she said slowly.
He sighed loudly. "I don't want you to think you forced me to hang out with you, okay?" he said with a bit of frustration.
"It's fine, Noah. Thanks for clearing it up." She was being sincere – kind of – but she had a feeling he didn't quite believe her.
"Maddie…"
Looking over her shoulder toward her own door, she wished she were on the other side of it. Turning back to Noah, she gave him another small smile. "Look, I really need to go. I've got a bunch of stuff to do before work tomorrow. I'll see you around."
And then, as if her body had a mind of its own, she moved in and hugged him. And as if that wasn't shocking enough, Noah's arms came around her and hugged her back! When Maddie went to step out of his embrace, she couldn't. Noah's arms seemed to tighten around her. She looked up at him questioningly.
And in the most surprising move of all, Noah lowered his head and kissed her.
❥❥ About the Author ❥❥
New York Times and USA Today Bestseller/contemporary romance writer Samantha Chase released her debut novel, Jordan's Return, in November 2011. Although she waited until she was in her 40's to publish for the first time, writing has been a lifelong passion. Her motivation to take that step was her students: teaching creative writing to elementary age students all the way up through high school and encouraging those students to follow their writing dreams gave Samantha the confidence to take that step as well.
With twenty-three titles currently to her name, she has no plans to slow down. The success of the Montgomery Brothers series has her working on six new titles in that collection as well as two new exciting series set to start popping up on bookshelves in 2015. You won't find her books with the erotica or paranormal titles, all of her works are pure contemporary romances.
When she's not working on a new story, she spends her time reading contemporary romances, blogging, playing way too many games of Scrabble on Facebook and spending time with her husband of 25 years and their two sons in North Carolina.
Social Media Links
:
Website:
http://www.chasing-romance.com/
Facebook:
http://goo.gl/8EC7tp
Twitter:
https://twitter.com/samanthachase3
Google +:
https://goo.gl/gsPs27
Amazon:
http://goo.gl/EKSYKg
WANT TO KEEP UP TO DATE ON RELEASE DATES, CONTESTS, ETC.
SIGN UP FOR SAMANTHA CHASE' NEWSLETTER.
Original post:
ishacoleman7.booklikes.com/post/1439520/sunday-funday-waiting-for-midnight-by-samantha-chase