READ AND REVIEW
WAKING UP WITH A BILLIONAIRE (OVERNIGHT BILLIONAIRES) BY KATIE LANE
Release Date
:
July 26, 2016
SYNOPSIS
He can have anything he wants...except her
Famed artist Grayson Beaumont is the most elusive of the billionaire Beaumont brothers. He has a reputation for seducing any woman with only a look, word, or sensual stroke of his brush. But now Grayson has lost all his desire to paint . . . unless he can find a muse to unlock his creative-and erotic-imagination.
Chloe knew she might have to shed her clothes when she agreed to pose for the celebrated artist, but she wasn't expecting to shed all her inhibitions as well. Under his intense scrutiny, there's nothing she can hide...including a secret from her past that, once exposed, will change how he looks at her forever.
BUY LINKS
Amazon
B & N
Google Play Books
IBooks
Kobo
REVIEW
:
WAKING UP WITH A BILLIONAIRE (THE OVERNIGHT BILLIONAIRES) BY KATIE LANE
Waking Up With a Billionaire
by
Katie Lane
My rating:
5 of 5 stars
ARC Review: Waking Up with a Billionaire (The Overnight Billionaires) by Katie Lane
Grayson's story left me heartbroken. Every series has to end but those Beaumont boys lasted long enough to steal your heart and run. Katie Lane saved the best for last with Chloe and Grayson. With the heart of an artist, the reputation of a playboy and that Beaumont charm Grayson is a heartbreaker. But he lives for his art and when he can't seem to get inspired, he feels at a lost. Enter Chloe. A tempting firecracker with a chip on her shoulder and the weight of the world on her back. Caught between a rock and a hard place the enigmatic artist and the fiery vixen set sparks flying and eyebrows raising. But there is more to this woman of mystery than a pretty face. Deep rooted insecurities and closely guarded secrets drive this couple on a rocky ride that may cost them the ultimate price, THEIR HEARTS. With The Overnight Billionaires, Ms. Lane supplied seductive stories, irresistible heroes and heroines that proved to be their perfect match but she also managed to throw in a little wisdom along the way about the importance of family. Family is more than just blood, it's a bond that is built within the heart.
View all my reviews
DON'T TEMPT ME BY LORI FOSTER
Release Date
:
July 26, 2016
SYNOPSIS
Love comes along when it's least wanted
Jason Guthrie has no time for entanglements—between helping out his widowed brother and teenage nephew and getting his hometown back on its feet, his days are spoken for. But his nights are another story… And when his lovely new neighbor, Honor Brown, reluctantly accepts his help in remodeling her house, Jason finds himself wishing his handyman skills could knock down the defenses she keeps building around herself.
Martial arts teacher Sullivan Dean knows real danger when he sees it—even when it takes the form of the gorgeous blonde helping her friend move in across the street. After putting his wayward past behind him to focus on teaching control to troubled kids, Sullivan has learned to avoid party girls like Lexie Perkins. But Sullivan can't seem to keep his hands off the real woman behind that flirty charm—or keep his heart from landing at her feet…
BUY LINKS
Amazon
B & N
Google Play Books
Harlequin
IBooks
Kobo
REVIEW
:
DON'T TEMPT ME BY LORI FOSTER
Don't Tempt Me
by
Lori Foster
My rating:
5 of 5 stars
Lori Foster knows how to create that magic. The sense of forgetting where you are and being transferred to another place is something that I always feel when I pick up one of her stories. I received an ARC of
Don't Tempt Me by Lori Foster
in exchange for an honest review. This sensual novel gives a peek at two sides of the spectrum. We have Jason who has reliability written all over him. The way he looks after his family and community are a bonus in his favor but the way he looked after Honor who was wary and insecure of herself gave me heart palpitations. He was a keeper. Fast forward to Sullivan. He was somewhat of a tougher nut to crack but his hard edge did not hide his true self from the people that mattered most. Inside the pages of Don't Tempt Me there is love, hope and charm wrapped up in sensual package.
View all my reviews
FORBIDDEN FLING (WILDWOOD) BY SKYE JORDAN
Release Date
:
July 26, 2016
SYNOPSIS
Delaney Hart has come a long way from her wild youth, dating tattooed bikers at her father's bar, The Bad Seed. But when his death pulls her back to Wildwood, California, she must stay to renovate the dive he left her. And also face the lies and secrets that sent her running ten years before.

When Wildwood's chief building inspector, Ethan Hayes, shows up on the property, Delaney doesn't recognize him. The last thing he wants to do is save the bar where his cousin died in a brawl. But the good boy from her past is all too willing to remind her of the bad girl she used to be. And one night of passion leaves them both in a compromising position.

The last place Ethan should be is in Delaney's bed. Guilt, family pressure, and plans for a brewpub of his own make shutting down The Bad Seed his top priority…until his feelings for Delaney interfere. Because her future depends on the success of the bar's renovation and his dreams are rooted in its failure, their forbidden romance may be destined for heartbreak.
BUY LINKS
Amazon
B & N
REVIEW
:
FORBIDDEN FLING (WILDWOOD) BY SKYE JORDAN
Forbidden Fling
by
Skye Jordan
My rating:
4 of 5 stars
Ethan and Delaney share a past. One tragic event has left both twisting in the wind, trying to outrun the pain and guilt of youthful mistakes they want to forget. I received an ARC of
Forbidden Fling by Skye Jordan
in exchange for an honest review. One place proved the catalyst within Delaney and Ethan's emotional trek down memory lane. "The Bad Seed", was like a leper. For one family, it represented violence, chaos and unimaginable loss. For Delaney it hung like a noose around her neck. One night triggered a metamorphose in two people. Forbidden Fling has the heartbreak of a Greek tragedy but from that pain beauty rises. It was a long road to forgiveness and healing but Ms. Jordan proves how strong a power love actually has. The ability to unify two broken hearts and give hope to a broken community. Inspiring.
View all my reviews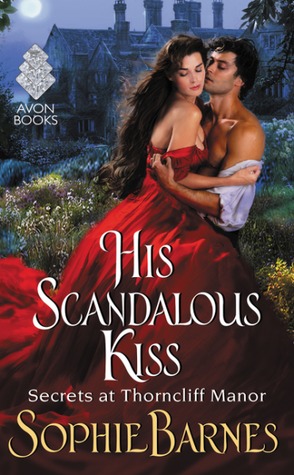 HIS SCANDALOUS KISS (SECRETS AT THORNCLIFF MANOR) BY SOPHIE BARNES
Release Date
:
July 26, 2016
SYNOPSIS
Thorncliff Manor is the perfect setting for a masquerade ball... where the heart's secret desires are about to be uncovered in this scintillating Regency romance from Sophie Barnes...
Richard Heartly has exiled himself from society since the war, plotting his revenge for a terrible betrayal. A masked ball at Thorncliff Manor is intended to be a brief diversion. Instead, he encounters a fascinating young woman as entranced by the music as he is. He can't reveal his identity to Lady Mary. But her siren song keeps drawing him back, and their clandestine meetings could be hazardous to his plan—and to her virtue.
Avoiding an unwanted marriage was easy when Lady Mary was ignored by the ton. Thanks to her dazzling appearance at the masquerade, she's a wallflower no longer. Eligible suitors abound, yet the only man she wants is the brooding, seductive companion who keeps his face hidden. A man who tempts her to disclose her own shocking secret, one that could divide them forever.
BUY LINKS
Amazon
B & N
Google Play Books
IBooks
Kobo
REVIEW
:
HIS SCANDALOUS KISS (SECRETS AT THORNCLIFF MANOR) BY SOPHIE BARNES
His Scandalous Kiss
by
Sophie Barnes
My rating:
4 of 5 stars
Having read as many books as I have, it's easy for me to make a decision on how I feel about a particular story and author writing style. Sophie Barnes made that harder for me with
His Scandalous Kiss
. Ms. Barnes is a masterful storyteller. Her imagery is so vivid that I felt like I was experiencing the story first hand. Secrets, suspense, romance and sensuality abound with this novel.
Copyright of Night Owl Reviews
View all my reviews
WHY DO DUKES FALL IN LOVE? (DUKES BEHAVING BADLY) BY MEGAN FRAMPTON
Release Date
:
July 26, 2016
SYNOPSIS
I
n Megan Frampton's captivating new Dukes Behaving Badly novel, we learn the answer to the question:
Why do dukes fall in love?
Michael, the Duke of Hadlow, has the liberty of enjoying an indiscretion . . . or several. But when it comes time for him to take a proper bride, he ultimately realizes he wants only one woman: Edwina Cheltam. He'd hired her as his secretary, only to quickly discover she was sensuous and intelligent.
They embark on a passionate affair, and when she breaks it off, he accepts her decision as the logical one . . . but only at first. Then he decides to pursue her.
Michael is brilliant, single-minded, and utterly indifferent to being the talk of the ton. It's even said his only true friend is his dog. Edwina had begged him to marry someone appropriate–—someone aristocratic . . . someone high-born . . . someone else. But the only thing more persuasive than a duke intent on seduction is one who has fallen irrevocably in love.
BUY LINKS
Amazon
B & N
Google Play Books
IBooks
Kobo
REVIEW
:
WHY DO DUKES FALL IN LOVE? (DUKES BEHAVING BADLY) BY MEGAN FRAMPTON
Why Do Dukes Fall in Love?
by
Megan Frampton
My rating:
4 of 5 stars
ARC Review: Why Do Dukes Fall In Love? (Dukes Behaving Badly) by Megan Frampton
The heart is it's own worst enemy. It wants what it wants and whether good or bad is a deciding factor in the choices one makes. Megan Frampton gives comedic insight with Why Do Dukes Fall In Love. It is so refreshing to read a story where not everything has to be a complicating mass of confusion. It didn't hurt that Michael was not afraid to show his sensitive side. Love is messy, it's not rocket science. Edwina and Michael's romance is a hotbed of sweetness sprinkled with spice.
Copyright Night Owl Reviews
View all my reviews
Original post:
ishacoleman7.booklikes.com/post/1431275/pre-order-now-available-7-26