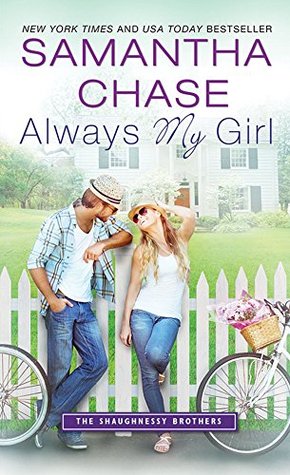 Sunday Funday
Book: Always My Girl
Shaughnessy Brothers Book 3
Author:
Samantha Chase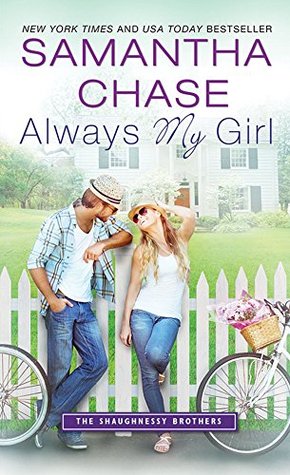 ALWAYS MY GIRL (THE SHAUGHNESSY BROTHERS) BY SAMANTHA CHASE
Release Date: July 5, 2016
SYNOPSIS
Book #3 in New York Times and USA Today bestselling author Samantha Chase's dazzling new series.

The Shaughnessy Brother you've been waiting for!
Sometimes the love that's closest to you is the hardest to see.
Quinn Shaughnessy's two older brothers have found their true loves ... but Quinn's not about to join that parade. Nope, as he tells his best friend Anna, there's a lot more to life than getting tied down to one person. He's positive tomboy Anna will be on his side - except she's inexplicably developing other interests - even dating! Suddenly Quinn is seeing Anna in a very different light.
Quinn has been Anna's buddy since they were both five years old. She can tell him anything - except the one big secret she's been hiding for years - that she's fallen in love with him. Now Anna is determined to make a life for herself that doesn't include pining for Quinn. Falling in love with your best friend? Easy. Telling them how you really feel? Impossible.
BUY LINKS
REVIEW: ALWAYS MY GIRL (THE SHAUGHNESSY BROTHERS) BY SAMANTHA CHASE
Always My Girl
by
Samantha Chase
My rating:
5 of 5 stars
With Love Walks In having been a tearjerker,
Always My Girl
has lightened things up with Quinn and Anna's story. Sometimes less is more. Samantha Chase came back swinging with this hilarious take on romance. Quinn does not do well with change, so when his best friend turns the tables on him and goes from girl next door to woman of his dreams anything can happen.
Always My Girl
is a fun friends to lovers novel that proves the versatility of Ms. Chase. She can do it all.
View all my reviews
❥❥ About the Author ❥❥

New York Times and USA Today Bestseller/contemporary romance writer Samantha Chase released her debut novel, Jordan's Return, in November 2011. Although she waited until she was in her 40's to publish for the first time, writing has been a lifelong passion. Her motivation to take that step was her students: teaching creative writing to elementary age students all the way up through high school and encouraging those students to follow their writing dreams gave Samantha the confidence to take that step as well.
With twenty-three titles currently to her name, she has no plans to slow down. The success of the Montgomery Brothers series has her working on six new titles in that collection as well as two new exciting series set to start popping up on bookshelves in 2015. You won't find her books with the erotica or paranormal titles, all of her works are pure contemporary romances.
When she's not working on a new story, she spends her time reading contemporary romances, blogging, playing way too many games of Scrabble on Facebook and spending time with her husband of 25 years and their two sons in North Carolina.
Social Media Links:
WANT TO KEEP UP TO DATE ON RELEASE DATES, CONTESTS, ETC.
SIGN UP FOR SAMANTHA CHASE' NEWSLETTER.