Sunday Funday
Book: Always My Girl
Shaughnessy Brothers Book 3
Author: Samantha Chase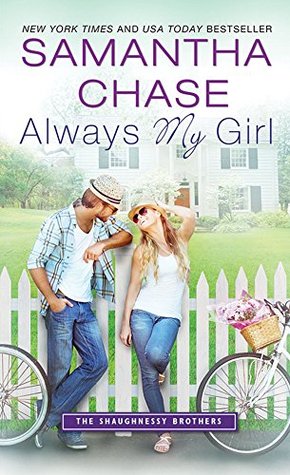 ALWAYS MY GIRL (THE SHAUGHNESSY BROTHERS) BY SAMANTHA CHASE
Release Date: July 5, 2016
SYNOPSIS
Book #3 in New York Times and USA Today bestselling author Samantha Chase's dazzling new series.

The Shaughnessy Brother you've been waiting for!
Sometimes the love that's closest to you is the hardest to see.
Quinn Shaughnessy's two older brothers have found their true loves ... but Quinn's not about to join that parade. Nope, as he tells his best friend Anna, there's a lot more to life than getting tied down to one person. He's positive tomboy Anna will be on his side - except she's inexplicably developing other interests - even dating! Suddenly Quinn is seeing Anna in a very different light.
Quinn has been Anna's buddy since they were both five years old. She can tell him anything - except the one big secret she's been hiding for years - that she's fallen in love with him. Now Anna is determined to make a life for herself that doesn't include pining for Quinn. Falling in love with your best friend? Easy. Telling them how you really feel? Impossible.
BUY LINKS
Amazon B & N Google Play Books IBooks Kobo
REVIEW: ALWAYS MY GIRL (THE SHAUGHNESSY BROTHERS) BY SAMANTHA CHASE
Always My Girl by Samantha Chase

My rating: 5 of 5 stars


With Love Walks In having been a tearjerker, Always My Girl has lightened things up with Quinn and Anna's story. Sometimes less is more. Samantha Chase came back swinging with this hilarious take on romance. Quinn does not do well with change, so when his best friend turns the tables on him and goes from girl next door to woman of his dreams anything can happen. Always My Girl is a fun friends to lovers novel that proves the versatility of Ms. Chase. She can do it all.




View all my reviews
Original post: ishacoleman7.booklikes.com/post/1421416/it-s-sunday-funday-always-my-girl-the-shaughnessy-brothers-by-samantha-chase