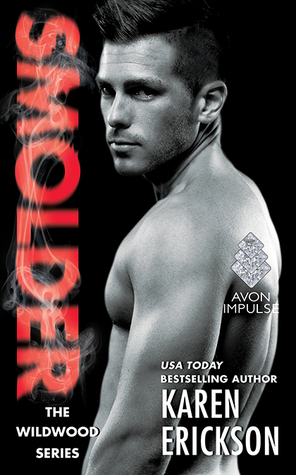 READ AND REVIEW
SMOLDER (WILDWOOD) BY KAREN ERICKSON
Release Date

: June 21, 2016
SYNOPSIS
Lane Gallagher wants Delilah Moore - bad.
He's imagined the sexy brunette in his bed more times than he can count.
She's everything he's ever wanted, but the only problem is…


She's his brother's ex.
For years, the stoic sheriff's deputy has fantasized about the sweet, bubbly dance teacher who stirs his deepest desires. But Lane's too loyal to ever move in on forbidden territory and he knows that while he can look, he definitely can't touch. Fighting his attraction to Delilah is nearly impossible, but the infuriating-and incredibly sexy-woman seems determined to drive him crazy.


And she's bringing him to his knees. One smoldering kiss at a time.
BUY LINKS
CURRENTLY AVAILABLE!
IGNITE (WILDWOOD) BY KAREN ERICKSON
Release Date: March 15, 2016
SYNOPSIS
Weston Gallagher is falling hard-for the wrong woman.

One night of passion has haunted him for years.

Now he's got a second chance to get the girl of his dreams…but there's just one problem:

She hates him.

Eight years after he stormed out of Wildwood, California, West has returned to his hometown as a firefighter. His friends and family are thrilled he's back-with the exception of Harper Hill. His best friend's sister is all grown up and in all the right ways. He knows she's going to do everything she can to protect her heart and keep him at arm's length, but West has other ideas.

He will win the girl that got away. No matter what it takes…
BUY LINKS
COMING SOON!
AVAILABLE FOR PRE-ORDER NOW!
TORCH (THE WILDWOOD SERIES) BY KAREN ERICKSON
Release Date: August 16, 2016
SYNOPSIS
Tate Warren has never met a woman he couldn't charm-until now.
Wren Gallagher won't give him the time of day and it's making him crazy.
But he won't give up without a fight… because there's one thing he knows for sure:
Enemies make the best lovers.
Most women swoon over Tate's devilish grin and firefighter uniform. But Wren couldn't be less impressed by his good looks and flirtatious banter-in fact, she seems to downright despise him. She thinks he's a player, but his attraction to her is no game. Wren is unlike anyone he's ever known and he isn't about to let the feisty, gorgeous woman slip through his fingers.
Wooing Wren would be so much easier if she didn't hate him… Or does she?
BUY LINKS
About Karen Erickson
USA Today bestselling author KAREN ERICKSON writes what she loves to read - sexy contemporary romance. Published since 2006, she's a native Californian who lives in the foothills below Yosemite with her husband and three children. She also writes as NYT and USA Today bestselling author Monica Murphy.
Connect with Karen Erickson