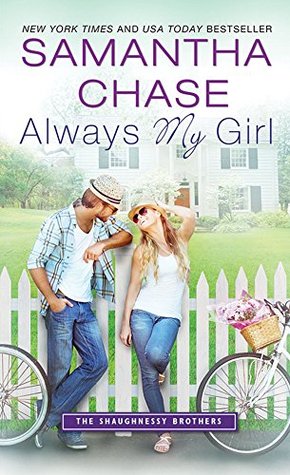 SUNDAY FUNDAY
ALWAYS MY GIRL (THE SHAUGHNESSY BROTHERS) BY SAMANTHA CHASE
Release Date: July 5, 2016
SYNOPSIS
Book #3 in New York Times and USA Today bestselling author Samantha Chase's dazzling new series.

The Shaughnessy Brother you've been waiting for!
Sometimes the love that's closest to you is the hardest to see.
Quinn Shaughnessy's two older brothers have found their true loves ... but Quinn's not about to join that parade. Nope, as he tells his best friend Anna, there's a lot more to life than getting tied down to one person. He's positive tomboy Anna will be on his side - except she's inexplicably developing other interests - even dating! Suddenly Quinn is seeing Anna in a very different light.
Quinn has been Anna's buddy since they were both five years old. She can tell him anything - except the one big secret she's been hiding for years - that she's fallen in love with him. Now Anna is determined to make a life for herself that doesn't include pining for Quinn. Falling in love with your best friend? Easy. Telling them how you really feel? Impossible.
BUY LINKS
REVIEW: ALWAYS MY GIRL (THE SHAUGHNESSY BROTHERS) BY SAMANTHA CHASE
Always My Girl
by
Samantha Chase
My rating:
5 of 5 stars
With Love Walks In having been a tearjerker,
Always My Girl
has lightened things up with Quinn and Anna's story. Sometimes less is more. Samantha Chase came back swinging with this hilarious take on romance. Quinn does not do well with change, so when his best friend turns the tables on him and goes from girl next door to woman of his dreams anything can happen.
Always My Girl
is a fun friends to lovers novel that proves the versatility of Ms. Chase. She can do it all.
View all my reviews
EXCERPT
If Anna wasn't mistaken, Quinn was actually blushing. "You don't have to help me," she said quickly.
"No…no," he grumbled. "It was my suggestion, so…" He came and stood beside her. "I don't know…roll over or something."
She rolled her eyes and did as he requested. Why was he being such a jerk? And why did it only seem to make him more appealing? Clearly she needed to get her head examined. Or get a boyfriend. Or just get some relief from the sexual frustration that was dominating her life right now.
She'd always been in love with Quinn. Ever since they were kids. She just…she knew. He was the one for her. Her soul mate. The only problem was Quinn didn't feel the same way. She was his pal. His buddy. There'd never once been anything romantic between them and if he even suspected how she felt, he never let on.
With a sigh, she relaxed back on her belly with her arms folded under her head. And now, even if he did suddenly notice she was a woman, it still didn't make a difference. He was still surly and difficult and not impressed. Lying here in next to nothing rather than making him maybe be a little more charming – like he always got with other girls – he was angry and trying to cover her up.
Quite the ego boost. Not.
And then his hands were on her and…oh. Slowly, those big, work-roughened hands started at her ankles and began a journey upwards. Oh my…
She almost wanted to turn and watch him work. With his sandy blonde hair, blue eyes and rough hands…he was her every dream. All the Shaughnessys had dark hair except for Quinn. It used to bother him, and by the way he normally wore some sort of hat or beanie on his head, Anna could tell it still did. But he wasn't wearing one now and with all the sensations he was creating in her, she wanted to roll over and rake her hands through his hair and pull him down toward her.
It was never going to happen but the imagery kept her smiling while he touched her.
Quinn was completely silent and Anna seemed unable to breathe. She couldn't move, couldn't breathe…she could only feel. And boy-oh-boy was Quinn making her feel. His hands skimmed the backs of her knees and when they hit her thighs and one finger came close to her bottom she had to stifle a moan of pleasure.
His hand stopped for a moment as if he realized what he was doing – and what he almost did. Anna almost lifted her head to look at him but thought better of it. And then his hands were on her again – this time on the small of her back. And then upwards – circling, rubbing, massaging. She wanted to purr.
When they hit her shoulders his motions seemed to slow as he went into what could only be described as a deep tissue massage. All of the tension from a few minutes ago completely faded away as his hands – those magnificent hands – worked on her. On any given day, Anna was all for a good massage, but this was beyond good. It was almost a religious experience. And this time she couldn't stop herself from purring.
His hands instantly were gone.
She didn't bother to look up. Didn't bother to question it. No good would come of turning around and seeing the look of horror on his face at her reacting the way she just did to him.
Idiot.
Beside her, Quinn cleared his throat and stood, the bottle of sunscreen hitting the ground. "Um…yeah so…that should do it," he croaked. "You should be good for now. I'm going to go and find Zoe and get settled in. I'll see you later."
Again, Anna didn't bother to respond. The man was clearly running away because she had been foolish enough to let her guard down for a minute. She waited until she heard the sliding doors to the house open and then close before she allowed herself to lift her head and look around.
Out of the corner of her eye she saw Zoe stepping back outside shaking her head. When she got closer she said, "What did you do to him?"
"Me? Nothing! I just laid here and let him put sunscreen on. Why?"
Zoe laughed as she sat back down. "He ran in the house as if he was on fire and demanded to know which room was his. I offered to show him but he was already halfway up the stairs yelling for me to just tell him which one!"
"So weird."
❥❥ About the Author ❥❥

New York Times and USA Today Bestseller/contemporary romance writer Samantha Chase released her debut novel, Jordan's Return, in November 2011. Although she waited until she was in her 40's to publish for the first time, writing has been a lifelong passion. Her motivation to take that step was her students: teaching creative writing to elementary age students all the way up through high school and encouraging those students to follow their writing dreams gave Samantha the confidence to take that step as well.
With twenty-three titles currently to her name, she has no plans to slow down. The success of the Montgomery Brothers series has her working on six new titles in that collection as well as two new exciting series set to start popping up on bookshelves in 2015. You won't find her books with the erotica or paranormal titles, all of her works are pure contemporary romances.
When she's not working on a new story, she spends her time reading contemporary romances, blogging, playing way too many games of Scrabble on Facebook and spending time with her husband of 25 years and their two sons in North Carolina.
Social Media Links:
WANT TO KEEP UP TO DATE ON RELEASE DATES, CONTESTS, ETC.
SIGN UP FOR SAMANTHA CHASE' NEWSLETTER.