AVAILABLE FOR PRE-ORDER.
ON SALE 6/28.
READ AND REVIEW
I KNEW YOU WERE TROUBLE (TEXAS KINGS # 3) BY SORAYA LANE
Release Date: June 28, 2016
SYNOPSIS
WILD AT HEART

Faith Mendes needs to get her life in order and get a job--yesterday. Thankfully, the live-in house-keeper position at the King brothers' ranch is up for grabs. Problem is, she'd be working with her old childhood crush, Nate King. He's sexy, wealthy, and his Texas-sized charms are legendary...and, clearly, impossible to resist.

Nate never thought twice about his best friend's little sister. Back then, Faith was off-limits. But now that she's all grown up, Nate's whole world has turned upside-down. Razor-sharp, down-to-earth, and hotter-than-heck, Faith is everything Nate has ever dreamed of in a woman...and maybe even in a wife. But Faith has loved and lost enough already to risk it all on another known bad-boy. How can Nate convince her that he is the real deal--and that he's ready to rein it in and never look back?
BUY LINKS
Amazon B & N Google Play Books IBooks Kobo
REVIEW: I KNEW YOU WERE TROUBLE (TEXAS KINGS # 3) BY SORAYA LANE
I Knew You Were Trouble by Soraya Lane

My rating: 5 of 5 stars


She's his greatest temptation. He's her biggest hesitation. Will they end up being each other's salvation? At the beginning of The Texas Kings series I was a newbie. Had heard of Soraya Lane but was not familiar with her work. Now having reached the final book in the series, I am so glad that I took the chance on this amazing author. Ryder, Chase and Nate are just the right amount naughty to make them fantasy material. Chloe, Hope and Faith delivered enough spice to bring these rough riders to their knees.

I received an ARC of I Knew You Were Trouble via NetGalley in exchange for an honest review. Have loved every book in the series but this is my favorite. Maybe it's because this couple had a history. For me that made the connection stronger between these two. Regardless of the turmoil within Faith's life and the strains to the bond of friendships, these two heated up the pages and pulled at the heart strings. Getting to see Nate's protective side and learn more of the history behind it had my heart doing flip flops. Fiesty Faith was somewhat of a surprise because she had a side of vulnerability that could break the heart of even the strongest person. Apart each was coasting through life searching for what was missing, together they finally found home. I am sorry to see this series end.



View all my reviews
START AT THE BEGINNING!!!
AVAILABLE NOW:
THE DEVIL WEARS SPURS (TEXAS KINGS # 1) BY SORAYA LANE
COWBOY TAKE ME AWAY (TEXAS KINGS # 2) BY SORAYA LANE
THE DEVIL WEARS SPURS (TEXAS KINGS # 1) BY SORAYA LANE
SYNOPSIS
Always in the shadow of his over-achieving brothers, youngest brother Ryder fell in love with rodeos as a teenager and soon became the most successful bull and Bronco rider in the state. The ultimate playboy, Ryder likes to party hard, and he often makes bad decisions… including gambling. He's so used to winning that he doesn't hesitate to up the stakes one night, betting more than he can handle—his third of the King Ranch.

Chloe has seen Ryder on the rodeo scene, but she's also noticed him at the bar where she works. She's trying to work to save enough to put herself through college—she completed two years before she had to bail her dad out of a bad debt—losing all her savings in the process. Her father gambled all her life, and she had it tough as a kid, but the one thing she does know how to do is play—and win—at any kind of card game. When she finds Ryder in trouble, she makes him an offer—she will win his ranch back, if he pays her college fees and promises to walk away from gambling, for good. But while she's winning back Ryder's cash, what she doesn't count on is winning his heart.
BUY LINKS
Amazon B & N Google Play Books IBooks Kobo
REVIEW: THE DEVIL WEARS SPURS (TEXAS KINGS # 1) BY SORAYA LANE
The Devil Wears Spurs by Soraya Lane

My rating: 4 of 5 stars


Proving himself is important to Ryder King. He wants more than be known as the family screw-up. That is understandable when the accomplishments of older siblings are compared to your shortcomings. His jealously and resentment allowed him to make bad decisions. Soraya Lane turned the tables on her readers by presented the guy in distress. That is so wonderful and inspirational because normally it's the damsel who needs rescuing. Chloe has her own baggage to contend with and Ryder is her biggest temptation. Ryder thrived on risks. Chloe demanded stability. In order to succeed a little bit of both is required. The Devil Wears Spurs is a tempting read with spunky characters and KA storytelling. Loved it and would recommend.



View all my reviews
COWBOY TAKE ME AWAY (TEXAS KINGS # 2) BY SORAYA LANE
Release Date: December 29, 2015
SYNOPSIS
The King brothers are three of the wealthiest, most hard-riding heartbreakers in the great state of Texas. And it takes a rare breed of woman to lasso one of their hearts...


NEVER SAY NEVER

As a veterinarian and single mother, Hope Walker knows how to handle most emergencies, inside and out. But when she shows up at the sprawling cattle ranch belonging to Chase King. Hope finds herself in a state of panic: How could Chase be even hotter after all these years? And why does Hope feel more attracted to him than ever?


WHEN IT COMES TO LOVE

Chase can't believe that Hope - the gorgeous, brilliant woman who disappeared after one blazing night of passion - has walked back into his life. After all this time he still thinks of her as the one who got away . . . and he's not about to lose her now. But is Hope ready to get back in the saddle and ride into the sunset with the cowboy of her dreams? Or will a long-buried secret rise to the surface - and tear the two reunited lovers apart?
BUY LINKS
Amazon B & N Google Play Books IBooks Kobo
REVIEW: COWBOY TAKE ME AWAY (TEXAS KINGS # 2) BY SORAYA LANE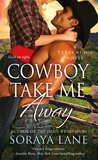 Cowboy Take Me Away by Soraya Lane

My rating: 5 of 5 stars


The one that got away has reappeared. Chase and Hope are kindred spirits. Old school friends with a history that is both memorable and heartbreaking. One night and a long with held secret are all that stands in the way of this reunited pair. When old feelings resurface, will these two long lost friends be able to become life long soul mates? Or will hurt pride permanent break their bond? Hope's motives for her past actions were a little circumspect to me. I get that she was young, scared and uncertain but a guy that is that crazy in love deserved the truth. For two people so close they didn't seem to know each other very well. I received an ARC of Cowboy Take Me Away by Soraya Lane in exchange for an honest review. Growth and more life experience played a hand in reuniting these two. What I am liking most about Ms. Lane's Texas Kings series is that the story is not overshadowed by overly sexy dialogue and too hot to read scenarios. They are a perfect blend of charm, emotion and attraction. Am enjoying.



View all my reviews
Original post: ishacoleman7.booklikes.com/post/1423264/spotlight-texas-kings-series-by-soraya-lane