COWBOY PLAYER (COWBOY COCKTAIL) BY MIA HOPKINS
Release Date

: June 28, 2016
SYNOPSIS
This cowboy and cowgirl sell the steak and the sizzle.

Cowboy Cocktail, Book 3

For eight years, Melody Santos played the game of love and lost—big time. Now she's back in her tiny hometown looking after her younger sister, making ends meet with an assortment of odd jobs. When her childhood best friend hires her to help him sell his family's grass-fed beef, the last thing she anticipates is falling in lust with the legendary, brown-eyed player.

To put his family's cattle ranch back in the black, Clark MacKinnon has his sights set on big contracts—gourmet chefs and restaurateurs. If that means long hours traveling from farmer's market to farmer's market, Clark doesn't mind. Particularly since his new assistant is his childhood crush, all grown up and sexy as hell.

One night in bed leaves them breathless and hungry for more. But when his love-'em-and-leave-'em reputation collides with her trust issues, Clark and Melody must face the truth about what they've become: not friends, not lovers, but players in a game that's impossible to win.

Warning: Contains filthy banter, raunchy sex, excessive Johnny Cash references, and hundreds of pounds of raw beef.
BUY LINKS
REVIEW: COWBOY PLAYER (COWBOY COCKTAIL) BY MIA HOPKINS
Cowboy Player
by
Mia Hopkins
My rating:
4 of 5 stars
Is a friendship strong enough to survive falling in love? Clark and Melody have seen the best and worst of each other. A relationship based on trust and truth has been the basis of their longstanding friendship for as long as each can remember, but bubbling below the surface are feelings that once exposed are the beginning of cracks that start to break through the strong foundation of a beautiful friendship. I received an ARC of
Cowboy Player by Mia Hopkins
in exchange for an honest review. As I read more from Ms. Hopkins the bonds of her stories run deep and true and the beauty of well written stories are hard to put down.
View all my reviews
PROFITED (BOUND TOGETHER) BY LACEY BLACK
Release Date: June 28, 2016
SYNOPSIS
One night. Let go. Be free.

Even at an early age, Reid Hunter's future was already planned out. Though he was groomed to become successor of the family business, he quickly discovered his destiny wasn't through his family's legacy, but to build his own empire. His plan: takeover Vegas, one building at a time. Known as a hard, no-nonsense man, inside the boardroom and out, Reid isn't prepared when he comes face to face with a woman from his past. The only one with the ability to make him question everything he stands for.

Raising a child is hard. Raising a child as a young, single mother is downright difficult. Yet Dani Whitley has managed to put herself through college, purchase her own home, and raise the unexpected, but greatly adored son she created while in college, after one night with a gorgeous stranger. Knowing nothing but his first name, Dani has managed to push all thought of Reid out of her mind until one day, nine years later, she is forced to face the man himself. Ruthless and callous, Reid Hunter is nothing like the young man she met at that music festival all those years ago. Yet Dani is still drawn to him, more than she was before.

Sin. Money. Success. Profits. That's the foundation of Las Vegas. But what happens when one day you realize that it's not enough? When the greatest thing you could profit is bigger and better than money: love.
BUY LINKS
REVIEW: PROFITED (BOUND TOGETHER) BY LACEY BLACK
Profited
by
Lacey Black
My rating:
5 of 5 stars
For Reid Hunter responsibility is a way of life. Ever the perfect child he attended all the right schools, followed all the family rules and lived his life knowing he was a product of money, power and a symbol of the family business. The one time he breaks the rules, he ends up with a broken heart and a mystery on his hands.
Dani Whitley may not have been born with a silver spoon in her month but she knows there is something better in the cards for her. Hard work has gained her a chance at a better life until a night of pleasure throws all her plans off course and leaves behind more than just memories. I received an ARC of
Profited
in exchange for an honest review. It was hard not to see where this story was going from the moment Reid and Dani met. The chemistry emitted by this couple scorched through the page and had a lasting effect on the dynamic of the novel. Lacey Black knows how to grab a readers attention. Dani was everything I would expect for a guy like Reid. She was not expecting to be handed anything and when met with roadblocks, she didn't yield but plowed through every single one. She knew her worth. Great role model for females. She owned her mistakes and moved forward.
View all my reviews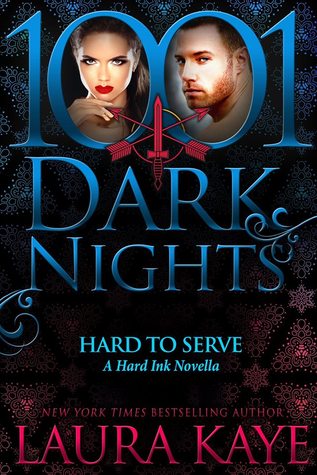 HARD TO SERVE (HARD INK) BY LAURA KAYE
Release Date

: June 28, 2016
SYNOPSIS
To protect and serve is all Detective Kyler Vance ever wanted to do, so when Internal Affairs investigates him as part of the new police commissioner's bid to oust corruption, everything is on the line. Which makes meeting a smart, gorgeous submissive at an exclusive play club the perfect distraction…

The director of the city's hottest art gallery, Mia Breslin's career is golden. Now if only she could find a man to dominate her nights and set her body—and her heart—on fire. When a scorching scene with a hard-bodied, brooding Dom at Blasphemy promises just that, Mia is lured to serve Kyler again and again.

Then, as their relationship burns hotter, Kyler learns that he's been dominating the daughter of the hard-ass boss who has it in for him. Now Kyler must choose between life-long duty and forbidden desire before Mia finds another who's not so hard to serve.
BUY LINKS
Amazon B & N Google Play Books IBooks Kobo
REVIEW: HARD TO SERVE (HARD INK) BY LAURA KAYE
Hard to Serve
by
Laura Kaye
My rating:
4 of 5 stars
Out of fire into the frying pan ...
The perfect metaphor for Mia and Kyle's relationship. Kyle is feeling the heat in professional life. Needing to let off some steam he finds himself addicted to Mia. She gives him just what he needs to relax and thus begins a romance that is fundamental to his heart but may prove toxic to his career. I received an ARC of
Hard to Serve by Laura Kaye
in exchange for an honest review. It was great to catch up. Laura Kaye mixes spicy drama with meaningful stories that are wickedly addictive fun. Fast, fierce and sexy.
View all my reviews