ONLY YOU (BACHELOR BROTHERHOOD) BY DENISE GROVE SWANK
Release Date: June 14, 2016
SYNOPSIS
Never say never . . .

Romance isn't an option for Holly Greenwood. With her wedding planner career on the line she needs to stay focused, and that means pleasing her demanding boss, not getting distracted by her mind-alteringly hot neighbor . . .

Ex-Marine Kevin Vandemeer craves normalcy. Instead, he has a broken-down old house in need of a match and some gasoline, a meddling family, and the uncanny ability to attract the world's craziest women. At least that last one he can fix: he and his buddies have made a pact to swear off women, and this includes his sweetly sexy new neighbor.

After one hot night that looks a whole lot like a disaster in the light of day, Kevin and Holly are about to learn that true love doesn't play by the rules . . .

The first book in a spin-off from Denise Grover Swank's New York Times bestselling Wedding Pact series!
BUY LINKS
REVIEW: ONLY YOU (BACHELOR BROTHERHOOD) BY DENISE GROVE SWANK
Only You
by
Denise Grover Swank
My rating:
5 of 5 stars
Reading
Only You by Denise Grover Swank
felt like meeting new friends. That feeling of comfort and acquaintance pulled me into this feel good read. The laughs are an added bonus. I received a copy of Only You in exchange for an honest review via NetGalley. Kevin is a cynic when it comes to love. Not willing to risk his heart may be the best or most stupid decision he's ever made. Holly is as creative as she is absent minded but such a sweetheart. Holly and Kevin are so mismatched that it's hard to believe they could work as a couple. That was my opinion until I realized that the one trait they share is the need for acceptance and that is what makes them a perfect match. I can't deny that I am a romantic at heart and maybe that's why in my eyes I see something special in this sweet story.
View all my reviews
WINNING THE BILLIONAIRE (SEATTLE BACHELORS) BY JM STEWART
Release Date: June 14, 2016
SYNOPSIS
In the tradition of E.L. James and Sylvia Day comes a sultry new series starring women who want to live out their wildest dreams . . . 


When it comes to love, this billionaire is all business . . . 



Software mogul Christina McKenzie has loved billionaire Sebastian Blake since they were kids. So when Seattle's most famous bachelor-and perennial playboy-finally asks Christina out, her fantasies kick into overdrive. Things become hot and heavy . . . but what's she supposed to do when she starts to fall for him?
Sebastian's never been one to settle down, and Christina knows she's just another notch in his bedpost.


Sebastian knows that smart, kind Christina deserves better than him. But after the mind-blowing night they just shared, he's ready to turn a sexy fling into the real deal. Keeping his freedom is one thing, yet keeping Christina in his bed-and in his life-is all Sebastian can think about . . .
BUY LINKS
REVIEW: WINNING THE BILLIONAIRE (SEATTLE BACHELORS) BY JM STEWART
Winning the Billionaire
by
J.M. Stewart
My rating:
5 of 5 stars
Bidding on the Billionaire
was my introduction to JM Stewart. That one story left an indelible mark on my soul. The way she handled Cade and Hannah's at times unorthodox love story was beautiful. She gave me the chance to fall in love with the individuals before I became wrapped up in the couple. A unique concept that if done right has lasting impact.
Winning the Billionaire
continues that concept with Christina and Sebastian's romance. I received an ARC of this novel in exchange for an honest review and although this couples foray into love was not as unconventional as the previous story's, it had it's share of issues. Tina cares deeply, has a successful career and the smarts to keep it that way
BUT
, her biggest failures are in matters of the heart. She pines for the one person that she knows will never want her. Baz, has a phobia of being left behind. From childhood to adulthood he has carried the burden of feeling unlovable by the people who mattered most. His connection to The McKenzies' particularly Cade and Christina are his most prized possessions. Losing that is unacceptable. Ms. Stewart has become another addition to my
MUST READ
list. Her seductive stories bring more to the table than sex. This author appeals to the heart of her readers as well with well written stories that leave a lasting footprint after the last page is turned.
View all my reviews
IT'S IN HIS SMILE (RED RIVER VALLEY) BY SHELLY ALEXANDER
Release Date: June 14, 2016
She's risking it all on a dream career… until his smile convinces her to risk her heart on love.
Miranda Cruz isn't just the best darned waitress in town anymore; she's Red River's newest innkeeper. All she has to do is renovate the inn, find the contractor that has disappeared with her life's savings, and prove that she is the respectable business owner she's always dreamed of being. Easy, right? Especially for the intelligent Miss Cruz who never depends on anyone, including a man. Until a gorgeous old flame shows up and reignites a fire that has been simmering for seven long years and could send her dreams up in smoke.
Acclaimed environmental architect, Talmadge Oaks, returns home to Red River to settle family business. He plans to get in and get out as quickly as possible because a professional catastrophe is waiting for him back in the Pacific Northwest. When an unforeseen snag keeps him in Red River longer than expected, he finds himself entangled with the floundering renovations of his late grandmother's old Victorian inn. Handy with a hammer, Talmadge offers to help the inn's beautiful new owner, but his motives aren't completely selfless. Will his secret demolish everything they are building? Or will their undeniable passion and love be enough to hold them together?
BUY LINKS
REVIEW: IT'S IN HIS SMILE (RED RIVER VALLEY) BY SHELLY ALEXANDER
It's In His Smile
by
Shelly Alexander
My rating:
4 of 5 stars
Ever heard the saying " pride before a fall"? That description does apply to Miranda ( a tiny bit). Too smart for her own good Miranda makes decisions that come back to bite her later on. Maybe it's that foolish pride. In no way is Miranda a bad person but she is afraid to be seen as weak and keeps getting burned because of it. Meeting Talmadge helps her see that being vulnerable can lead to success in the personal as well as professional aspects of life. Now if she can just get him to agree with her new outlook, everything will be fine. Red River embodies home, heart and community and the mantra spills over into Shelly Alexander's traditional story telling. Cloudy days are hard to swallow but sunny days give hope for tomorrow.
View all my reviews
BAREFOOT AT SUNSET (BAREFOOT BAY TIMELESS) BY ROXANNE ST. CLAIRE
Release Date: June 14, 2016
SYNOPSIS
When widower Mark Solomon arrives in Barefoot Bay for his 30th high school reunion, he's not quite prepared for the onslaught of memories or the attention from interested single women who've gathered for the annual event on the beach. He's ready to ditch the whole thing and resume his life as an adventure-seeking world traveler until he discovers a woman sobbing on his doorstep…and has an idea.

By her own admission, advertising copywriter Emma DeWitt is jaded, jilted, and jobless, but she goes over the edge when she learns that the resort villa that was supposed to be the site of her romantic honeymoon is occupied by a single man. But when the sexy silver fox whose staying in the villa surprises her with an irresistible offer to pose as his fake fiancée, Emma sees a way to have her week in paradise and begin healing her broken heart.
REVIEW: BAREFOOT AT SUNSET (BAREFOOT BAY TIMELESS) BY ROXANNE ST. CLAIRE
Barefoot at Sunset
by
Roxanne St. Claire
My rating:
4 of 5 stars
ARC Review- Barefoot at Sunset by Roxanne St. Claire
Finding love at any age is a gift. Discovering it twice in one life time is a rarity. The timeless series of Barefoot Bay was a wonderful idea. When I originally heard about this series I didn't know what to expect but Ms. St. Claire did what she does best. Wrote a great story. Mark has floundered for years after a devastating loss. His days are spent testing his body in extreme ways and traveling the world trying to forget. A high school reunion proves to be cathartic in more ways then one. It reminds him that he is more than the other half of a power couple and that it is time to move on. Set in a place that is postcard worthy, Barefoot at Sunset exudes a wisdom and maturity that only time can yield. There is no other way to describe this story than that is a welcome asset to this series.
View all my reviews
CROSSING THE LINE (HARD DRIVING) BY AUDRA NORTH
Release Date: June 14, 2016
SYNOPSIS
He wanted her the first time he saw her. It didn't matter that he was on stage in front of a room full of reporters, or that his publicist was telling him to move on, or that
she
was asking him a question about racing. One look at her "just been bedded" hair — completely at odds with her deliciously prim appearance — and Ty Riggs is hooked.
Corrine Bellows is one of the woefully few women in a male profession: sports reporting. In a field where "Hey, sweetheart, can you fetch me a cup of copy" is part of her job description, she's determined to keep things professional. And while interviewing Ty Riggs, the hottest new driver on and off the track, is a major scoop, Corrine knows that she is in major trouble when it becomes clear that Ty wants so much more and is determined to get it. As things heat up between them, Corrine finds herself on shakier ground. Her big secret just may destroy everything.
BUY LINKS
REVIEW: CROSSING THE LINE (HARD DRIVING) BY AUDRA NORTH
Crossing the Line
by
Audra North
My rating:
4 of 5 stars
Crossing the Line
is a morality tale of sorts. It ponders ethics and attraction with the lines of right and wrong becoming blurred. I received an ARC of Ms. North's latest novel in exchange for an honest review. The story centers around fast cars, sly women and a conspiracy that could blow up the careers of two people. Cori is a smart broad but she makes questionable choices, mainly getting involved with the one man that could steal her heart and topple her career. Ty and Cori are bad for each other, but can't keep their distance. Audra North has written story full of saucy comebacks and heated stares that is easy on the eyes and fun for the imagination.
View all my reviews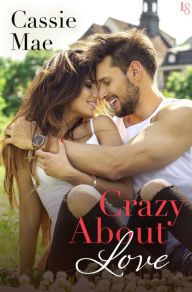 CRAZY ABOUT LOVE (ALL ABOUT LOVE) BY CASSIE MAE
Release Date: June 14, 2016
SYNOPSIS
Single again on Valentine's Day, struggling actor Alec Tucker agrees to help out his longtime friend—and unrequited love—Theresa Jones by filling in as one of the bachelors for her company's charity auction. Alec figures it couldn't hurt to meet someone new. Still, working with Theresa reminds him of all the reasons he never got over her. So it feels a little bittersweet when, out of nowhere, a beautiful young street artist buys a date with him for a whopping four grand.

Little does he know, Theresa's had a major change of heart. She's crushed when someone else wins a date with Alec—but she isn't going down without a fight. After a pep talk from her best friend, Theresa makes a desperate move that goes against her better judgment . . . and things only get crazier from there. But with Alec ready to move on and Theresa afraid she's pushed him away for good, maybe a little crazy is exactly what they need—before they both miss their shot.
BUY LINKS
REVIEW: CRAZY ABOUT LOVE (ALL ABOUT LOVE) BY CASSIE MAE
Crazy About Love
by
Cassie Mae
My rating:
3 of 5 stars
Theresa and Alec were close friends with a history. He was secretly in love with his best friend, she took advantage of his feelings for her. I received a copy of
Crazy in Love by Cassie Mae
in exchange for an honest review. Alec and Theresa were constants in each others lives but I didn't like the way she treated him. It was so obvious he was smitten but she gave him the brushoff unless she needed something. When someone else showed him a little attention then she decided he was the man that she wanted in her life. I was amazed Alec could deal with her because she annoyed me. Despite Theresa, I liked the concept of the story.
View all my reviews