SWEET LITTLE LIES (HEARTBREAKER BAY) BY JILL SHALVIS
Release Date
:
June 28, 2016
SYNOPSIS
Choose the one guy you can't have . . .

As captain of a San Francisco Bay tour boat, Pru can handle rough seas—the hard part is life on dry land. Pru loves her new apartment and her neighbors; problem is, she's in danger of stumbling into love with Mr. Right for Anybody But Her.

Fall for him—hard . . .

Pub owner Finn O'Riley is six-foot-plus of hard-working hottie who always makes time for his friends. When Pru becomes one of them, she discovers how amazing it feels to be on the receiving end of that deep green gaze. But when a freak accident involving darts (don't ask) leads to shirtless first aid, things rush way past the friend zone. Fast.

And then tell him the truth.

Pru only wants Finn to be happy; it's what she wishes for at the historic fountain that's supposed to grant her heart's desire. But wanting him for herself is a different story—because Pru's been keeping a secret that could change everything. . . .
BUY LINKS
Amazon
Avon
B & N
Google Play Books
IBooks
Kobo
REVIEW
:
SWEET LITTLE LIES (HEARTBREAKER BAY) BY JILL SHALVIS
Sweet Little Lies
by
Jill Shalvis
My rating:
5 of 5 stars
Have you ever read a book where you want to shout to the world how great it is?
Sweet Little Lies
is one of those. Pru has a good heart and a kind soul. She looks after stray dogs, looks out for the homeless guy that lives outside of her apartment and lusts after the one guy that's all wrong for her. I was blessed to have received Ms. Shalvis' latest novel in exchange for an honest review.
Pru finds a bright side to every dark cloud in the sky. Which makes it ironic that her optimistic outlook applies to everything and everyone else. She is a dreamer that's afraid to let her fantasies for herself become a reality. She feels deeply, gives herself abundantly and bruises easily emotionally. Perhaps that's what draws Finn who is responsible, caring and serious to the flighty, sometimes accident prone sweetheart. Their pairing makes for a great balance he's overly serious, she sees the bright side. They are kindred spirits in that when they give their hearts, it's fully. Can they convince each other and themselves that despite the odds, they are perfect for each other in all the ways that matter? The Heatbreaker Bay series is off to a wonderful start with Sweet Little Lies. It lived up to the heartbreaker status.
View all my reviews
THE BILLIONAIRE BACHELOR (BILLIONAIRE BAD BOYS) BY JESSICA LEMMON
Release Date
:
June 28, 2016
SYNOPSIS
Indecent Proposal
Manwhore. That's what the board of directors-and the tabloids-thinks of billionaire bachelor Reese Crane. Ordinarily he couldn't care less, but his playboy past is preventing the board from naming him CEO of Crane Hotels. Nothing-and no one-will keep him from his life's legacy. They want a settled man to lead the company? Then that's exactly what he'll give them.
Merina Van Heusen will do anything to get her parents' funky boutique hotel back-even marry cold-as-ice-but-sexy-as-hell Reese Crane. It's a simple business contract-six months of marriage, absolute secrecy, and the Van Heusen is all hers again. But when sparks fly between them, their passion quickly moves from the boardroom to the bedroom. And soon Merina is living her worst nightmare: falling in love with her husband . . .
BUY LINKS
Amazon
B & N
Google Play Books
IBooks
Kobo
REVIEW
:
THE BILLIONAIRE BACHELOR (BILLIONAIRE BAD BOYS) BY JESSICA LEMMON
The Billionaire Bachelor
by
Jessica Lemmon
My rating:
5 of 5 stars
Convenience is the name of the game. Nothing comes easy in the world of high powered rollers. The people are ruthless. The stakes are cutthroat and the squeamish need not apply. I received an ARC of
The Billionaire Bachelor by Jessica Lemmon
in exchange for an honest review. Should be used to the marriage of convenience scenario by now, due to the fact that it pops up so frequently in romantic literature. Nevertheless Jessica Lemmon found a winner in The Billionaire Bachelor. The premise is familiar but the voice is all her own. Not always likable Reese can be brutal, but knows how to lay on the charm to get what he wants and his lethal personality proves to be Merina's undoing. With every line and interaction Ms. Lemmon seduces. The heart of the story is not necessarily the love story but the inner growth each experiences along the way. Daring to be different, The Billionaire Bachelor is a new spin on a age old plot. It made the grade in my book. "A" all the way!
View all my reviews
CHASING LADY AMELIA (KEEPING UP WITH THE CAVENDISHES) BY MAYA RODALE
Release Date
:
June 28, 2016
SYNOPSIS
In the second novel of Maya Rodale's enchanting Keeping Up with the Cavendishes series, an American heiress finds her reputation—and heart—in danger when she travels to London and meets a wickedly tempting rake.
Terribly Improper
Lady Amelia is fed up with being a proper lady and wishes to explore London, so one night she escapes . . . and finds herself in the company of one Alistair Finlay-Jones. He's been ordered by his uncle to wed one of the American girls. How lucky, then, that one of them stumbles right into his arms!

Totally Scandalous

Alistair and Amelia have one perfect day to explore London, from Astley's Amphitheater to Vauxhall Gardens. Inevitably they end up falling in love and making love. If anyone finds out, she will be ruined, but he will win everything he's ever wanted.

Very Romantic

When Amelia finds out Alistair has been ordered to marry her, he must woo her and win back the angry American girl. But with the threat of scandals, plural, looming . . . will he ever catch up to the woman he loves?
BUY LINKS
Amazon
B & N
Google Play Books
IBooks
Kobo
Avon
REVIEW
:
CHASING LADY AMELIA (KEEPING UP WITH THE CAVENDISHES) BY MAYA RODALE
Chasing Lady Amelia
by
Maya Rodale
My rating:
5 of 5 stars
ARC Review: Chasing Lady Amelia (Keeping Up With The Cavendishes) by Maya Rodale
Mischievous and curious Lady Amelia leads this enchanting tale. When Ms. Rodale gets it right, she is a force to be reckoned with. The ambiance of high society makes for an austere backdrop to a witty and often melodramatic love affair. Amelia was a barrel of laughs. She finds trouble at the drop of a hat.
Alistair is trouble with a capital "T". Their acquaintance brings about some sticky situations but allows each a chance to let down their guard and become the best of themselves. Chasing Lady Amelia is a tender story that blends passion and maturity to create a ravishing read.
Copyright of Night Owl Reviews
View all my reviews
HAPPY EVER AFTER IN CHRISTMAS (CHRISTMAS, COLORADO) BY DEBBIE MASON
Release Date
:
June 28, 2016
SYNOPSIS
It's beginning to look a lot like love . . .
As her thirtieth birthday approaches, deputy Jill Flaherty decides it's time to live a little. When she walks into Sawyer Anderson's bar in her sexiest dress, she's not thinking that he's her brother's best friend or about the many women he dated during his years as a pro hockey player. All she's thinking is that it's finally time to confess to her longtime crush how she truly feels.
Sawyer is done being a player on and off the ice. Yet no one in the small town of Christmas seems to believe he's ready to settle down, not Jill, and certainly not Jack, who is determined to keep Sawyer from breaking his little sister's heart. But as Sawyer and Jill's relationship heats up, can he prove that he's her happy ever after?
BUY LINKS
Amazon
B & N
Google Play Books
IBooks
Kobo
REVIEW
:
HAPPY EVER AFTER IN CHRISTMAS (CHRISTMAS, COLORADO) BY DEBBIE MASON
Happy Ever After in Christmas
by
Debbie Mason
My rating:
5 of 5 stars
Jill wants more than to be the tomboy little sister or just one of the guys. She wants to feel like a sexy woman for a change and knows just the man to help her fulfill that dream. Debbie Mason adds style to her romances. Her
Christmas Colorado
series mixes small town vibe with sugary sentiment and heated romance. Risking it all Jill offers her heart and body to the one man that personifies all her hopes and fears. Sawyer was fun, sweet and clueless. His actions caused a great deal of heartache and chaos. Unintentionally. I like reading Ms. Mason's Christmas series because at the end, I leave feeling warm and fuzzy. She can cast her spell on me anytime.
View all my reviews
I KNEW YOU WERE TROUBLE (TEXAS KINGS # 3) BY SORAYA LANE
Release Date
:
June 28, 2016
SYNOPSIS
WILD AT HEART
Faith Mendes needs to get her life in order and get a job--yesterday. Thankfully, the live-in house-keeper position at the King brothers' ranch is up for grabs. Problem is, she'd be working with her old childhood crush, Nate King. He's sexy, wealthy, and his Texas-sized charms are legendary...and, clearly, impossible to resist.
Nate never thought twice about his best friend's little sister. Back then, Faith was off-limits. But now that she's all grown up, Nate's whole world has turned upside-down. Razor-sharp, down-to-earth, and hotter-than-heck, Faith is everything Nate has ever dreamed of in a woman...and maybe even in a wife. But Faith has loved and lost enough already to risk it all on another known bad-boy. How can Nate convince her that he is the real deal--and that he's ready to rein it in and never look back?
BUY LINKS
Amazon
B & N
Google Play Books
IBooks
Kobo
REVIEW
:
I KNEW YOU WERE TROUBLE (TEXAS KINGS # 3) BY SORAYA LANE
I Knew You Were Trouble
by
Soraya Lane
My rating:
5 of 5 stars
She's his greatest temptation. He's her biggest hesitation. Will they end up being each other's salvation? At the beginning of The Texas Kings series I was a newbie. Had heard of Soraya Lane but was not familiar with her work. Now having reached the final book in the series, I am so glad that I took the chance on this amazing author. Ryder, Chase and Nate are just the right amount naughty to make them fantasy material. Chloe, Hope and Faith delivered enough spice to bring these rough riders to their knees.
I received an ARC of
I Knew You Were Trouble
via NetGalley in exchange for an honest review. Have loved every book in the series but this is my favorite. Maybe it's because this couple had a history. For me that made the connection stronger between these two. Regardless of the turmoil within Faith's life and the strains to the bond of friendships, these two heated up the pages and pulled at the heart strings. Getting to see Nate's protective side and learn more of the history behind it had my heart doing flip flops. Fiesty Faith was somewhat of a surprise because she had a side of vulnerability that could break the heart of even the strongest person. Apart each was coasting through life searching for what was missing, together they finally found home. I am sorry to see this series end.
View all my reviews
ONE NIGHT IN TAHOE (KINDLE WORLDS: HOPE FALLS) BY KAIRA ROUDA
Release Date
:
June 28, 2016
SYNOPSIS
Can one night fix a generation of heartache?
Jack Thomas just started working the job of his dreams in Laguna Beach when his dad calls asking for his help. Jack loves his dad but he's reluctant to miss work, even if it's for the weekend. With his boss' blessing, he plans a quick visit to the snowy mountains he used to call home, not expecting anything more than helping his dad and trying to keep warm in a snow storm. What Jack doesn't know is that heat won't be a problem.
Sandy Davis is a new real estate agent excited for her first listing presentation at a multi-million dollar home in Lake Tahoe. She has no idea why the home owner picked her, but she's committed to landing the listing. She makes the drive from Hope Falls to Lake Tahoe as a snowstorm hits. When the front door is opened by a handsome stranger, Sandy's breathless. What she doesn't know is that more surprises are waiting inside.
What happens when a huge snowstorm traps two strangers in a beautiful mountain home?
BUY LINKS
Amazon
REVIEW
:
ONE NIGHT IN TAHOE (KINDLE WORLDS: HOPE FALLS) BY KAIRA ROUDA
Hope Falls: One Night in Tahoe
by
Kaira Rouda
My rating:
5 of 5 stars
Kaira Rouda is an author that is not afraid to be different. For that reason I am a huge fan of her work. Her uniqueness is on full display with
One Night in Tahoe
, her edition to the Kindle Worlds: Hope Falls series. She put her stamp on this novella by sprinkling a little bit of Laguna Beach sexiness with the Hope Falls emotion and created a story that is short, heated and emotionally fulfilling. A Christmas card setting adds to the appeal. I received an ARC in exchange for an honest review.
View all my reviews
TOUGH LUCK HERO (COPPER RIDGE) BY MAISEY YATES
Release Date
:
June 28, 2016
SYNOPSIS
Can the golden boy of Copper Ridge, Oregon, get a second chance at happy-ever-after?

Ranching heir Colton West knew his wedding would be the talk of the town. But he didn't expect to get left at the altar—or to escape on the next flight to Vegas with Lydia Carpenter, the woman who gets under his skin like no one else. The only thing crazier than honeymooning with Lydia is waking up married to her. So why does he find himself entertaining his new wife's desire to stay married—and fantasizing about a real wedding night?

As Copper Ridge's prospective mayor, Lydia can't risk a divorce scandal so close to election time. But pretending to be blissfully in love with her new husband is more confusing than she'd thought. For a man who's always rubbed her the wrong way, Colton suddenly seems to know exactly what to do with his hands. And his lips. Now Lydia's wildest mistake could turn out to be her luckiest move, if they're both willing to take the ultimate gamble…
BUY LINKS
Amazon
B & N
Google Play Books
Harlequin
IBooks
Kobo
REVIEW
:
TOUGH LUCK HERO (COPPER RIDGE) BY MAISEY YATES
Tough Luck Hero
by
Maisey Yates
My rating:
5 of 5 stars
ARC Review: Tough Luck Hero (Copper Ridge) by Maisey Yates
Living in the moment took on a whole new meaning for Copper Ridge residents Lydia and Colton. A recent round of upsets has left Colton rapidly fleeing and ending up Vegas bound. Lydia unexpectedly comes along for the ride and a little too much fun leads to a predicament that makes for great storytelling. I love Maisey Yates, her stories are a joy to experience because her characters have huge personalities. Whether focusing on gaining insight and working through past mistakes, finding a second chance at romance or waking up married to the most irritating person, she makes the most of irresistible scenarios and heart racing romance. I am a fan no matter what she writes.
View all my reviews
COWBOY PLAYER (COWBOY COCKTAIL) BY MIA HOPKINS
Release Date

: June 28, 2016
SYNOPSIS
This cowboy and cowgirl sell the steak and the sizzle.

Cowboy Cocktail, Book 3

For eight years, Melody Santos played the game of love and lost—big time. Now she's back in her tiny hometown looking after her younger sister, making ends meet with an assortment of odd jobs. When her childhood best friend hires her to help him sell his family's grass-fed beef, the last thing she anticipates is falling in lust with the legendary, brown-eyed player.

To put his family's cattle ranch back in the black, Clark MacKinnon has his sights set on big contracts—gourmet chefs and restaurateurs. If that means long hours traveling from farmer's market to farmer's market, Clark doesn't mind. Particularly since his new assistant is his childhood crush, all grown up and sexy as hell.

One night in bed leaves them breathless and hungry for more. But when his love-'em-and-leave-'em reputation collides with her trust issues, Clark and Melody must face the truth about what they've become: not friends, not lovers, but players in a game that's impossible to win.

Warning: Contains filthy banter, raunchy sex, excessive Johnny Cash references, and hundreds of pounds of raw beef.
BUY LINKS
REVIEW: COWBOY PLAYER (COWBOY COCKTAIL) BY MIA HOPKINS
Cowboy Player
by
Mia Hopkins
My rating:
4 of 5 stars
Is a friendship strong enough to survive falling in love? Clark and Melody have seen the best and worst of each other. A relationship based on trust and truth has been the basis of their longstanding friendship for as long as each can remember, but bubbling below the surface are feelings that once exposed are the beginning of cracks that start to break through the strong foundation of a beautiful friendship. I received an ARC of
Cowboy Player by Mia Hopkins
in exchange for an honest review. As I read more from Ms. Hopkins the bonds of her stories run deep and true and the beauty of well written stories are hard to put down.
View all my reviews
PROFITED (BOUND TOGETHER) BY LACEY BLACK
Release Date: June 28, 2016
SYNOPSIS
One night. Let go. Be free.

Even at an early age, Reid Hunter's future was already planned out. Though he was groomed to become successor of the family business, he quickly discovered his destiny wasn't through his family's legacy, but to build his own empire. His plan: takeover Vegas, one building at a time. Known as a hard, no-nonsense man, inside the boardroom and out, Reid isn't prepared when he comes face to face with a woman from his past. The only one with the ability to make him question everything he stands for.

Raising a child is hard. Raising a child as a young, single mother is downright difficult. Yet Dani Whitley has managed to put herself through college, purchase her own home, and raise the unexpected, but greatly adored son she created while in college, after one night with a gorgeous stranger. Knowing nothing but his first name, Dani has managed to push all thought of Reid out of her mind until one day, nine years later, she is forced to face the man himself. Ruthless and callous, Reid Hunter is nothing like the young man she met at that music festival all those years ago. Yet Dani is still drawn to him, more than she was before.

Sin. Money. Success. Profits. That's the foundation of Las Vegas. But what happens when one day you realize that it's not enough? When the greatest thing you could profit is bigger and better than money: love.
BUY LINKS
REVIEW: PROFITED (BOUND TOGETHER) BY LACEY BLACK
Profited
by
Lacey Black
My rating:
5 of 5 stars
For Reid Hunter responsibility is a way of life. Ever the perfect child he attended all the right schools, followed all the family rules and lived his life knowing he was a product of money, power and a symbol of the family business. The one time he breaks the rules, he ends up with a broken heart and a mystery on his hands.
Dani Whitley may not have been born with a silver spoon in her month but she knows there is something better in the cards for her. Hard work has gained her a chance at a better life until a night of pleasure throws all her plans off course and leaves behind more than just memories. I received an ARC of
Profited
in exchange for an honest review. It was hard not to see where this story was going from the moment Reid and Dani met. The chemistry emitted by this couple scorched through the page and had a lasting effect on the dynamic of the novel. Lacey Black knows how to grab a readers attention. Dani was everything I would expect for a guy like Reid. She was not expecting to be handed anything and when met with roadblocks, she didn't yield but plowed through every single one. She knew her worth. Great role model for females. She owned her mistakes and moved forward.
View all my reviews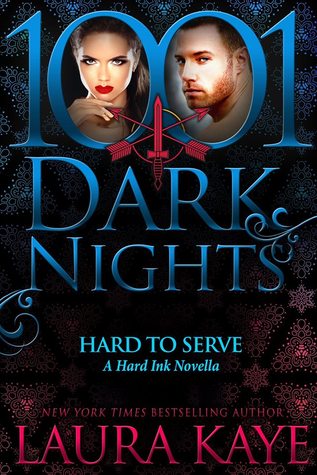 HARD TO SERVE (HARD INK) BY LAURA KAYE
Release Date

: June 28, 2016
SYNOPSIS
To protect and serve is all Detective Kyler Vance ever wanted to do, so when Internal Affairs investigates him as part of the new police commissioner's bid to oust corruption, everything is on the line. Which makes meeting a smart, gorgeous submissive at an exclusive play club the perfect distraction…

The director of the city's hottest art gallery, Mia Breslin's career is golden. Now if only she could find a man to dominate her nights and set her body—and her heart—on fire. When a scorching scene with a hard-bodied, brooding Dom at Blasphemy promises just that, Mia is lured to serve Kyler again and again.

Then, as their relationship burns hotter, Kyler learns that he's been dominating the daughter of the hard-ass boss who has it in for him. Now Kyler must choose between life-long duty and forbidden desire before Mia finds another who's not so hard to serve.
BUY LINKS
Amazon B & N Google Play Books IBooks Kobo
REVIEW: HARD TO SERVE (HARD INK) BY LAURA KAYE
Hard to Serve
by
Laura Kaye
My rating:
4 of 5 stars
Out of fire into the frying pan ...
The perfect metaphor for Mia and Kyle's relationship. Kyle is feeling the heat in professional life. Needing to let off some steam he finds himself addicted to Mia. She gives him just what he needs to relax and thus begins a romance that is fundamental to his heart but may prove toxic to his career. I received an ARC of
Hard to Serve by Laura Kaye
in exchange for an honest review. It was great to catch up. Laura Kaye mixes spicy drama with meaningful stories that are wickedly addictive fun. Fast, fierce and sexy.
View all my reviews
THEN HE KISSED ME (COTTONBLOOM) BY LAURA TRENTHAM
Release Date
:
June 28, 2016
SYNOPSIS
Can two hearts come together in one divided town?

As a boy, Nash Hawthorne spent countless afternoons on the Louisiana side of Cottonbloom with Tally Fournette, wading in the river, peeling oranges and catching frogs. When illness stole his mother, Nash yearned to take Tally and run away—for good. Instead, he crossed the state line to live with his aunt. It was a short distance as the crow flies, but it swept him into a whole new world…

After Nash left, Tally managed to struggle through her own losses without him. But now that she's crossed paths with him again—at Cottonbloom College, where the grown-up, gorgeous Nash teaches history—she is reminded of their cherished youthful connection…and an attraction that has only gotten stronger with age. Between Tally's possessive ex and Nash's snobbish aunt, no one thinks they belong together. In a town torn apart by old resentments and rivalries, can they find their way back to the life they once shared—and turn their long-lost dreams into a real and lasting love?
BUY LINKS
Amazon
B & N
Google Play Books
IBooks
Kobo
REVIEW
:
THEN HE KISSED ME (COTTONBLOOM) BY LAURA TRENTHAM
Then He Kissed Me
by
Laura Trentham
My rating:
4 of 5 stars
ARC Review: Then He Kissed Me (Cottonbloom) by Laura Trentham
As I familiarize myself more with Laura Trentham's body of work, I have come to realize that she has mastered the tearjerkers quite well. It is hard not to feel every heartache, regret and experience every memory presented within Tally and Nash's story. Victims of circumstance, these two close friends could always depend on each other until tragedy caused a divide that proved hard to overcome. Then He Kissed Me examines the strength of friendship and the powerful connection between the main characters. It is a story that conveys stirs up deep emotions but is also a journey of hope, forgiveness and redemption.
View all my reviews
DEFENDER (LONG, TALL TEXANS) BY DIANA PALMER
Release Date
:
June 28, 2016
SYNOPSIS
The man who shattered her trust is back to protect her... New York Times bestselling author Diana Palmer delivers a breathtaking story of second-chance love.
When Paul Fiore disappeared from Isabel Grayling's life, he told himself it was for all the right reasons. She was young and innocent, and he was her millionaire father's lowly employee. Three years on, Paul is the FBI agent assigned to Isabel's case. Too late, he realizes what life in her Texas mansion was really like back then--and how much damage he did when he left.
Once love-struck and sheltered, Isabel has become an assistant district attorney committed to serving the law, no matter how risky it gets. But right now, the man she can't forgive is the one thing standing between her and a deadly stalker. She knows Paul won't hesitate to protect her life with his own. But if she can't trust herself to resist him, how can she trust him not to break her heart all over again?
BUY LINKS
Amazon
B & N
Google Play Books
Harlequin
IBooks
Kobo
REVIEW
:
DEFENDER (LONG, TALL TEXANS) BY DIANA PALMER
Defender
by
Diana Palmer
My rating:
3 of 5 stars
In the years I have been reading Diana Palmer, she has evolved from the standard romance novelist to a connoisseur of romantic suspense. Good for her but not necessarily good for me. I received an ARC of her latest novel,
Defender
in exchange for an honest review.
The Good - It tackled subjects that are relevant to society such as mental and physical abuse, child abuse. Ms. Palmer addressed a worldwide problem that affects many lives but is still looked at still as a dirty little secret. That she used her talent to spotlight a hot topic and did it with such delicacy and strength deserves to be applauded.
The Bad - The strong subject matter drowned out everything else and left the story disjointed. The heartbreak outweighed the romance.
View all my reviews
ONCE A SOLDIER (ROGUES REDEEMED) BY MARY JO PUTNEY
Release Date
:
June 28, 2016
SYNOPSIS
Rogues Redeemed

As heir to a title and great wealth, Will Masterson should have stayed home and tended his responsibilities. Instead he went to war. Now, after perilous years fighting the French, he intends his current mission to be his last. But all his plans are forgotten when he arrives in the small mountain stronghold of San Gabriel and meets her.

Knowing herself to be too tall, strong, and unconventional to appeal to a man, Athena Markham has always gloried in her independence. But for the first time in her life, she finds a man who might be her match.

Two of a kind, too brave for their own good, Athena and Will vow to do whatever it takes to vanquish San Gabriel's enemies. For neither will back down from death, and only together can they find happiness and a love deeper than any they'd dared imagine...
BUY LINKS
Amazon
B & N
Google Play Books
IBooks
Kobo
REVIEW
:
ONCE A SOLDIER (ROGUES REDEEMED) BY MARY JO PUTNEY
Once a Soldier
by
Mary Jo Putney
My rating:
4 of 5 stars
Athena is who I aspire to be. Not the conventional beauty, she focused on her strengths: character, smarts and the freedom to make her own way and decide for herself what direction her life took. I applaud Ms. Putney for creating a character that was inspirational and not a victim. She was not a damsel in distress, did not need to be rescued. That was not who she was she thrived on the element of surprise and her sense of adventure. Will was harder to figure out. He was a loner through and through. Ms. Putney is an author that marches to the beat of her own drum. Her characters are full of fire and her stories are built on suspense. That sometimes makes me wary of her work but
Once a Soldier
is a story that has intense spirit and will be an asset to any book shelf.
View all my reviews
STORMSWEPT BY SABRINA JEFFRIES
Release Date: June 28, 2016
SYNOPSIS
New York Times bestseller Sabrina Jeffries reignites a daring love affair in this intriguing tale of desire and deception—originally written as Deborah Martin and newly revised for today's audience.

The first wedding night that Lady Juliana St. Albans spent with the dark and daring Rhys Vaughan was intoxicating, the heady culmination of her new husband's driving hunger and her own awakened sensuality. When he mysteriously disappeared the next morning, she waited for him in hope and desperation. And when he was finally proclaimed dead in a shipwreck, she bitterly mourned the loss of her love.

The second wedding night that Juliana spent with Rhys Vaughan was six years later, after he returned to claim her just as she was about to wed another. This Rhys was different—bolder, harder, and convinced that she'd betrayed him. Only their blazing passion remains from their years apart. But is it enough to light their way through the maze of mystery, menace, and mistrust—to the love they once shared and would have to find again?
BUY LINKS
Amazon
B & N
Google Play Books
IBooks
Kobo
REVIEW
:
STORMSWEPT BY SABRINA JEFFRIES
Stormswept
by
Deborah Martin
My rating:
3 of 5 stars
Sabrina Jeffries rocks the boat with a turbulent romance shrouded in suspense. Juliana is mesmerized by Rhys. Those emotions culminate into a night of love, lust and gratification that have her head over heels for her new husband. After Rhys disappears without a trace leaving behind a heartbroken and desperate wife is when the true story begins. A mysterious disappearance leads to years of unanswered questions and emotional turmoil in the life of Lady Julia. When he reappears years later a change man it will shake up the foundation of this stormy marriage. I received an ARC of
Stormswept
in exchange for an honest review. Not one of my favorite stories. I liked the plot but found the story to be bland and slow moving.
View all my reviews
Original post:
ishacoleman7.booklikes.com/post/1407332/new-releases-for-week-of-june-26-2016