Sunday Funday
Book: Always My Girl
Shaughnessy Brothers Book 3
Author:
Samantha Chase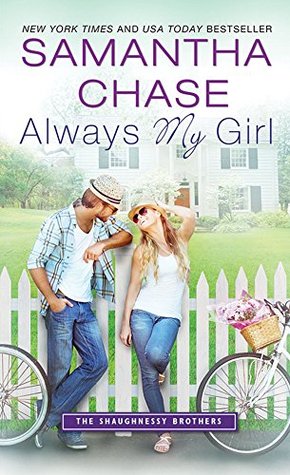 ALWAYS MY GIRL (THE SHAUGHNESSY BROTHERS) BY SAMANTHA CHASE
Release Date: July 5, 2016
SYNOPSIS
Book #3 in New York Times and USA Today bestselling author Samantha Chase's dazzling new series.

The Shaughnessy Brother you've been waiting for!
Sometimes the love that's closest to you is the hardest to see.
Quinn Shaughnessy's two older brothers have found their true loves ... but Quinn's not about to join that parade. Nope, as he tells his best friend Anna, there's a lot more to life than getting tied down to one person. He's positive tomboy Anna will be on his side - except she's inexplicably developing other interests - even dating! Suddenly Quinn is seeing Anna in a very different light.
Quinn has been Anna's buddy since they were both five years old. She can tell him anything - except the one big secret she's been hiding for years - that she's fallen in love with him. Now Anna is determined to make a life for herself that doesn't include pining for Quinn. Falling in love with your best friend? Easy. Telling them how you really feel? Impossible.
BUY LINKS
REVIEW: ALWAYS MY GIRL (THE SHAUGHNESSY BROTHERS) BY SAMANTHA CHASE
Always My Girl
by
Samantha Chase
My rating:
5 of 5 stars
With Love Walks In having been a tearjerker,
Always My Girl
has lightened things up with Quinn and Anna's story. Sometimes less is more. Samantha Chase came back swinging with this hilarious take on romance. Quinn does not do well with change, so when his best friend turns the tables on him and goes from girl next door to woman of his dreams anything can happen.
Always My Girl
is a fun friends to lovers novel that proves the versatility of Ms. Chase. She can do it all.
View all my reviews
Excerpt
Quinn sat down on the chaise Zoe had vacated and cleared his throat. "Hey," he said smoothly. "I'm Quinn, Aidan's brother. Zoe's going inside to grab some drinks and I thought I'd come over and…"
Anna turned over, the large, floppy hat falling behind her.
Quinn quickly stood and stumbled and fell backwards over Zoe's chaise. "Holy shit! Anna??" He slowly came to his feet. "What the hell?"
She shaded her eyes and gave him a sour look before looking over at Zoe. When Zoe started to come forward, Anna held up a hand to stop her. "I got this." Once her friend was gone, she returned her focus to Quinn. "Is there a problem?"
Quinn helplessly looked around and grabbed the towel from Zoe's chaise and threw it at Anna. "For crying out loud, what are you doing?"
"Um…sunbathing? Laying out? Getting a tan? Really, take your pick."
He straightened the chaise and sat down but his eyes stayed focused on the ground. "Well, maybe you've had enough sun for today and should…you know…put some clothes on."
A small laugh escaped before she could help it. It would seem she had finally managed to get Quinn Shaughnessy to notice she was a girl. Well…a woman. Great. It only took her being practically naked for it to happen.
When she stayed silent, Quinn slowly lifted his head but kept his eyes firmly on hers. "I'm serious, Anna. You need to go and get dressed."
It was the tone that did it. Anna was used to him being bossy and condescending most of the time – it was who he was – but right now, all of her good humor and thoughts of teasing him went right out the window. "No," she said firmly and made herself more comfortable by rolling over onto her back.
He said her name again. This time it was nearly a growl.
She turned her head and looked at him. "If you have a problem, maybe you should go inside. I'm staying right here."
A stream of curses was his immediate response. "Any minute my brothers are going to be showing up here. Is this how you want them to see you?"
Now she reached for her sunglasses which were tucked away under the chaise and put them on. "They've all seen me in a bathing suit before, Quinn. Why is this such a big deal?"
He stood angrily. "Because it is! This…this isn't a bathing suit," he stammered, waving his arms over her. "This is indecent!"
Zoe came sauntering back over with a huge grin on her face. "I know, isn't it fantastic? Who knew Anna was hiding such a rocking figure under those t-shirts and jeans?" She handed Anna a bottle of water and then a beer to Quinn. "I figured you might appreciate one of these."
Quinn took it from her silently and opened it, muttering the whole time under his breath about people being stubborn. He took a long pull of his beer before turning to Zoe. "Would you please tell her to go and put something on before everyone gets here? I mean, she's being stubborn."
"Aidan was here with her earlier and everything was fine. I don't think anyone's going to have a problem with her," Zoe said evenly and gently moved Quinn out of her way so she could resume her position on her own chaise. "Can you hand me my hat, Anna?"
"No problem," Anna said sweetly and smiled at Quinn as she picked up the hat and handed it over to Zoe.
Quinn rolled his eyes and looked around for a place to sit. "At least roll back over. Or put on more sunscreen. Or…something!"
"I just got comfortable, Quinn. Now either be quiet or go away. Go unpack or watch TV or just…stop being annoying."
"I'm annoying?" he asked sarcastically. "I ask for one simple request and I'm the one being annoying." He huffed. "When does your brother get here? I bet he'll back me up on this."
Anna lifted her sunglasses and glared at him. "I wore this exact bathing suit to the beach with Bobby last week. No issues. So why don't you unclench and…again…go away." Placing her sunglasses back in place, she wiggled a little – unnecessarily – and got comfortable. Was that a groan she heard coming from Quinn? She smiled to herself.
❥❥ About the Author ❥❥

New York Times and USA Today Bestseller/contemporary romance writer Samantha Chase released her debut novel, Jordan's Return, in November 2011. Although she waited until she was in her 40's to publish for the first time, writing has been a lifelong passion. Her motivation to take that step was her students: teaching creative writing to elementary age students all the way up through high school and encouraging those students to follow their writing dreams gave Samantha the confidence to take that step as well.
With twenty-three titles currently to her name, she has no plans to slow down. The success of the Montgomery Brothers series has her working on six new titles in that collection as well as two new exciting series set to start popping up on bookshelves in 2015. You won't find her books with the erotica or paranormal titles, all of her works are pure contemporary romances.
When she's not working on a new story, she spends her time reading contemporary romances, blogging, playing way too many games of Scrabble on Facebook and spending time with her husband of 25 years and their two sons in North Carolina.
Social Media Links:
WANT TO KEEP UP TO DATE ON RELEASE DATES, CONTESTS, ETC.
SIGN UP FOR SAMANTHA CHASE' NEWSLETTER.